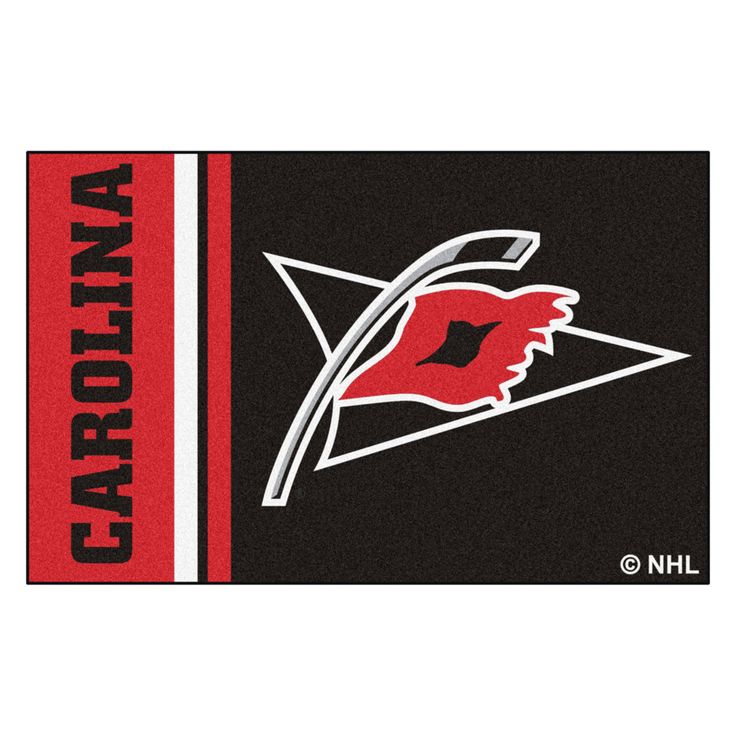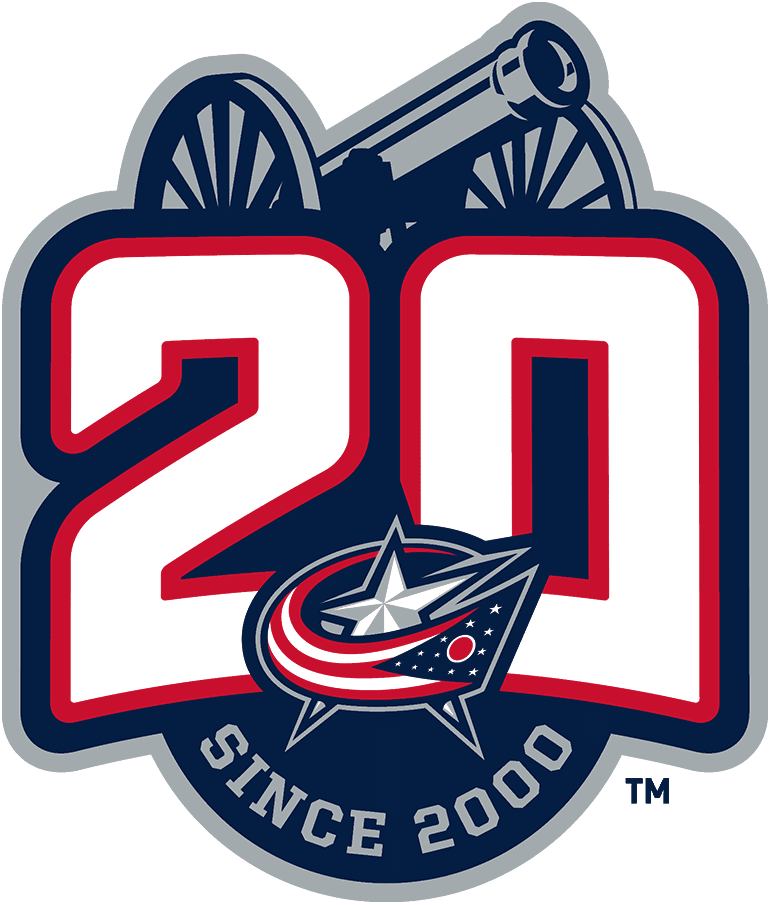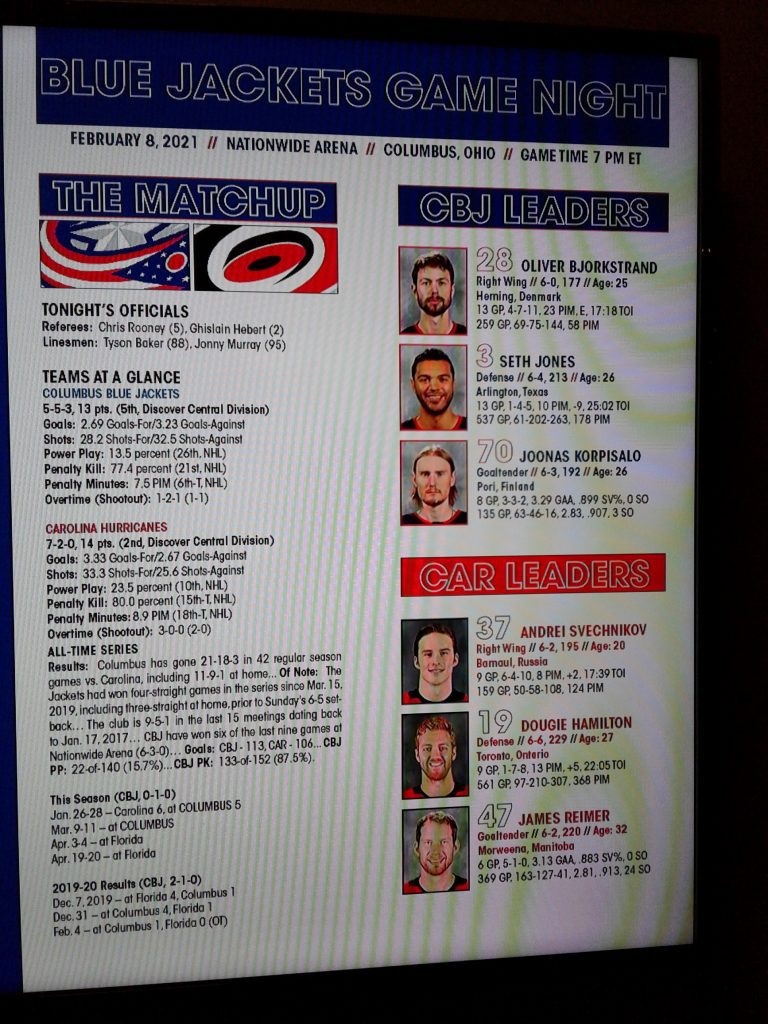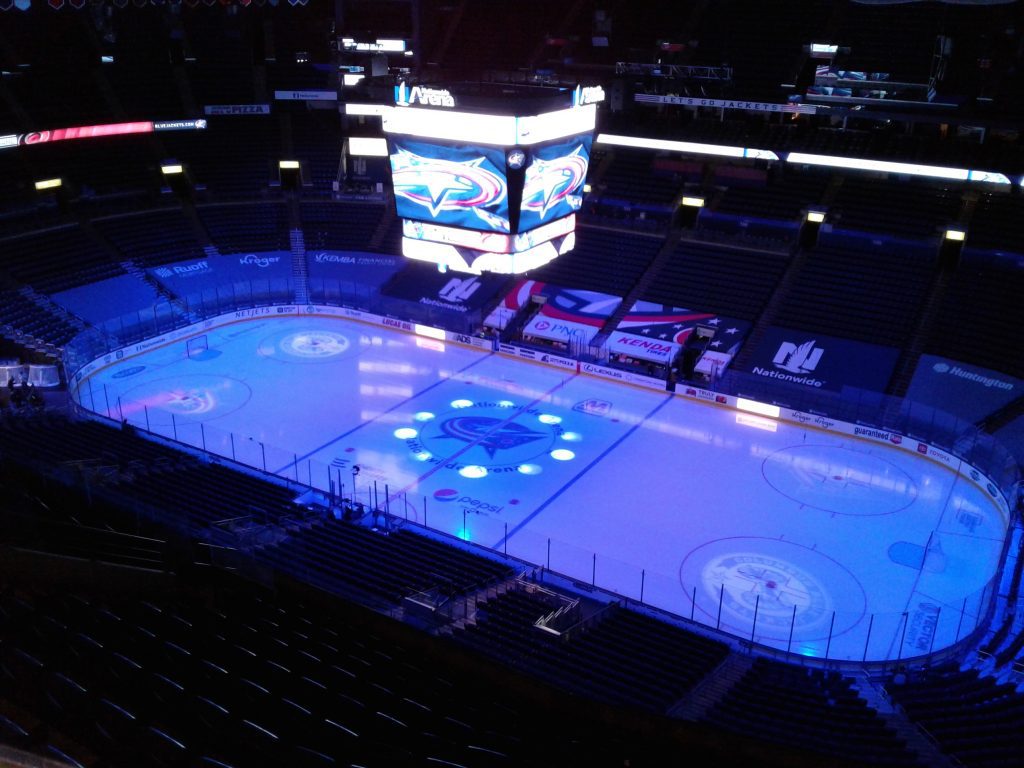 TODAY'S MATCHUP
COLUMBUS BLUE JACKETS
Record: 5-5-3, 13 pts. (5th, Discover Central Division)
Goals: 2.69 Goals-For/3.23 Goals-Against… Shots: 28.2 Shots-For/32.5 Shots-Against
Power Play: 13.5 percent (26th, NHL)… Penalty Kill: 77.4 percent (21st, NHL)
Penalty Minutes: 7.5 PIM (6th-T, NHL)… Overtime Record (Shootout): 1-2-1 (1-1)
CAROLINA HURRICANES
Record: 7-2-0, 14 pts. (2nd, Discover Central Division)
Goals: 3.33 Goals-For/2.67 Goals-Against… Shots: 33.3 Shots-For/25.6 Shots-Against
Power Play: 23.5 percent (10th, NHL)… Penalty Kill: 80.0 percent (15th-T, NHL)
Penalty Minutes: 8.9 PIM (18th-T, NHL)… Overtime Record (Shootout): 3-0-0 (2-0)
ALL-TIME SERIES
Results: Columbus has gone 21-18-3 in 42 regular season games vs. Carolina, including 11-9-1 at home… Of Note: The Blue Jackets had won four-straight games in the series since Mar. 15, 2019, including three consecutive contests at Nationwide Arena over that span, prior to Sunday's 6-5 loss… The club is 9-5-1 in the last 15 meetings against the Hurricanes dating back to Jan. 17, 2017… CBJ have won six of the last nine games in Ohio in the series (6-3-0)… All three contests in 2019-20 were decided by a single goal… The Blue Jackets own all three shutouts and hat tricks in the all-time series while neither team has been awarded a penalty shot… Goals: CBJ – 113, CAR – 106… CBJ PP: 22-of-140 (15.7%)… CBJ PK: 133-of-152 (87.5%).
This Season (CBJ, 0-1-0)
Feb. 7 – Carolina 6, at COLUMBUS 5
Feb. 8 – at COLUMBUS
Feb. 15 – at Carolina
Mar. 18 – at Carolina… Mar. 20 – at Carolina
Mar. 22 – at COLUMBUS… Mar. 25 – at COLUMBUS
May 1 – at Carolina
2019-20 Results (CBJ, 3-0-0)
Oct. 12, 2019 – Columbus 3, at Carolina 2
Oct. 24, 2019 – at Columbus 4, Carolina 3 (OT)
Jan. 16, 2020 – at Columbus 3, Carolina 2
Apr. 3, 2020 – at Carolina (Cancelled)
CBJ TEAM NOTES
Columbus has dropped three of its past four games following a seven-game regulation unbeaten streak (4-0-3)… The club has recorded points in five of seven home games in 2020-21 (3-2-2)… CBJ's back-to-back set against Carolina (Feb. 7-8) concludes a stretch of eight-of-10 games played at Nationwide Arena from Jan. 21-Feb. 8… The Blue Jackets have scored the game's first goal in nine of their 13 games (3-3-3) and outscored the opposition 15-8 in first period play… Columbus is 4-1-3 in one-goal games… The Blue Jackets are 3-1-1 in games playing in back-to-back situations in 2020-21 (1-0-1 in second games).
CBJ PLAYER NOTES
RW Patrik Laine, who made his CBJ debut on Tuesday vs. Dallas, has scored three goals in the past two games, including his first two-goal game as a Jacket on Sunday vs. Carolina… C Jack Roslovic, picked up his first goal and multi-point outing with the Blue Jackets on Thursday vs. Dallas, added his second with 0-2-2 on Sunday vs. Carolina and has an assist/point in a career high four-straight games (1-5-6)… RW Oliver Bjorkstrand leads the club in scoring with 4-7-11 in 13 games after being shut out in his first two contests of the season.
MILESTONES
• LW Nick Foligno tallied 1-1-2, including his 200th NHL goal, on Sunday vs. Carolina , to raise his career totals to 200-273-473
in 570 games.
• D Seth Jones collected two assists on Sunday vs. Carolina to give his 46-154-200 in 338 games as a Blue Jacket.
OhioHEALTH INJURY REPORT
• LW Gus Nyquist (shoulder surgery on Nov. 3; Injured Reserve) is expected to miss five-to-six months.
• G Elvis Merzlikins (upper body; Injured Reserve) is day-to-day.
• G Matiss Kivlenieks (lower body) is day-to-day.
• D Zach Werenski (lower body; Injured Reserve) is expected to miss one-to-two weeks.
o TOTAL MAN GAMES LOST: 31.
1ST PERIOD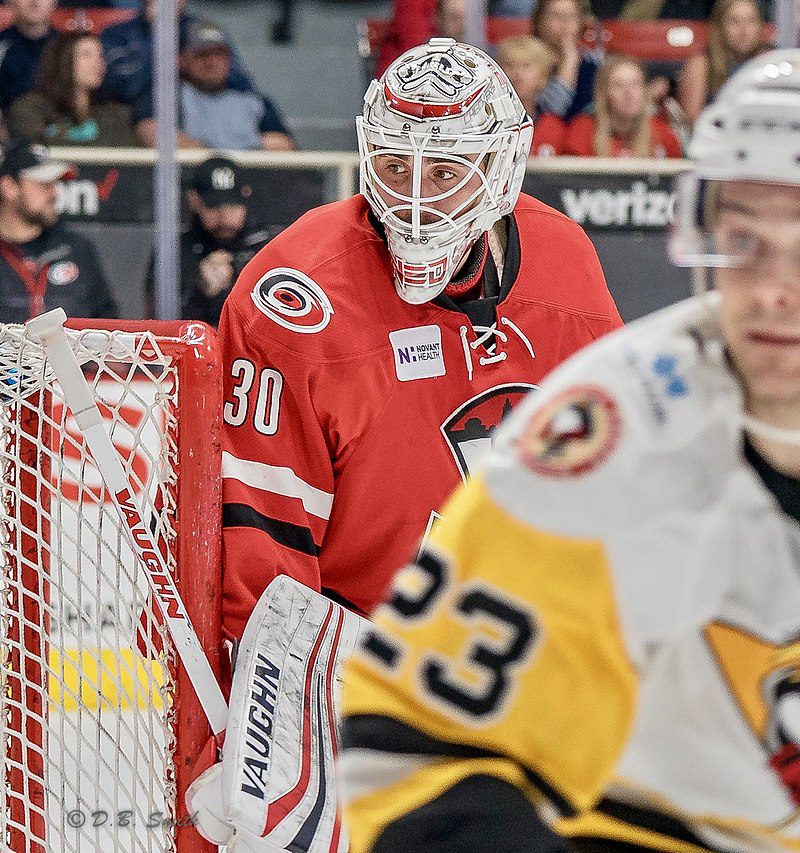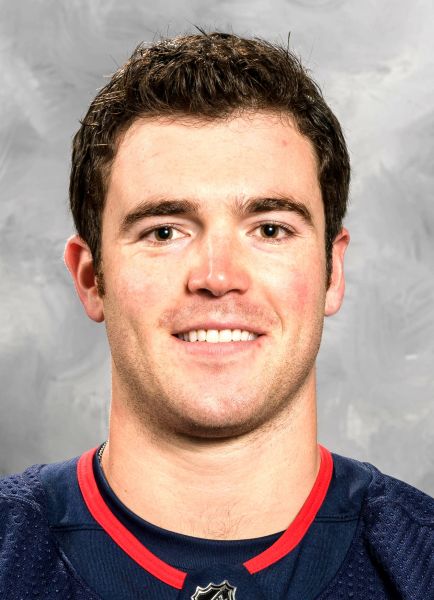 CAROLINA STATS
8 SHOTS
2 PIM
53% FACEOFFS
BLOCKED SHOTS 4
TAKEAWAYS 2
GIVEAWAYS 1 HITS 10
COLUMBUS STATS
4 SHOTS
47% FACEOFFS
8 BLOCKED SHOTS
2 TAKEAWAYS
4 GIVEAWYS
11 HITS
POWER PLAYS 0/1
2ND PERIOD
TEAMS ARE TIED AT 2-2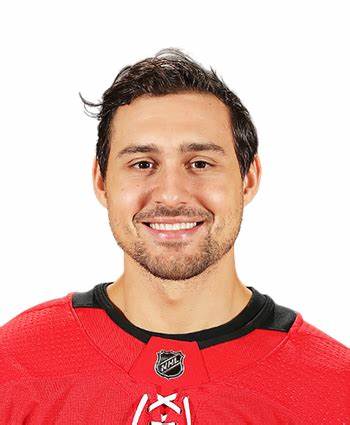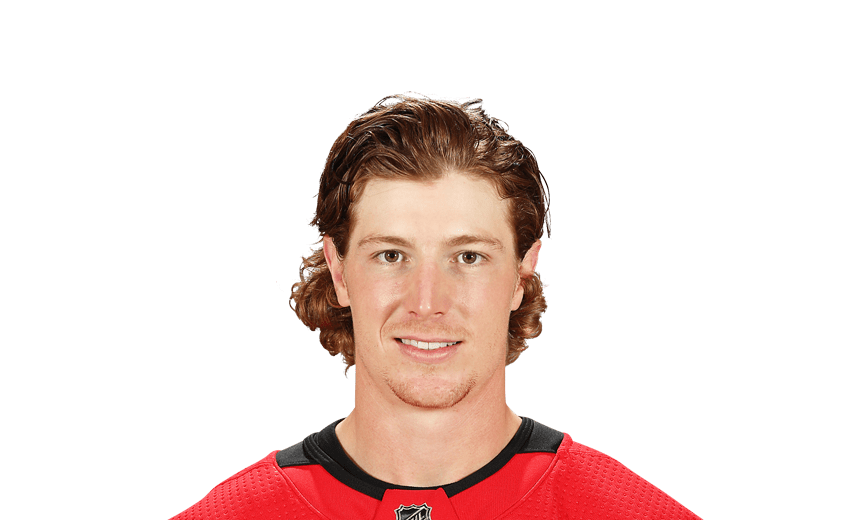 CAROLINA STATS
SHOTS 17
POWER PLAYS 0/1
PIM 2
FACEOFF WINS 53%
BLOCKED SHOTS 8
TAKEAWAYS 5
GIVEAWAYS 2
HITS 12
COLUMBUS STATS
SHOTS 12
POWER PLAYS 0/1
PIM 2
FACEOFF WINS 46%
BLOCKED SHOTS 14
TAKEAWAYS 6
GIVEAWAYS 6
HITS 16
2-2 HEADED TO THE 3RD PERIOD
3RD PERIOD
In a move that had all of social media buzzing and the media in the pressbox having discussions, CBJ head coach John Tortorella benched Patrik Laine, who scored twice on Sunday, for the last 26 minutes of the game after Laine was a basically a bystander and did nothing to stop Brock McGinn's goal.
In another move, Tortorella also benched defenseman Dean Kukan who had some lapses and mistakes during the game. But the most noticeable was on the game tying goal in 2nd period by Nino Niederreiter. He did not play after his turnover.
The Jackets score on a goal after a speed rush by Jack Roslovic 1 on 1 vs. the goalie. He kicked into another gear. 3-2 Jackets over the Hurricanes 3rd period. 15:24 goal assisted by Gavrikov and Jones. Ends up being the game winner!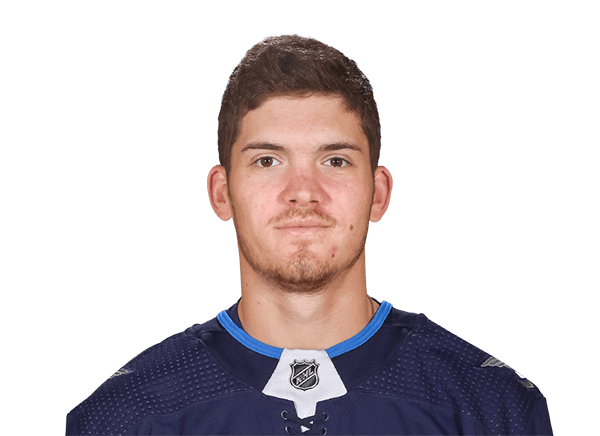 CAROLINA STATS
RECORD 7-3-0, 14 POINTS
SHOTS ON GOAL 24
FACEOFF WIN PCT. 61%
POWER PLAYS 0/1
PIM 2
HITS 21
BLOCKS 12
GVA 3
PLAYER SCRATCHES
VINCENT TROCHECK
PETR MRAZEK
MARTIN NECAS
COLUMBUS STATS
RECORD 6-5-3, 15 POINTS
SHOTS ON GOAL 24
FACEOFF WIN PCT. 39%
POWER PLAYS 0/1
PIM 2
HITS 19
BLOCKS 22
GVA 9
PLAYER SCRATCHES
MIKKO KOIVU
LIAM FOUDY
GABRIEL CARLSSON
MATISS KIVLENIEKS
STANDOUTS OF THE GAME
Roslovic, who came over with Laine in the Pierre-Luc Dubois trade, extended his point streak to five games (2-5-7) with his game winning goal.
Atkinson scored a penalty shot in the period. That was noteworthy, because it was a shorthanded goal, giving him 14 in his career to tie the franchise record holder Rick Nash.
The ultimate professional and team player is defenseman Scott Harrington who has been with the Jackets for 5 years, 2016-17 to now. He often is a healthy scratch due to numbers and matchups and is inactive for days and weeks but always has a positive attitude, plays hard and comes up with some spectacular plays at times. Coach Tortorella just loves and appreciates Scott. He scored his first goal of the season in just his second game of the season. In just 2 games, he has a line of 1-1-2.
And let's not forget the play of goalie Joonas Korpisalo, who has to play alot due to injuries to Elvis Merzlikins and Matiss Kivlenieks. He had 22 saves last night including several huge ones at times to push his record to 4-3-2 on the season.
POSTGAME AUDIO