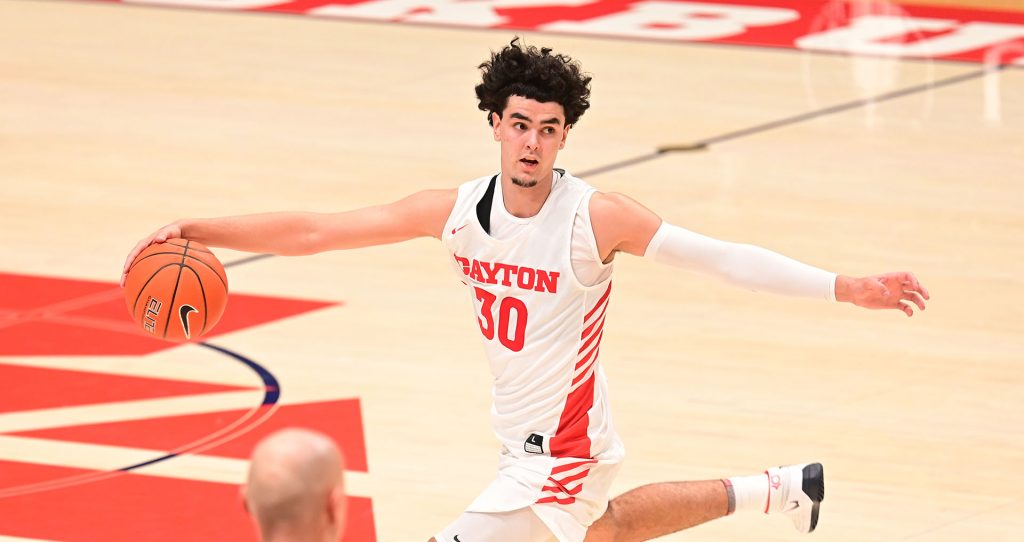 NEWPORT NEWS, Va. – University of Dayton freshman Mustapha Amzil was named Atlantic 10 Rookie of the Week for the third time this season and second consecutive week today.
Amzil averaged 10.5 points and 7.0 rebounds in two Flyer games last week, while making five of the nine shots he took from beyond the arc (.556). At Duquesne on Tuesday, he recorded his first career double-double with 11 points and 11 rebounds. He also blocked three shots. Last Saturday against George Mason, he hit double digits for the ninth time in 11 career games, scoring 10 points (2-3 from distance).
He is the only multiple A-10 Rookie of the Week award winner this season. A November signee, he earned his first A-10 Rookie award exactly 50 days from his signing date. He had three practices before playing his in first game. A forward from Helsinki, Finland, he has started all 11 games he has played, averaging 10.8 points and 5.3 rebounds. He also leads the team in total steals (15).
Dayton swept the basketball A-10 Rookie of the Week awards for the second time.  Women's basketball's Tenin Magassa was also named.
Dayton is 11-5 overall and 7-4 in the A-10.   This week, the Flyers are scheduled to play VCU on Tuesday and Saint Joseph's on Saturday, both at home.  The VCU game will tip-off at 5 p.m. ET, and will be televised by the CBS Sports Network.

COURTESY ATLANTIC 10 CONFERENCE AND DAYTON MEDIA RELATIONS