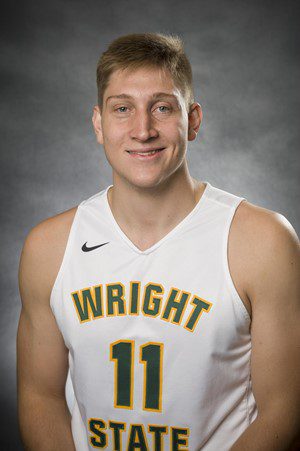 The Wright State men's basketball team cruised to its fifth straight win on Saturday, finishing up a two-win weekend with an 86-56 victory over Robert Morris as Loudon Love tallied a career-best 34 points to pace four Raiders in double figures.
 
Love, who didn't score in double figures for the first time all season in Friday's win, finished Saturday with a 15-of-22 shooting line, tallying 15 points and eight rebounds in the opening 20 minutes alone. He was 4-of-8 from the free throw stripe and added three assists, a steal and a block to his final stat line.
 
Love's 11 rebounds on Saturday brings his career total to 1,053, moving him past former Wright State women's basketball standout Symone Simmons for the most all-time rebounds in Raider basketball history, men's or women's.
 
Tanner Holden finished with 16 points of his own, including eight in the opening 12 minutes, adding four assists, three rebounds and a steal in his 14th straight double-digit scoring game. Tim Finke recorded 12 points on four three-point baskets while grabbing eight rebounds, and Grant Basile followed up his 29-point Friday with 10 points, six rebounds and three blocks.
 
Wright State came out hot, building a 20-9 lead over the first 10 minutes behind Holden's eight points. Love closed the final 10 minutes of the first half shooting 6-of-8 to tally 13 of his 15 points at the break as the Raiders led 42-23.
 
Robert Morris scored 10 of the first 12 points to open the second half to cut the Raider lead down to 11, but Wright State responded with an 8-3 run over the next two-plus minutes to clamp down control of the contest.
 
Wright State finished the night shooting 49 percent (33-of-67) from the floor overall and hitting 9-of-21 (43 percent) from three-point range. Robert Morris tallied a 42 percent clip (23-of-55) shooting and had six threes of its own (6-19, 32 percent). The Raiders were 11-of-19 (58 percent) from the free throw stripe overall, while the Colonials were 4-of-6 (67 percent).
 
The Raiders pulled down 16 more rebounds than the visitors, outrebounding Robert Morris 44-28 overall as Wright State had 27 defensive boards. Paced by Love's 34, Wright State had 46 points in the paint, while passing out 16 assists as a team.
 
GAME RECAP COURTESY WRIGHT STATE ATHLETICS