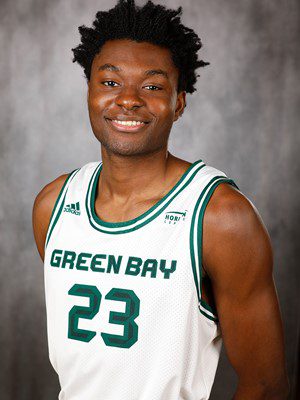 GREEN BAY, Wis. (GreenBayPhoenix.com) — Green Bay men's basketball forward Emmanuel Ansong had his NCAA waiver request officially granted on Tuesday, receiving immediate eligibility to play this season for the Phoenix. Ansong didn't technically qualify for the blanket waiver the NCAA Division I council approved recently, as he transferred from a Division II institution with the waiver only applying to those who transferred from a NCAA Division I institution to another. Ansong is eligible to play as soon as this weekend at Wright State under head coach Will Ryan, who coached Ansong at Wheeling last season.
The 6-4 athletic forward averaged just over 14 points per game this past year, and will have two years of eligibility remaining during his time at GB. All NCAA Division basketball players were already granted a special waiver for the 2020-21 season, and it will not count as a year of eligibility. Ansong will hold junior status this season.
The New Jersey native started in 25 games for the Cardinals in 2019-20 and led the team with 7.4 RPG and 21 blocks. Ansong also shot 40 percent from beyond the arc and grabbed 76 offensive rebounds. He will give an immediate boost to the Phoenix roster entering its second weekend of Horizon League play and beyond.
###

For the latest and most up-to-date information on Green Bay Athletics, please visit GreenBayPhoenix.com.
Follow us on Twitter: @GBPhoenix
Like Green Bay Phoenix Athletics on Facebook.
—GreenBayPhoenix.com—
COURTESY GREEN BAY ATHLETIC COMMUNICATIONS