Tournament Winner to Be Awarded Share of $100K Prize Pool and Championship Trophy On Tuesday, June 19, at Esports Arena Las Vegas
FOR IMMEDIATE RELEASE
NEW YORK/TORONTO (March 9, 2018) – We're on a mission and looking for the best EA SPORTS™ NHL® 18 gamers. Bragging rights, a $100K cash prize pool, tickets to the 2018 NHL Awards™ and capturing the Championship Trophy in Las Vegas are all up for grabs when the National Hockey League crowns its first-ever esports champion in June.
Today, the NHL announced that registration for the 2018 NHL Gaming World Championship™, an esports bracket-style tournament, is now open. Players can register at https://fce.gg/NHL.
The 2018 NHL Gaming World Championship™ is a venture with NHL global broadcast partners NBC Sports, Sportsnet and Viasat. Each broadcaster will host a Regional Final and produce unique content throughout the various stages of the competition. The content will be available on NHL digital platforms, the digital platforms of the League's broadcast partners and on NHL's Twitch channel, www.twitch.tv/nhl. FACEIT, the Official Tournament Platform for the competition, will host and administer the tournament where players can follow the bracket.
The 2018 NHL Gaming World Championship™ is supported by the NHL's corporate partners across three different geographic territories. Global partners include Bridgestone and Honda, with their rights spanning across the U.S., Canada and Europe. Partners exclusive to the U.S. include Dunkin' Donuts and GEICO, with PepsiCo Beverages Canada and Scotiabank in Canada.
"The NHL has one of the youngest and most digitally-engaged fan bases in all of sports, many of whom are EA SPORTS NHL® 18 players," said Keith Wachtel, NHL Executive Vice President and Chief Revenue Officer. "The 2018 NHL Gaming World Championship™ tournament provides us with an opportunity to evaluate new and innovative fan engagement opportunities in the esports sector. Along with our global broadcasters and marketing partners, we are committed to investing in the next generation of NHL fans, and introducing the gaming community to hockey in a unique and exciting way."
Over four consecutive weekends starting Saturday, March 24, registered players will showcase their skills in the single-elimination online, Qualifier tournaments. The Qualifiers will be open to players residing in Canada, the European Union and the United States.
Players may register and compete in each of the four online Qualifiers scheduled for their region. However, players who already have secured a spot in the Regional Finals may not participate in any further Qualifiers for any region.
All games will be played in standard competitive 'Online Versus 1-vs-1 Mode' within NHL® 18. For each region, two Qualifiers will be played on Xbox® One and two Qualifiers will be played on PlayStation®4. Each Qualifier will produce a winner and runner-up who will each advance to the applicable Regional Final. The PS4 console will be the platform for the Regional Finals and World Final.
At the conclusion of all of the Qualifiers, eight players from each region will travel to a Regional Final, comprised of a double-elimination, in-person tournament. The European Finalists will compete at Viasat studios in Stockholm, Sweden, on Sunday, May 6. Canadian Regional Finalists will compete in Toronto, Ont., on Friday, May 11. U.S. Regional Finalists will compete at NBC Studios in Stamford, Conn., on Sunday, May 20.
The winner and runner-up from each Regional Final will then advance to Las Vegas for the 2018 NHL Gaming Final – a round-robin style tournament – hosted at the new Esports Arena Las Vegas at Luxor Hotel and Casino on Tuesday, June 19. The top two gamers will emerge from the round-robin to face off in a best-of-three final round to determine the 2018 NHL Gaming World Champion™. The winner will be presented with the Championship Trophy, receive a cash prize and take part in the 2018 NHL Awards™. Full rules, regulations and prize pool allocations can be found at https://fce.gg/NHL_Rules.
"The NHL gaming community is passionate for hockey — whether it's at the rink, in the street, or with a controller in our hands, we're always looking to play the game we love," said Andrew Telfer, an avid EA SPORTS NHL 18 gamer from Columbus, Ohio who plays under the handle @TheNasher61. "The community is thrilled to have the opportunity to take our skills to the big stage. To say we're excited would be an understatement. This is one of the biggest things to happen in hockey gaming history and we're looking forward to seeing how it plays out."
Fans can follow the conversation using social hashtag #NHLGWC and by watching matches streamed on the various digital channels. Schedules and results will be posted in near real-time to the NHL's page on FACEIT.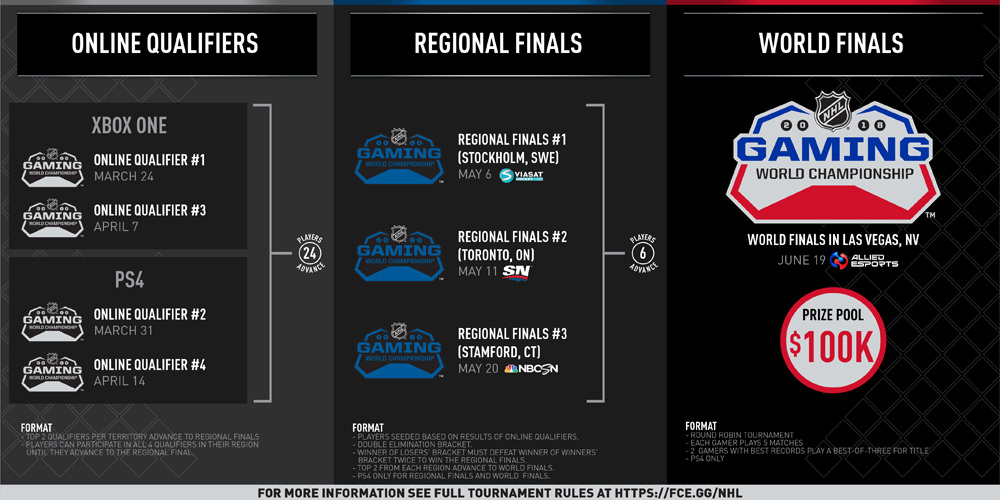 To learn more, visit NHL.com/Gaming.
Click here to watch the trailer.
About the NHL
The National Hockey League (NHL®), founded in 1917, consists of 31 Member Clubs, each reflecting the League's international makeup with players from more than 20 countries represented on team rosters, vying for the most cherished and historic trophy in professional sports – the Stanley Cup®. Every year, the NHL entertains more than 250 million fans in-arena and through its partners on national television and radio and more than 151 million followers - league, team and player accounts combined – across Facebook, Twitter, Instagram, Snapchat and YouTube. The NHL reaches fans worldwide with games available online in every country including via its live and on-demand streaming service NHL.TV™. For more information, visit NHL.com.
About Esports Arena Las Vegas
Esports Arena Las Vegas, located at Luxor Hotel and Casino, is the first dedicated esports arena on the Strip and the flagship venue of Allied Esports' global property network spanning North America, Europe and China. The state-of-the-art arena, featuring a multi-level modular design with a two-story LED wall, telescopic seating and a world-class production facility, is a ready-to-go championship destination and content studio for publishers, leagues, tournaments and high-stakes matchups in a setting designed to deliver an unparalleled live fan experience. The esports and entertainment venue, which also includes a one-of-a-kind food and beverage offering from Chef José Andrés and ThinkFoodGroup, an active virtual reality station and a classic video game bar, is open daily for walk-up play and features nightly competitions across all gaming communities. For competition schedules and more information, visit EsportsArenaVegas.com and follow @ESALasVegas. For more information about Allied Esports, visit AlliedEsports.gg and follow @AlliedEsports.
About EA SPORTS
The EA SPORTS brand is one of the leading sports entertainment brands in the world, with top-selling videogame franchises, award-winning interactive technology, fan programs and cross-platform digital experiences. The EA SPORTS studios create connected experiences that ignite the emotion of sports through videogames, including Madden NFL football, EA SPORTS FIFA, NHL® hockey, NBA LIVE basketball, Rory McIlroy PGA TOUR® golf, SSX™ and EA SPORTS UFC®.
About FACEIT
FACEIT is the leading competitive platform for online multiplayer games, with nearly 10 million users logging in a total of over 12 million online game sessions each month. FACEIT allows players to easily play in tournaments and leagues for virtual and real-world prizes through automated tournament management and competitive gaming technology. For developers, FACEIT's advanced software development kit (SDK) allows game creators to easily integrate user-friendly competitive gaming and tournaments into their titles to allow gamers to take part in competitive online games at all skill levels. Esports organizers, players and communities use FACEIT to create and manage online competitions. For more information on FACEIT, please visit www.faceit.com.
PRESS RELEASE WRITTEN BY Julie Young / NHL Communications; COURTESY NHLmedia.com