COLUMBUS CREW SC POSTGAME DRESSING ROON PRESS CONFERENCE
62,280 Wil Trapp Crew SC captain How does it feel for the veterans to get back to the MLS Playoffs after a down season in 2016 9 30 2016
62,281 Wil Trapp Crew SC captain What did the veterans say to the younger guys when team was stagnant in midseason to get going again 9 30 2017
62,282 Wil Trapp Crew SC captain Did you ever think there is no reason why this team can't be in playoffs with all the talent in this room 9 30 2017
62,283 Wil Trapp Crew SC captain The media & fans feel the team should win every game but the MLS is so tough there is no way 9 30 2017
62,285 Wil Trapp Crew SC What has Pedro Santos added to this lineup since coming in during midseason 9 30 2017
62,286 Wil Trapp Crew SC captain Crew SC team is more dangerous with Pedro Santos as a playmaker 9 30 2017

62,287 Wil Trapp Crew SC captain How has it been having Josh Williams back on the team after he played for Toronto FC in 2016
COLUMBUS CREW SC CLINCHES BERTH IN THE AUDI 2017 MLS CUP PLAYOFFS
Black & Gold earn postseason berth for third time in four seasons under Sporting Director and Head Coach Gregg Berhalter;
Special Pay As We Play Plan for playoff matches now available on-sale at ColumbusCrewSC.com
For Immediate Release: September 30, 2017
COLUMBUS — Columbus Crew SC has officially clinched a spot in the Audi 2017 MLS Cup Playoffs, returning to the postseason for the third time in four seasons under Sporting Director and Head Coach Gregg Berhalter. With two regular-season contests remaining, Crew SC is assured of finishing no lower than sixth place in the Eastern Conference by virtue of its win against D.C. United at MAPFRE Stadium earlier this evening. The win against D.C. United was the Black & Gold's 12th regular-season home victory of 2017, setting a new club record for most regular-season wins at home.
Final postseason seeding will be determined in the coming weeks as the Black & Gold (15-12-5, 50 points) conclude the regular season along with all other MLS clubs. Crew SC Season Ticket Members, 10-Match Plan holders and the general public each have the option to purchase the Pay As We Play Plan for playoff matches at a discounted rate from single-match pricing with the flexibility of only being charged for matches once they are guaranteed to be played. The Pay As We Play Plan, which includes tickets to each potential match held at MAPFRE Stadium through the Eastern Conference Championship, continues to be available at ColumbusCrewSC.com.
PAY AS WE PLAY PLAN INFO: http://crew.sc/2xEl8Cq
This season, six teams qualify from each conference for the Audi 2017 MLS Cup Playoffs. The two winners from the Eastern Conference Knockout Round, featuring matches between the third and sixth seeds as well as the fourth and fifth seeds, advance to face the first and second seeds in the Semifinals, with the lowest advancing seed from the Knockout Round facing the first seed.
IN THE POSTSEASON: Updated Eastern Conference standings available at https://www.columbuscrewsc.com/standings
2017 marks the club's return to the postseason for the first time since the Audi 2015 MLS Cup Playoffs, when Crew SC won the Eastern Conference Championship. This is the 14th all-time postseason berth for the Black & Gold as well as the seventh berth for the club in ten seasons, a streak that began in 2008, a year that Crew SC won the first professional championship for Columbus by capturing that season's MLS Cup.
Up next, Crew SC travels to take on Orlando City SC at Orlando City Stadium on Sunday, October 15 (5:00 p.m. ET / The CW Columbus, Spectrum Sports, BCSN2, CD102.5 FM, La Mega 103.1 FM, English radio stream available on ColumbusCrewSC.com.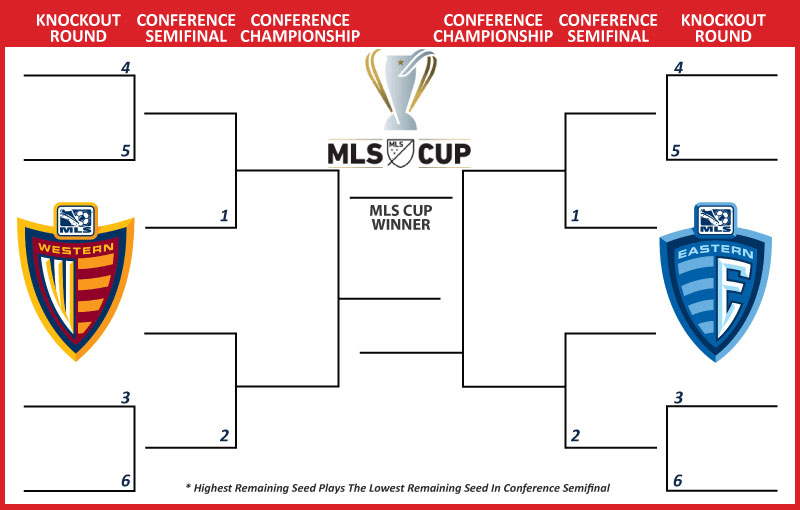 GAME RECAP WRITTEN BY & COURTESY OF COLUMBUS CREW SC COMMUNICATIONS