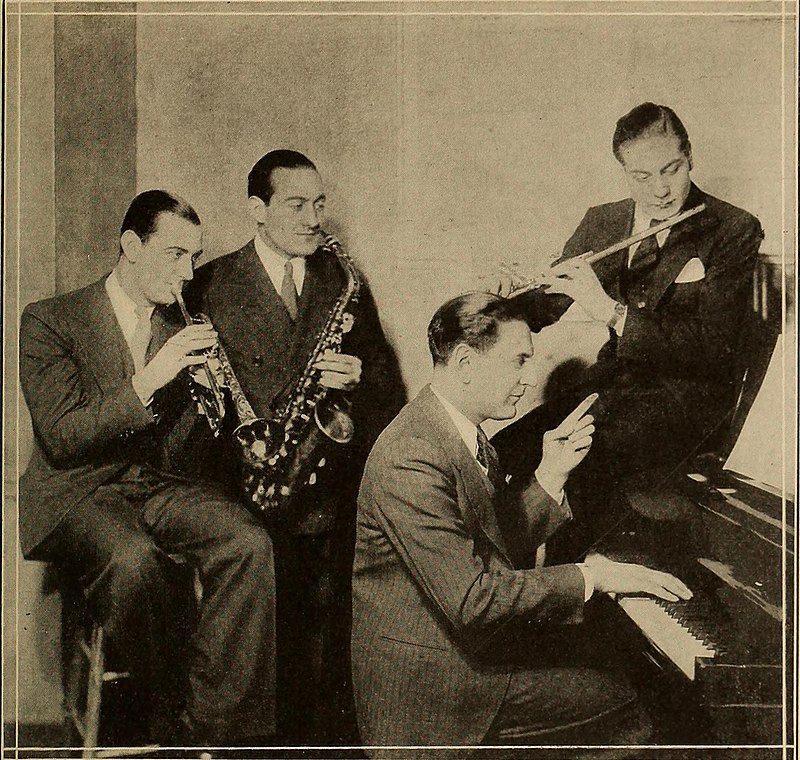 FROM WIKIPEDIA COMMONS
Gaetano Alberto "Guy" Lombardo (June 19, 1902 – November 5, 1977) was an Italian-Canadian-American bandleader, violinist, and hydroplane racer.
Lombardo formed the Royal Canadians in 1924 with his brothers Carmen, Lebert and Victor, and other musicians from his hometown. They billed themselves as creating "the sweetest music this side of Heaven." The Lombardos are believed to have sold between 100 and 300 million records during their lifetimes, many featuring the band's lead singer from 1940 onward, Kenny Gardner.
ROYAL CANADIANS
After that solitary Gennett session, they recorded two sessions for Brunswick; a rejected session in Cleveland in late 1926, and an issued session for Vocalion in early 1927. The band then signed to Columbia and recorded prolifically between 1927 and 1931. In early 1932, they signed to Brunswick and continued their success through 1934 when they signed to Decca (1934–35). They then signed to Victor in later 1935 and stayed until the middle of 1938 when again they signed to Decca. In 1938, Lombardo became a naturalized citizen of the United States. Between 1941 and 1948, their sister Rose Marie, the youngest of seven siblings, joined the Royal Canadians as the band's first and possibly only female vocalist.
Although Lombardo's "sweet" big-band music was viewed by some in the jazz and big-band community of the day as "boring, mainstream pap," trumpeter Louis Armstrong regularly named Lombardo's band his favorite orchestra.
After Guy Lombardo's death in 1977, his surviving brothers Victor and Lebert took over the Royal Canadians, though Victor left the band early in 1978 over creative differences. From 1980 the name was franchised out to various band leaders. Lebert died in 1993, passing rights to the band name to three of his six children. The band was revived in 1989 by Al Pierson and remained active as of 2021.
TODAY'S ALMANAC
In Scotland, December 31 is known as Hogmanay, the word children use to ask for their traditional present of an oatmeal cake (which is why this is also called Cake Day). It's believed that Hogmanay originated with the invading Vikings who celebrated the passing of the winter solstice with much revelry.

Immediately after midnight it is traditional to sing Robert Burns' Auld Lang Syne"—
"Should auld acquaintance be forgot and never brought to mind?
Should auld acquaintance be forgot and auld lang syne
For auld lang syne, my dear, for auld lang syne,
We'll take a cup o kindness yet, for auld lang syne."

Along with fireworks, "First footing" (or the "first foot" in the house after midnight) is still common across Scotland. The first person to cross the threshold into one's home, called the first footer, is an indication of the year to come. Although the tradition varies, if the first footer is tall and dark, the year will be a good one.

Of course, the entire spirit of a Hogmanay party is to welcome both friends and strangers with warm hospitality and of course lots of kissing all-around!
Question of the Day
What is red flannel hash?
In old-time New England, red flannel hash was any combination of hash to which red beets were added, the standard hash being made of corned beef, onions, turnips, potatoes, and seasonings. Without the beets, it was white flannel hash. Don't sneak in any orts (scraps meant for the chickens or the compost) if you are proud of your hash.
Advice of the Day
On New Year's Eve, kiss the person you hope to keep kissing.
Home Hint of the Day
The tender branches of small fruit trees are a temptation for deer. Try hanging some strongly scented soap on the branches to discourage them.
Word of the Day
Blatherskite
A blustering, talkative person.
Puzzle of the Day
Why is it hard to have a conversation with a goat around?
He always butts in!
Born
Jacques Cartier (explorer) – 1491
Henri Matisse (artist) – 1869
Jule Styne (composer) – 1905
Odetta (American folk singer) – 1930
Anthony Hopkins (actor) – 1937
Ben Kingsley (actor) – 1943
John Denver (singer) – 1943
Donna Summer (singer) – 1948
Val Kilmer (actor) – 1959
Nicholas Sparks (author) – 1965
Gabby Douglas (gymnast, Olympic gold medalist) – 1995
Died
Rick Nelson (singer) – 1985
Edward Herrmann (actor) – 2014
Natalie Cole (singer) – 2015
Events
A window tax was imposed in England, causing many shopkeepers to brick up their windows to avoid the tax– 1695
Baltimore, Maryland was incorporated– 1796
Ottawa selected by Queen Victoria as capital of Province of Canada– 1857
The cornerstone for the Iolani Palace in Honolulu, Hawaii, was laid– 1879
Guy Lombardo and His Royal Canadians first played Auld Lang Syne" at midnight"– 1929
C. B. Darrow received a patent for his Monopoly game– 1935
Entertainer Roy Rogers and actress Dale Evans were married– 1947
Helium-filled sun shade patented– 1991
The last new Calvin and Hobbes cartoon strip was published– 1995
An extra second, or leap second, was added to clocks worldwide– 2005
Weather
Los Angeles received 7.36 inches of rain in 24 hours, causing flooding– 1933
For the month of December, Kansas City, Missouri, received a total snowfall of 16.6 inches.– 1961
New Year's Eve snowstorm hit the deep South: Meridian, Mississippi, received 15 inches of snow– 1963
Concord, New Hampshire, set a new December snowfall record with 44.5 inches for the month– 2007
COURTESY www.almanac.com