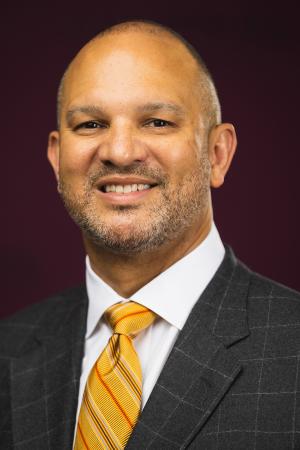 ANN ARBOR, Mich.—Head Coach Tony Barbee was searching for a signature win and found it this evening in Ann Arbor as lefthanded freshman Reggie Bass swished a double-pump 3-pointer with 11.6 seconds to play as Central Michigan defeated Michigan, 63-61, Thursday evening in Crisler Arena.
 
Central Michigan (5-8) won for the first time in Ann Arbor since 2007 and the game marked the final non-conference contest for the Chippewas. Central Michigan opens Mid-American Conference play on Tuesday. Jan. 3 against Miami, Ohio. Tipoff for that contest is at 7 p.m. at McGuirk Arena.
 
Trailing by one point, 61-60, with 30 seconds to play and Central Michigan in possession of the ball, Bass dribbled up the right side of the court and with the shot clock running down, fired a double-clutch 3-pointer which swished through the net. Michigan immediately called timeout with 11.6 seconds to play, and the Wolverines missed two shots in the final seconds: a 3-pointer by Kobe Bufkin and a jumper by Hunter Dickinson. After junior Jesse Zarzuela grabbed the rebound, the Chippewas had their fifth victory of the year.
 
There were many heroes for Central Michigan. Zarzuela came off the bench to score a game-high 19 points with six rebounds, Bass finished with 16 points while hitting 4-11 3-point field goals and seven rebounds, and senior Brian Taylor added 12 points (6-11 shooting) to go along with four rebounds and three assists. Detroit native Carrington McCaskill also added eight points and seven rebounds in 22 minutes of action.
 
Afterward, Central Michigan Head Coach Tony Barbee spoke about what a great win this was for his program and gave all the credit to his players.
 
"It's up there, from Final Fours, to Elite Eights and conference championships, this is as good as any of them when you're trying to build a young program," Barbee said. "Hopefully we can build off this. When presented with opportunities In life or in basketball, either you're ready for them or you let them pass by. I give all the credit to our players."
 
"What I'm most proud of is that we were finally able to play to our identity; and we haven't done that until tonight. Our guys held the fort down for 40 minutes through good and bad; we fought and played tough. We kept fighting, kept swinging on every possession, and we gave ourselves a chance. That's who we must be."
 
Central Michigan outrebounded Michigan by a plus-12 margin (44-32), including 17 offensive rebounds, held the Wolverines to 35.1 percent field goal shooting and just 27.3 percent (6-22) on 3-point field goal attempts. The Chippewas outplayed and outhustled the Wolverines all evening. Barbee employed a zone defense for the majority of the game.
 
"The zone bothered them," Barbee said. "It bogged them down a little bit. They are an efficient team against man. With the zone, it kept their big men away from the basket, which allowed us to corral a lot of defensive rebounds. That was the difference in the rebounding totals. It goes back to our guys, they get all the credit, they watched Michigan on tape and saw them struggle against the zone. We noticed that on tape, the teams that gave themselves a chance played zone. I thought our guys were tougher than them and we were tougher team. The zone really helped us tonight."
The second half featured 10 lead changes. Michigan built a six-point lead (35-29) with 17:29 to play, but Central Michigan answered with a 7-0 run featuring a Taylor jumper, two Bass free throws, and a 3-pointer by Zarzuela, which put the Chippewas up 36-35 with 16:14 to play.
 
Later, another 7-0 CMU run fueled by a Bass 3-pointer, McCaskill jumper, and Zarzuela jumper, gave the Chippewas a five-point lead (49-44) with 10:30 to play.
 
But Michigan (7-5, 1-0 Big Ten) was not finished as the host Wolverines grabbed the lead back, 61-60, with 2:27 to go on a free throw by Hunter Dickinson. CMU stepped up defensively, holding Michigan 0-4 the rest of the way as Bass' 3-pointer with 11.7 seconds to play marked the final points in the game.
 
"Give Reggie credit," Barbee said. "Things aren't always going to go perfect. Can you still fight and compete when things aren't going well? Reggie willed that 3-pointer in, but more importantly, what we did defensively, we stopped them, which was the most important thing."
 
"Carrington McCaskill, he was huge tonight. That's what he must be for us. He plays with heart, hustle, fight, and desire. He didn't think tonight and that's what he can give us."
 
In the first half, Michigan built its largest lead in the game, 23-15, at the 5:49 mark. A Will Tschette free throw, Dickinson dunk and a Dug McDaniel jumper gave the Wolverines their eight-point advantage. The Chippewas kept it close in the first half until they put together a late 9-2 rally to tie the game at 24-24. With Central Michigan trailing by its largest deficit of eight points (23-15), Taylor started the rally with a jumper, Ola Ajiboye followed with a layup and a Taylor dunk cut the Wolverines' lead to 23-21 with 2:30 to go in the first half. After Dickinson converted a free throw, Central Michigan tied the game at 24-24 with a 3-point play by Zarzuela off a baseline jumper. Bass gave the Chippewas their first lead of the game at 27-25 on a 3-pointer. But Michigan went into halftime with a 28-27 lead on a Baker 3-pointer with six seconds to go in the half.
Michigan was led by Bufkin's 16 points, while Dickinson finished with 13 points, Jett Howard added 12 points, and McDaniel had 10.
 
The two in-state rivals met for the 26th time in series history.
COURTESY CENTRAL MICHIGAN ATHLETIC COMMUNICATIONS