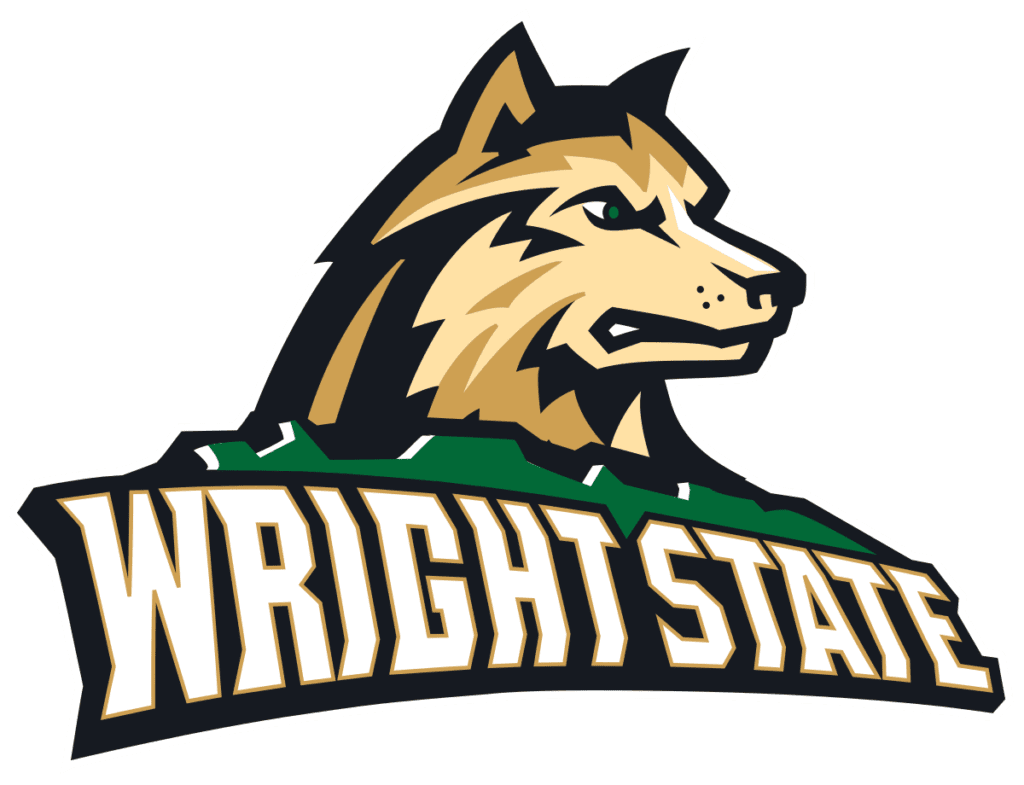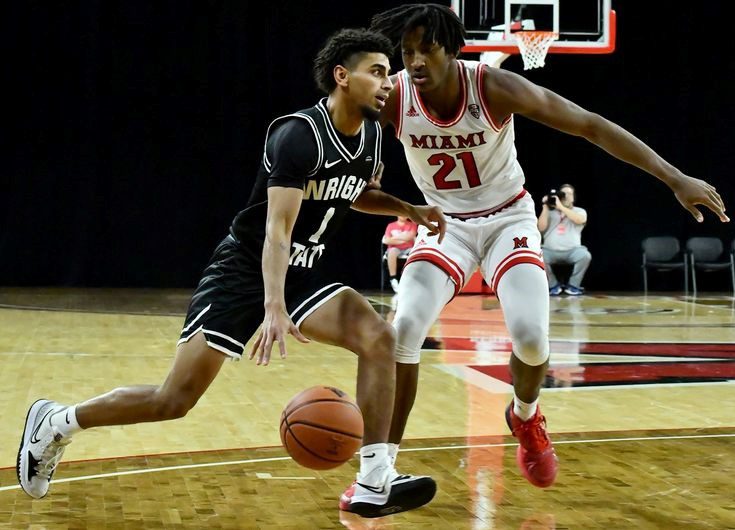 12/22/2022
OXFORD, OH – The Wright State men's basketball team closed non-conference play with an 88-80 Thursday night victory at Miami (OH) as nine different Raiders scored, paced by 27 points from Trey Calvin and 11 points each from Alex Huibregtse and Brandon Noel.
 
Wright State (7-6) now has a full week off before jumping back into Horizon League action for the final 18 games of the season, beginning with a visit to Northern Kentucky next Thursday, December 29 before heading to face IUPUI on January 2.
 
Thursday night, Miami (5-7) hit a trio of three-pointers over the first eight minutes to claim an early, 17-11 advantage before the Raiders erased the small deficit, with Tim Finke's tip-in off a Calvin miss giving Wright State the lead for what turned out to be for good at 21-19. The score remained tight at the break, with the Raiders taking a 37-32 advantage into the locker room thanks to a Calvin driving layup in the closing seconds of the half.
 
After Miami hit the opening shot of the second half, Wright State rolled off 15 of the next 22 points over a four-minute stretch, connecting on six of its eight shot attempts, to push the lead to 52-41. Minutes later, a 13-0 Raider run behind a trio of three-pointers pushed the margin to 21 before Wright State braced for a late push from Miami. Up 14 with 3:44 to play, the hosts tallied 14 of the next 18 points to pull within four with 36 seconds remaining. Wright State responded with an old-fashioned three-point play from Noel the next trip up the floor and Huibregtse forced a steal and connected on a free throw in the closing moments to wrap the night up.
 
Calvin finished the night shooting 10-of-13 from the floor with a pair of three-pointers as he added five free throws to his final tally of 27 points, while he completed his stat line with seven assists, two steals and a block. Noel added seven rebounds to his 11-point night, while Huibregtse connected on a pair of three-pointers on the way to his 11 points. Finke passed out six assists of his own to go along with nine points and four rebounds, while a trio of Raiders – AJ Braun, Amari Davis and Andrew Welage – all finished with eight points, with Welage's eight rebounds a game- and career-high.
 
Wright State finished the night shooting 55 percent (34-62) from the floor, including 63 percent in the second half, while connecting on five of its seven three-pointers in the second half (7-13, 54 percent). Defensively, the Raiders held Miami to 41 percent first half shooting before the hosts finished the night shooting 49 percent (30-61), thanks in part to eight second half three-pointers (13-31, 42 percent). Wright State got to the free throw line 15 times, connecting on 13 attempts (87 percent) while only sending Miami to the stripe eight times (7-8, 88 percent).
 
The Raiders forced Miami into 16 turnovers that they turned into 22 points, while Wright State had 23 points off the fast break and tallied 44 points in the paint along with getting 50 points from the bench.
COURTESY WRIGHT STATE ATHLETIC COMMUNICATIONS