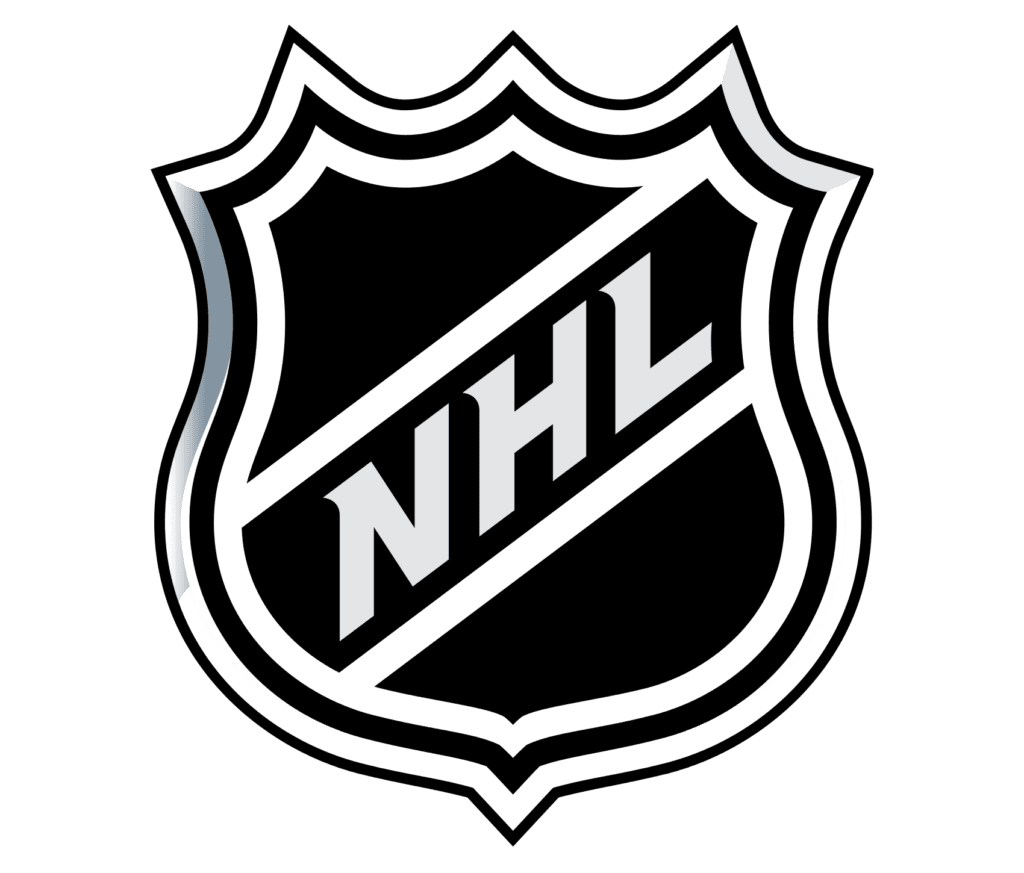 NHL Public Relations
December 23, 2022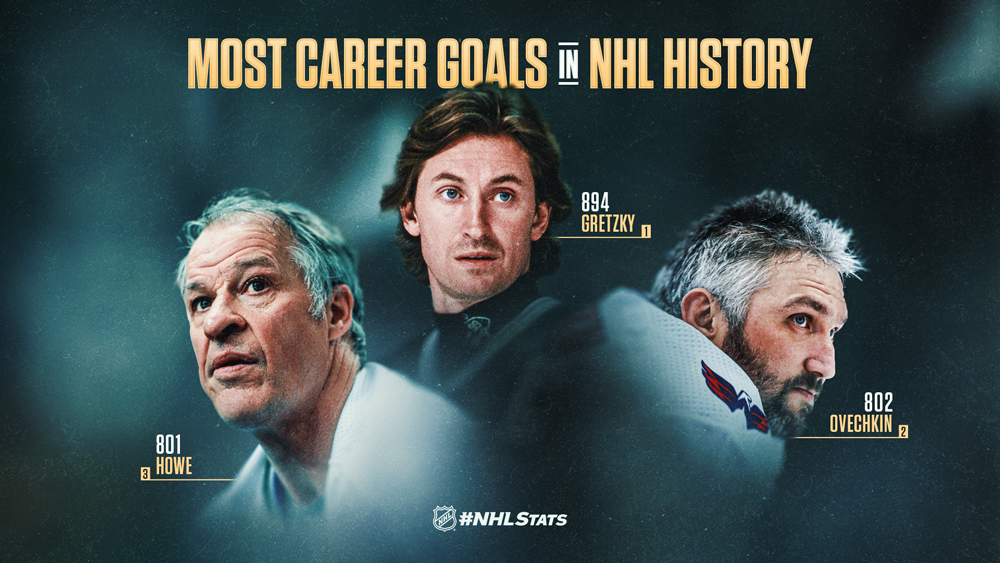 NO. 8 IS NOW THE NO. 2-RANKED GOAL SCORER IN NHL HISTORY
For just over 31 years, two legendary names stood tall as the top two goal scorers in NHL history: Wayne Gretzky and Gordie Howe. That changed Friday when Alex Ovechkin scored his 802nd career regular-season goal to overtake Howe (801) and move within 92 goals of tying Gretzky (894) for the most in League history.
* Ovechkin became the first person other than Gretzky or Howe to occupy a top-two spot on that list since Dec. 21, 1991 – the day Gretzky scored his 732nd career goal to overtake Marcel Dionne (731) for second place in League history.
* After beating David Rittich with 1:38 remaining in the first period for No. 801, Ovechkin netted No. 802 into an empty net with 60 seconds remaining in regulation (assisted by Evgeny Kuznetsov). It marked the 90th time in 192 opportunities Ovechkin has scored against a goaltender he is facing for the first time (regular season and playoffs) and fifth in 2022-23 following Spencer Martin (Nov. 29), Felix Sandstrom (Nov. 23), Stuart Skinner (Nov. 7) and Vitek Vanecek (Oct. 24).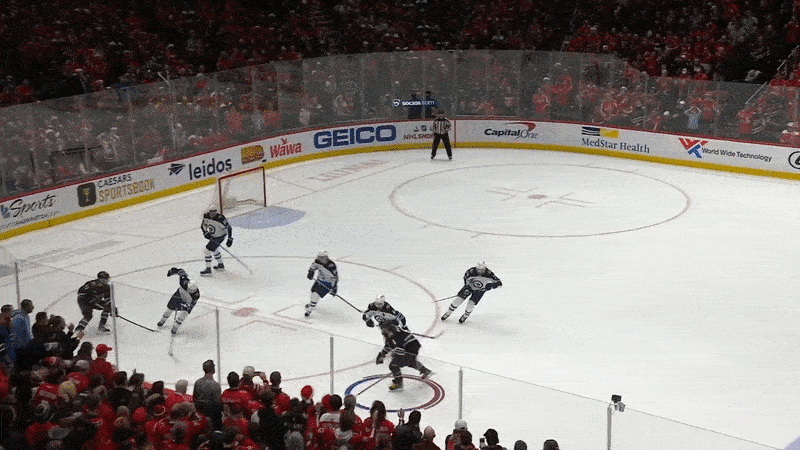 EIGHT QUESTIONS ON OVECHKIN'S FUTURE
Will he claim Wayne Gretzky's goals record?
Ovechkin now sits 93 goals shy of passing Gretzky for first on the NHL's all-time list. Using his 2022-23 goals-per-game rate (0.61), equal to his average through the past 10 seasons (since 2013-14), it would take The Great Eight approximately 153 regular-season games to pass The Great One – somewhere around the halfway mark of the 2024-25 season.

***
Will he hit 900?
No player in NHL history has ever scored 900 regular-season goals. Ovechkin's current contract takes him to the conclusion of the 2025-26 season (292 more games). Should Ovechkin skate in each of those contests for the balance of his deal, he would need to score at a rate of 0.34 goals-per-game (just over half his G/GP rate over the past 10 seasons) to reach the benchmark. For context, Ovechkin has missed five or more games in a season only three times in his 18-season NHL career – including only once before campaigns impacted by the COVID-19 pandemic (2009-10: 10 games missed, including 4 due to suspension). Using the 0.61 goals-per-game rate referenced above, Ovechkin would hit 900 around the 50-game mark of the 2024-25 season.
***
But wait, could he score 1,000?
Ovechkin and the Capitals have reached the Stanley Cup Playoffs in all but one of the past 15 seasons, with the captain totaling 72-69—141 in 147 postseason contests. While there's plenty of room for Ovechkin to climb the all-time playoff goals list – he currently shares 14th place and is within 10 tallies of tying Maurice Richard (82) for eighth place – that's not the focus here. Including regular-season and playoffs, Ovechkin has lit the lamp 874 times in his NHL career (1,457 GP) – second only to Gretzky (1,016 in 1,695 GP). That combined goals-per-game rate is once again strong, standing at 0.60 which is equal to the rate Gretzky retired with. That means Ovechkin could collect 1,000 total goals some time over the course of his next 210 NHL games (again, during the 2024-25 campaign).
If Ovechkin plays in every possible game for the balance of his current contract – 404 contests (292 regular-season and 112 playoffs) – and continues scoring at least 0.60 goals-per-game, he could overtake Gretzky for the most combined goals in NHL history. He needs 143 to become the all-time leader, which would take him 239 contests to achieve at a rate of 0.60 goals-per-game.

***
Will he set the record for 50-goal seasons?
Ovechkin is on pace to score 50 goals this season and become the first player in NHL history to record 10 seasons with 50 or more goals – he is currently tied for the most in League history with Mike Bossy and Gretzky (each with 9). He is the only player in NHL history to record a 50-goal season both before age 21 and after age 30 – most recently becoming the oldest NHLer ever with a 50-goal campaign (50 in 2021-22 at age 36). Should Ovechkin reach that milestone again in 2022-23, he would first tie the NHL record for career 30-goal seasons (equaling Mike Gartner) and set the League mark for career 40-goal seasons (passing Gretzky).
***
Will he pass Jaromir Jagr for most game-winning goals?
Gretzkyisn't the only legendary scorer Ovechkin can surpass for an NHL record. Ovechkin's 124 career game-winning goals rank second in NHL history, 11 back of Jaromir Jagr (135). Ovechkin has scored at least five game-winning goals in 14 of 17 seasons entering 2022-23 (including eight of the last nine campaigns) and already has three so far in 2022-23. Even if he doesn't net another winner this season, he would still pass Jagr atop the all-time list by averaging four GWGs per season for the remainder of his contract (through 2025-26).

***
Will he be the first player in NHL history to lead his team in goals for 20 straight seasons?
Ovechkin has led the Capitals in goals for 17 consecutive seasons entering 2022-23, and currently leads the team so far this season with 22 goals. No player has ever led a team in goals for 20 consecutive seasons, something the lifelong Capitals forward can accomplish by the end of the 2024-25 campaign. In fact, the next closest run to Ovechkin's current 17 straight seasons as Washington's goals leader is 11 consecutive campaigns: Howe (1949-50 to 1959-60 w/ DET) and Rick Nash (2003-04 to 2014-15 w/ CBJ).
***

How long until Ovechkin joins Gretzky in the 400/400 club?
Gretzkyis the only player in NHL history to score 400 regular-season goals on home ice (492) and 400 on the road (402). Ovechkin, who has surpassed Gretzky for the most road goals in NHL history (409), needs seven home goals to become the fifth player in NHL history to score 400 times in front of a home crowd. Ovechkin is averaging 0.53 goals-per-game at Capital One Arena this season (9 in 17 GP) and Washington has 24 home games remaining, putting him on pace to hit the 400 mark in about 14 home games from now (around late Feb.).
***
Will anyone else challenge Gretzky (or Ovechkin)?
As we follow Ovechkin's pursuit of Gretzky, the question will inevitably shift to the next chase of either The Great Eight or The Great One if No. 99 holds his place atop the list. Ovechkin is currently one of three active players averaging 0.55 goals-per-game or better in their career, the others being Auston Matthews (0.63 G/GP) and Kirill Kaprizov (0.55 G/GP). If Matthews or Kaprizov can maintain a scoring rate of 0.60 or better for the duration of their career, they would hit 895 goals in 2035-36 and 2038-39, respectively.

A look at some of the other top goal scorers this season and when they would hit the mark if they are able to boost their career goals-per-game rate to 0.60: Connor McDavid (0.52 career, 0.86 this season, 895 goals in 2035-36), Jason Robertson (0.50 career, 0.69 this season, 895 goals in 2039-40), Tage Thompson (0.32 career, 0.81 this season, 895 goals in 2039-40), Leon Draisaitl (0.46 career, 0.60 this season, 895 goals in 2035-36) and David Pastrnak (0.49 career, 0.73 this season, 895 goals in 2035-36).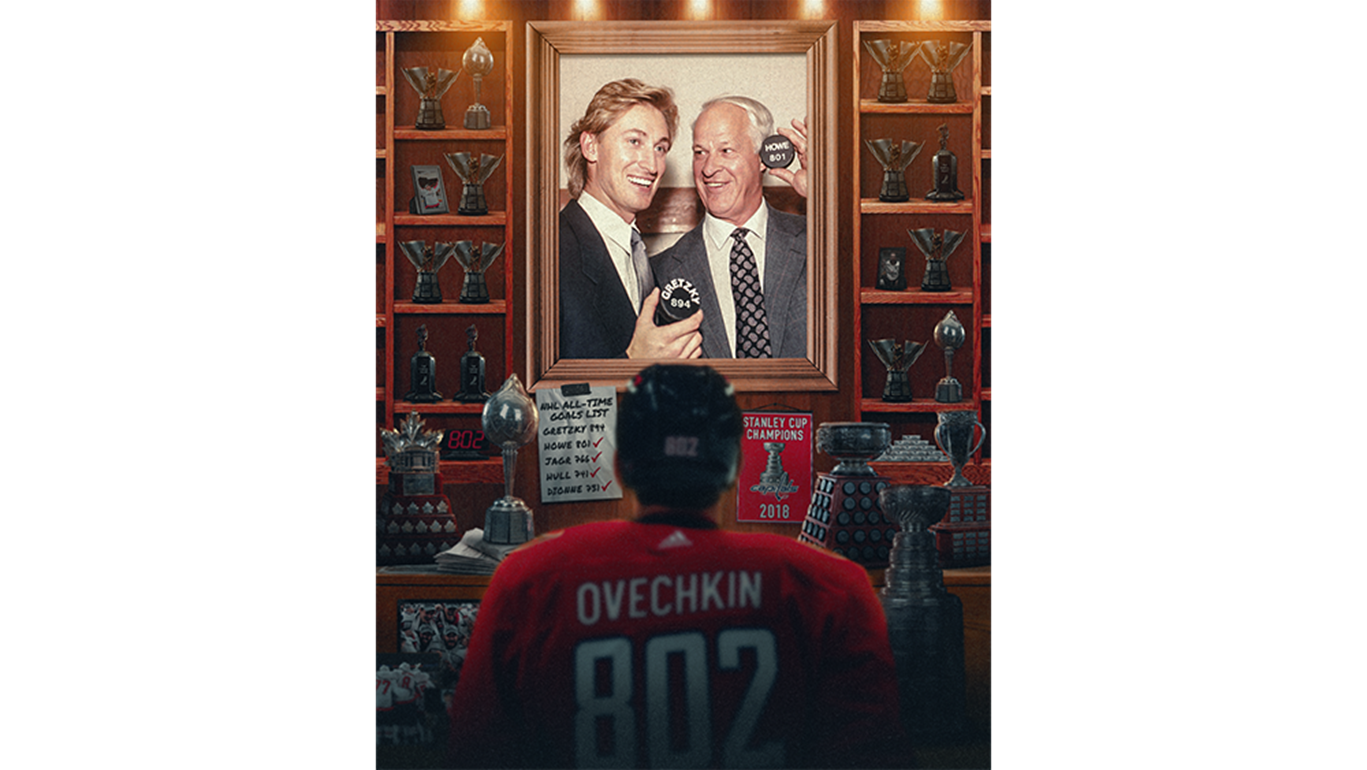 COURTESY NHLmedia.com