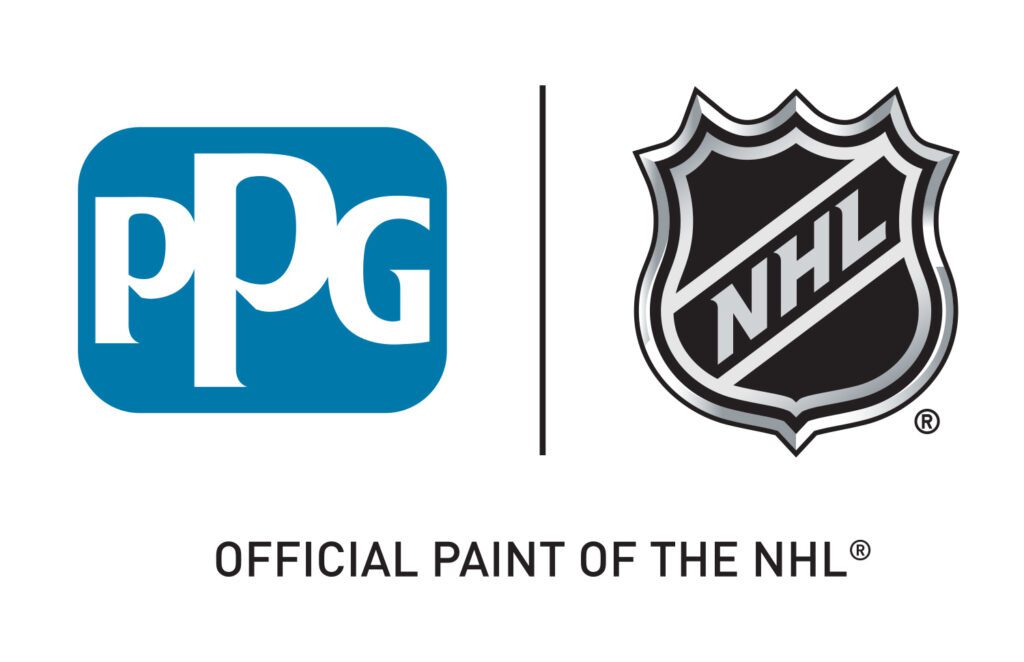 PITTSBURGH (December 21, 2022) – PPG (NYSE: PPG) and the National Hockey League (NHL®) today announced a three-year extension of their North American partnership. PPG will continue to be the Official Paint of the NHL in the U.S. and Canada. Financial details and terms were not disclosed.
PPG will participate as a sponsor of the 2023 Discover NHL Winter Classic® featuring the Pittsburgh Penguins versus the Boston Bruins on Monday, Jan. 2 at 2 p.m. ET. Pittsburgh-based PPG's presence at the NHL Winter Classic is a natural synergy with the Penguins' participation. The PPG partnership will be visible in various ways, such as on-site activation, branded dasherboards, and in-stadium signage.
"We're proud to combine the power of the NHL with PPG and its well-known consumer paint brands, including PPG PAINTS™, DULUX® paint, SICO® paint, GLIDDEN® paint and OLYMPIC® stains," said Bryan Iams, PPG chief communications and government affairs officer. "Through the partnership extension, PPG will continue to identify new ways to integrate its paints, coatings and specialty materials into the game of hockey, including at premier events such as the 2023 Discover NHL Winter Classic."
Another highlight of the partnership includes PPG receiving nationwide broadcast exposure through Digitally Enhanced Dasherboards (DED) during the Stanley Cup Playoffs® throughout the agreement's term. PPG will be able to reach a broader audience through this dynamic signage initiative and the opportunity is a strategic fit with the Stanley Cup Playoffs occurring at the start of paint season.
"We are delighted to extend our partnership with PPG, a deeply committed NHL partner that engages our fans across numerous levels of our great game, including at the upcoming Discover NHL Winter Classic," said Kyle McMann, NHL Senior Vice President, North American Business Development. "It is exciting to see that PPG will utilize DED, an innovative approach to dynamic dasherboard advertising to promote their products and reach new consumers and NHL fans."
Since the partnership's inception in 2017, PPG has collaborated with the NHL to integrate its innovative products into the game of hockey. At the beginning of the last partnership extension in 2019, the two parties announced that a color-changing thermochromic coating would be added to all official game pucks. Developed with PPG's suppliers LCR Hallcrest and QCR Solutions Corporation, the advanced coatings change from purple to clear when a pucks temperature is above freezing. This provides a visual indication to officials that the puck should be replaced.
The 2022-23 NHL season marks the fourth of the coating's use, and it continues to make a positive impact on the game of hockey. The NHL utilizes over 60,000 coated game pucks every season. In addition to the thermochromic coating, PPG's ENVIROCRON® Extreme Protection coating has been used on NHL goal posts since 2017. The proprietary powder coating technology provides outstanding cold chip resistance for the most challenging automotive underbody end-uses and continues to be used to protect hockey goals.
PPG produces paints, stains and specialty products available at more than 250 Dulux stores in Canada, 600 PPG Paints stores in the U.S., 6,000 independent dealer locations and 8,000 major home improvement center locations in the U.S. and Canada, including The Home Depot, RONA, Menards and Walmart.
NHL, the NHL Shield, and the word mark and image of the Stanley Cup and the NHL Winter Classic word mark are registered trademarks and the NHL Winter Classic logo is a trademark of the National Hockey League. NHL and NHL team marks are the property of the NHL and its teams. © NHL 2022. All Rights Reserved.
### (12/21/22)
About the NHL
The National Hockey League (NHL®), founded in 1917, consists of 32 Member Clubs. Each team roster reflects the League's international makeup with players from more than 20 countries represented, all vying for the most cherished and historic trophy in professional sports – the Stanley Cup®. Every year, the NHL entertains more than 670 million fans in-arena and through its partners on national television and radio; more than 191 million followers – league, team and player accounts combined – across Facebook, Twitter, Instagram, Snapchat, TikTok, and YouTube; and more than 100 million fans online at NHL.com. The League broadcasts games in more than 160 countries and territories through its rightsholders including ESPN, WBD Sports and NHL Network in the U.S.; Sportsnet and TVA Sports in Canada; Viaplay in the Nordics, Baltics and Poland; YLE in Finland; Nova in Czech Republic and Slovakia; Sky Sports and ProSieben in Germany; MySports in Switzerland; and CCTV5+ in China; and reaches fans worldwide with games available to stream in every country. Fans are engaged across the League's digital assets on mobile devices via the free NHL® App; across nine social media platforms; on SiriusXM NHL Network Radio™; and on NHL.com, available in eight languages and featuring unprecedented access to player and team statistics as well as every regular-season and playoff game box score dating back to the League's inception, powered by SAP. NHL Original Productions and NHL Studios produce compelling original programming featuring unprecedented access to players, coaches and League and team personnel for distribution across the NHL's social and digital platforms.
The NHL is committed to building healthy and vibrant communities using the sport of hockey to celebrate fans of every race, color, religion, national origin, gender identity, age, sexual orientation, and socio-economic status. The NHL's Hockey Is For Everyone™ initiative reinforces that the official policy of the sport is one of inclusion on the ice, in locker rooms, boardrooms and stands. The NHL is expanding access and opportunity for people of all backgrounds and abilities to play hockey, fostering more inclusive environments and growing the game through a greater diversity of participants. To date, the NHL has invested more than $100 million in youth hockey and grassroots programs, with a commitment to invest an additional $5 million for diversity and inclusion programs over the next year.
PPG: WE PROTECT AND BEAUTIFY THE WORLD®
At PPG (NYSE:PPG), we work every day to develop and deliver the paints, coatings and specialty materials that our customers have trusted for nearly 140 years. Through dedication and creativity, we solve our customers' biggest challenges, collaborating closely to find the right path forward. With headquarters in Pittsburgh, we operate and innovate in more than 75 countries and reported net sales of $16.8 billion in 2021. We serve customers in construction, consumer products, industrial and transportation markets and aftermarkets. To learn more, visit www.ppg.com.
We protect and beautify the world and PPG Paints are trademarks and Colorful Communities and the PPG Logo is a registered trademark of PPG Industries Ohio, Inc.
Glidden and Sico are registered trademarks of the PPG Group of Companies.
Olympic is a registered trademark of PPG Architectural Finishes, Inc.
Dulux is a registered trademark of AkzoNobel and is licensed to PPG Architectural Coatings Canada, Inc., for use in Canada only.
COURTESY NHLmedia.com