NHL Public Relations
December 24, 2022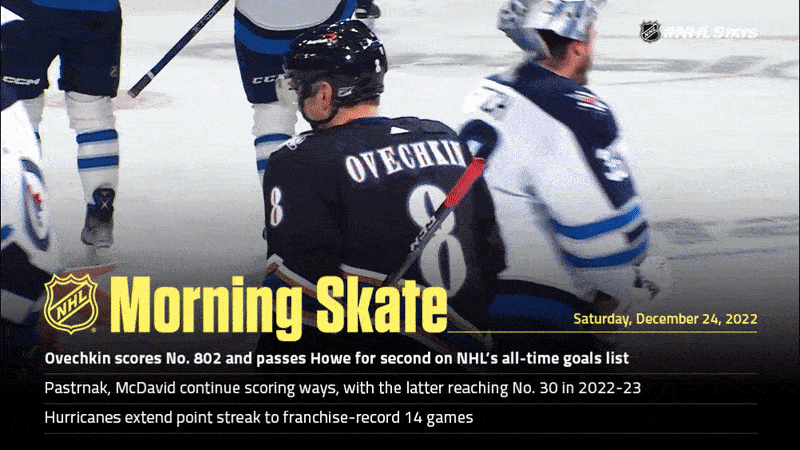 * For just over 31 years, two legendary names stood tall as the top two goal scorers in NHL history: Wayne Gretzky and Gordie Howe. . .that changed Friday.
* Connor McDavid became the first player in 2022-23 to reach 30 goals and joined elite company in the past 25 years by reaching the mark in 35 or fewer games.
* Like the rest of the League, the Morning Skate will be taking a holiday break. Your daily morning update of all the stats and storylines from each night's games will return on the morning of Wednesday, Dec. 28, recapping Tuesday's busy 12-game slate.

HAVE YOURSELF AN "OVI" LITTLE CHRISTMAS
After beating David Rittich with 1:38 remaining in the first period for goal No. 801, Alex Ovechkin netted No. 802 into an empty net with 60 seconds left in regulation to overtake Gordie Howe (801 in 1,767 GP) the second-most goals in NHL history. It's only fitting the Capitals captain accomplished the feat against the Jets/Thrashers franchise – an opponent he has scored more against than any other (53 in 71 GP).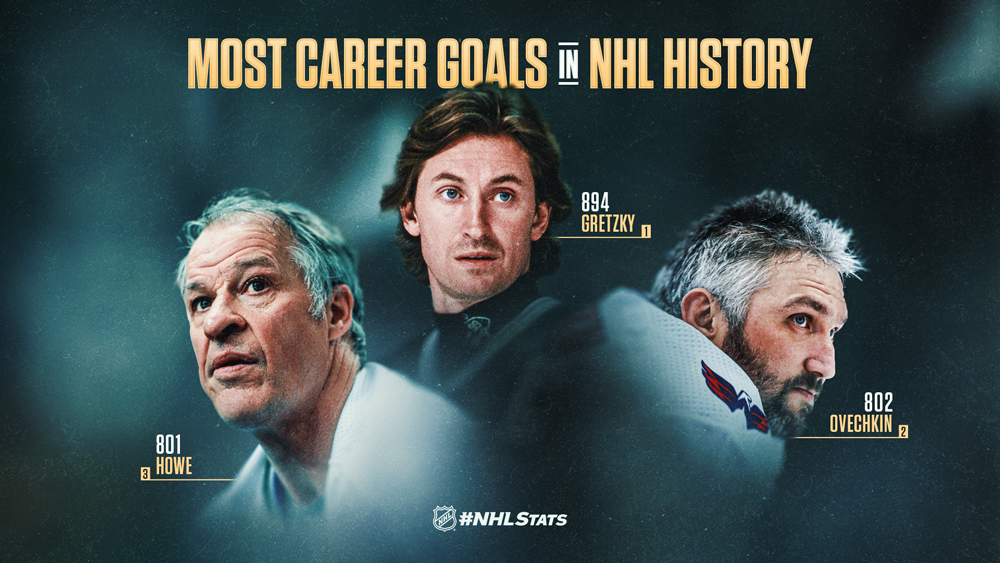 * Following an on-ice celebration with his teammates, players on both sides and all 18,573 fans in attendance at Capital One Arena turned their attention to the jumbotron as the son of Mr. Hockey himself – Mark Howe – congratulated Ovechkin on his monumental milestone.

* In his first-ever meeting against Rittich, Ovechkin has now scored against 166 different goaltenders. Thursday marked the 90th time of 192 opportunities the Capitals captain has scored against a netminder he faced for the first time (regular season & playoffs) and fifth in 2022-23 following Spencer Martin (2-0—2 on Nov. 29), Felix Sandstrom (1-1—2 on Nov. 23), Stuart Skinner (1-1—2 on Nov. 7) and Vitek Vanecek (1-0—1 on Oct. 24).

ICYMI: Each member of the Jets stayed behind after the final horn to congratulate Alex Ovechkin individually, who when asked how he was going to celebrate No. 802 responded: "Going to a bar right now, hot dog, nachos, you know. Why not?"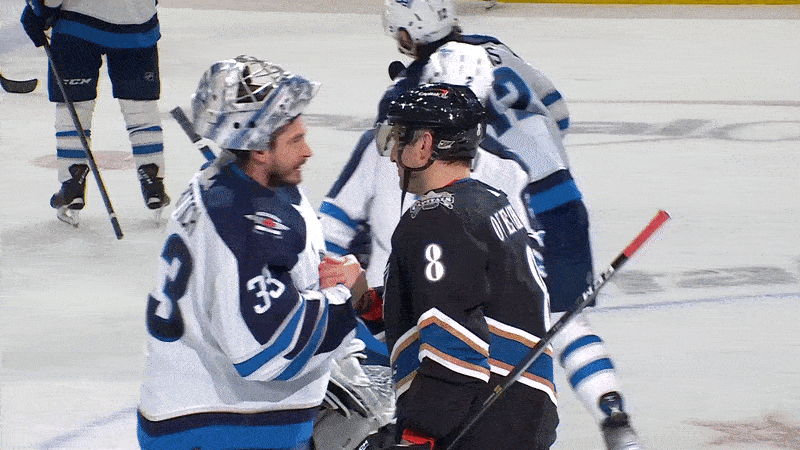 ON TO THE GREAT ONE
For just over 31 years, two legendary names stood tall as the top two goal scorers in NHL history: Wayne Gretzky and Gordie Howe. But now, Alex Ovechkin (802) sits within 92 goals of tying Gretzky (894) for the most in League history.

* Ovechkin is the first person other than Gretzky or Howe to occupy a top-two spot on that list since Dec. 21, 1991 – the day Gretzky scored his 732nd career goal to overtake Marcel Dionne (731) for second place in League history.

* The Capitals captain has produced at a 0.61 goals-per-game rate this season, equal to his pace across his past 10 seasons dating to 2013-14. Should Ovechkin continue at that rate it would take The Great Eight approximately 153 regular-season games to pass The Great One – somewhere around the halfway mark of the 2024-25 season.

* The latest Alex Ovechkin #NHLStats Pack is now available, with eight questions looking ahead to The Great Eight's future. Click here for everything you need to know.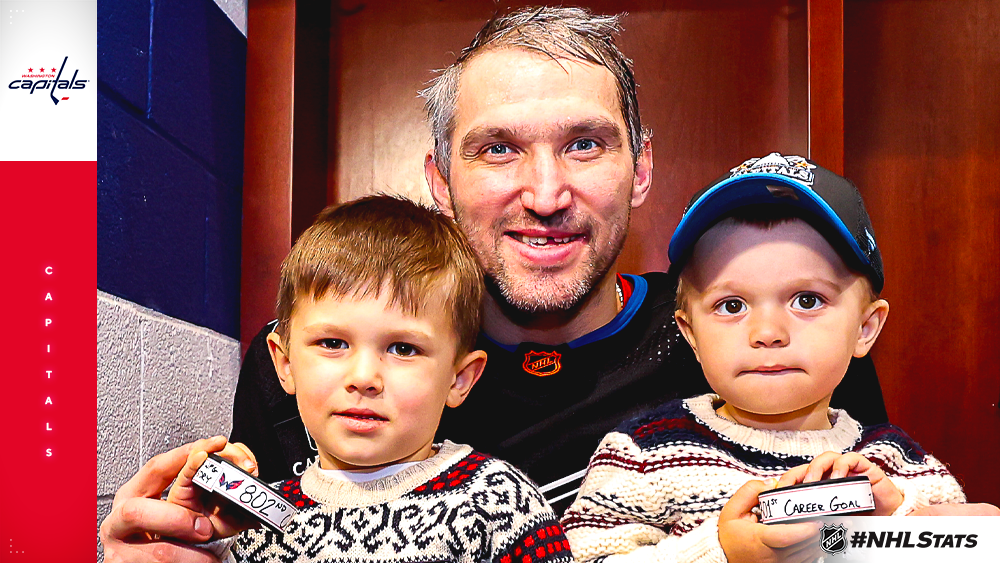 McDAVID HITS 30 GOALS AND MORE IN #NHLSTATS: LIVE UPDATES
As Alex Ovechkin made NHL history, Connor McDavid became the first player to reach the 30-goal mark this season. That note and more made it on the final #NHLStats: Live Updates before the Holiday Break:

* David Pastrnak (2-0—2) scored his 263rd and 264th career tallies during a four-goal second period for Boston to tie Bobby Orr for 10th place on the Bruins' all-time list. Boston improved to 27-4-2 (56 points) and became just the seventh different team in NHL history to record at least 56 points before Christmas, with two of those clubs going on to win the Stanley Cup (ANA in 2006-07 & MTL in 1976-77).

* Jason Roberston assisted on two of four unanswered goals for Dallas to become the fourth player to reach the 50-point mark this season (24-26—50 in 35 GP). Only two players in Stars/North Stars history also reached the mark in 35 contests or fewer: Dino Ciccarelli (28 GP in 1986-87 & 35 GP in 1987-88) and Bobby Smith (30 GP in 1981-82 & 34 GP in 1979-80).

* The Hurricanes managed to hold off a three-goal, third-period rally from the Flyers to earn their eighth straight victory – the longest active winning streak in the NHL – and established a franchise record for the longest point streak as they stretched it to 14 games (12-0-2).

* Connor McDavid became the first player this season to reach 30 goals as he extended a point streak to 15 or more games for the third time in his career (also 17 GP & 15 GP in 2021-22). The only active player with as many is Patrick Kane (26 GP in 2015-16, 20 GP in 2018-19 & 15 GP 2019-20).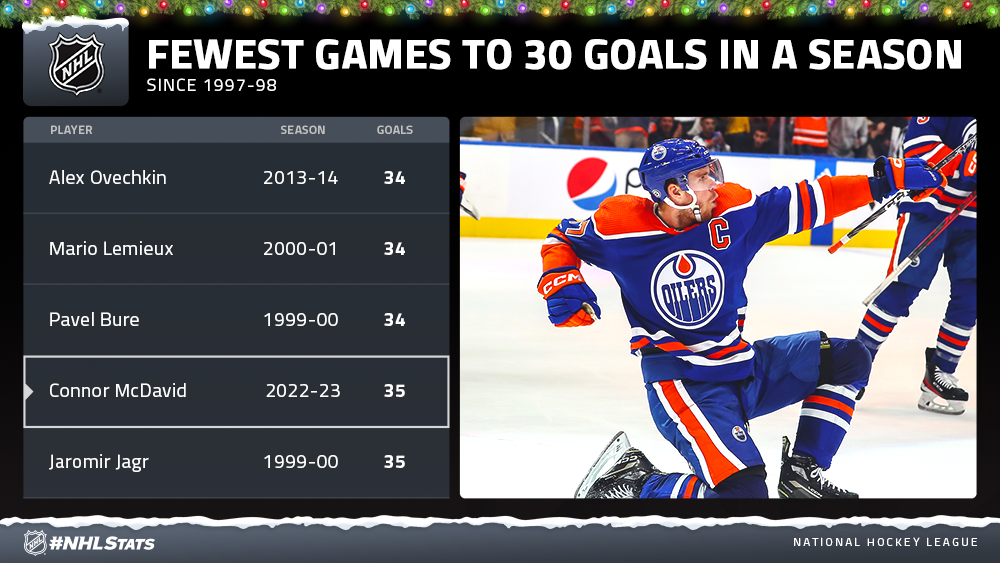 NHL PODCASTS: WEEKLY ROUNDUP

* NHL Fantasy (Dec. 19): Fantasy waiver wire pickups: Week 11
* NHL Fantasy (Dec. 19): Action Network Collab: Week 12
* NHL @ The Rink (Dec. 21):Brian Dumoulin, Mike Morreale join; talk Makar, World Juniors
* Draft Class (Dec. 21):2023 World Junior Championship preview
* The Chirp w/ Daren Millard (Dec. 22): Jim Montgomery joins; talks season, Winter Classic
* La Tasse de café LNH (Dec. 21): Spécial Championnat mondial de hockey junior
* NHL Fantasy (Dec. 22): Week 11 fantasy mailbag; MVPs, surprises at holiday break
QUICK CLICKS

* Video: Deputy Commissioner Bill Daly sits down with Seattlehockeyinsider.com's Rob Simpson
* Mark Howe congratulates Alex Ovechkin on 802nd NHL goal
* Yegor Sharangovich dresses up as Santa, gives gifts to Devils teammates
* Max Pacioretty brings ice cream to young fan who dropped his cone
NHL RETURNS FROM HOLIDAY BREAK ON TUESDAY
The NHL will return from a three-day Holiday Break with a 12-game slate on Tuesday, Dec. 27 that includes two American scoring sensations squaring off exclusively on ESPN+ and Hulu when Johnny Gaudreau (10-24—34 in 32 GP) and the Blue Jackets host Tage Thompson (26-24—50 in 32 GP) and the Sabres.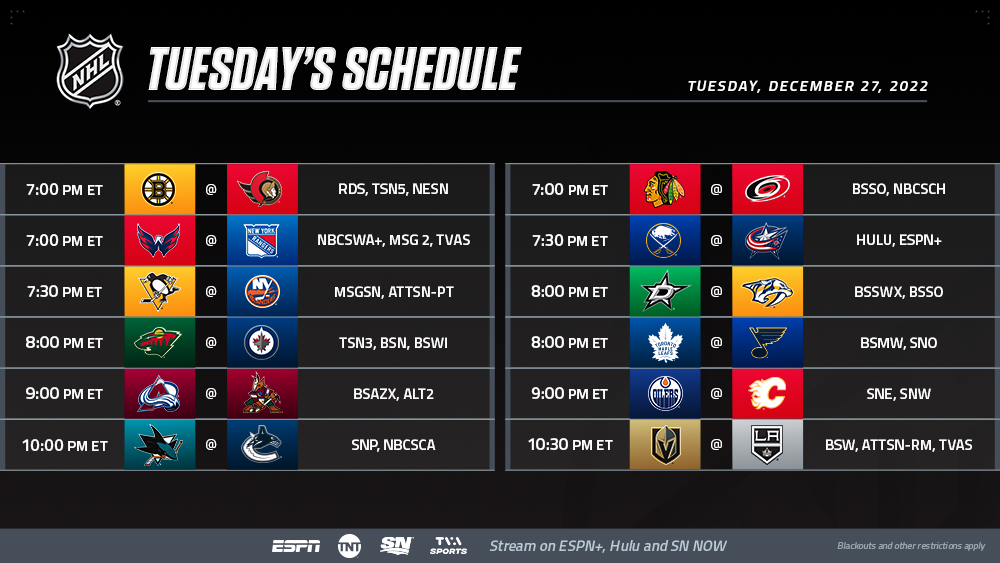 COURTESY NHLmedia.com