NHL Public Relations
December 22, 2022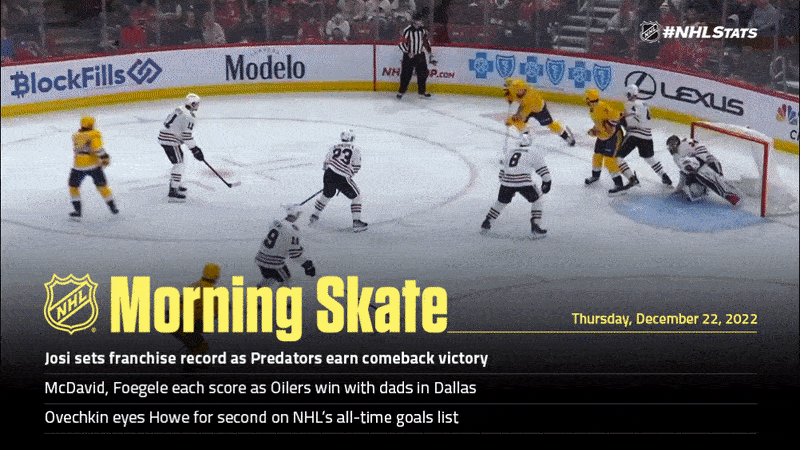 * Roman Josi tallied a multi-point outing to move into first place on the Predators' all-time points list and joined NHL legend Ray Bourque on an esteemed list in the process.
* With their fathers in the audience, Connor McDavid extended his point streak to 14 games and Warren Foegele scored the game winner as the Oilers earned a comeback win at American Airlines Center.
* Alex Ovechkin continues his pursuit of Gordie Howe for second on the NHL's all-time goals list Thursday, while David Pastrnak, Kyle Connor and Jonathan Huberdeau each eye their 100th regular-season point of the 2022 calendar year.
PREDATORS, DEVILS, RED WINGS COMPLETE COMEBACKS
The Predators, Devils and Red Wings were three of six teams to earn comeback victories Wednesday night (also COL, EDM & MIN) with Roman Josi, Jack Hughes and Ville Husso each posting notable performances in the process:

* Josi (1-1—2) scored the game-winning goal in the third period before adding an assist to bring his career numbers to 147-420—567 (791 GP) and surpass David Legwand (210-356—566 in 956 GP) for first place on the Predators' all-time points list. Josi's game winner marked the 27th of his career, surpassing Martin Erat for sole possession of third place in franchise history.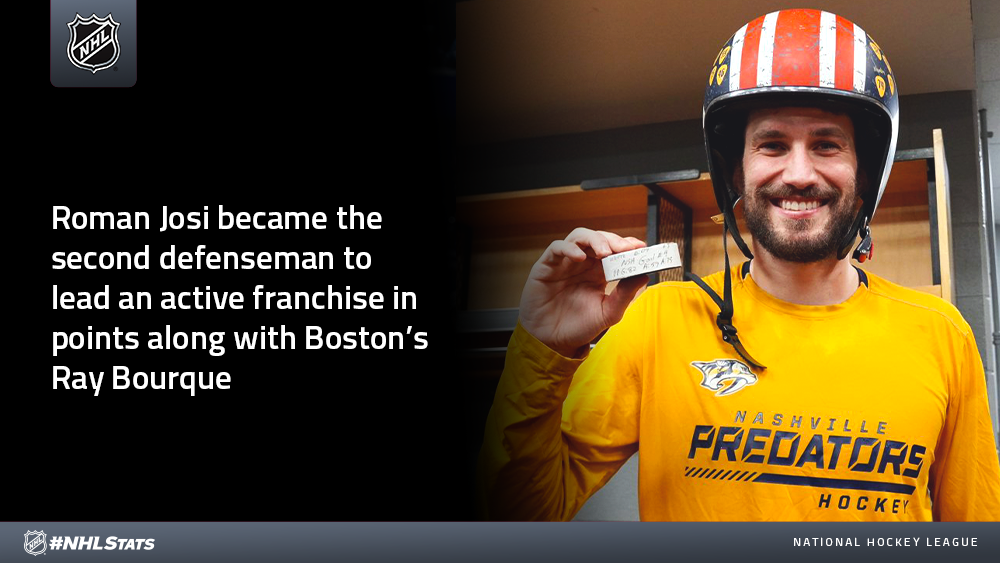 * Jesper Bratt (2-0—2) scored New Jersey's first two goals of the game while Jack Hughes (0-1—1) boosted his career totals to 61-85—146 (199 GP) and tied Scott Gomez (36-110—146 in 192 GP) for the fourth-most points in franchise history before age 22. The Devils (22-9-2, 46 points) earned their ninth comeback win of the season, trailing only the Oilers (10) for the most among all clubs.
* Ville Husso (46-19-12 in 80 GP)backstopped the Red Wings with 34 saves, while Dylan Larkin (2-1—3) accounted for two of the Red Wings' seven goals, including the game winner. Detroit scored seven in a game for the second time this season – only the Sabres and Rangers (both w/ 3) have more such outings.


McDAVID, FOEGELE HELP OILERS TO VICTORY WITH DADS IN DALLAS
With their fathers in the audience, Connor McDavid and Warren Foegele each found the back of the net as the Oilers tallied six times and staged a come-from-behind victory at American Airlines Center – Edmonton leads the NHL with 10 comeback wins in 2022-23.

* McDavidextended the longest active point streak in the NHL to 14 games (13-17—30 in 14 GP) and came within one goal of 30 this season (29-36—65 in 34 GP). The Oilers captain can become just the second active player to reach the 30-goal mark in seven consecutive campaigns – he would join Alex Ovechkin (15x: 2006-06 to 2019-20).

* McDavid became the first NHL player with 65-plus points in a season before Christmas since 1995-96, when Penguins teammates Mario Lemieux (29-47—76 in 33 GP) and Jaromir Jagr (29-39—68 in 33 GP) achieved the feat.

DID YOU KNOW?
Foegele and McDavid played minor hockey together for the York-Simcoe Express and were coached by McDavid's dad, Brian, who was also in the stands Wednesday. Their team went to the finals of the Quebec International Pee-Wee Hockey Tournament, but eventually went on to lose to the Junior Blues, coached by Al MacInnis.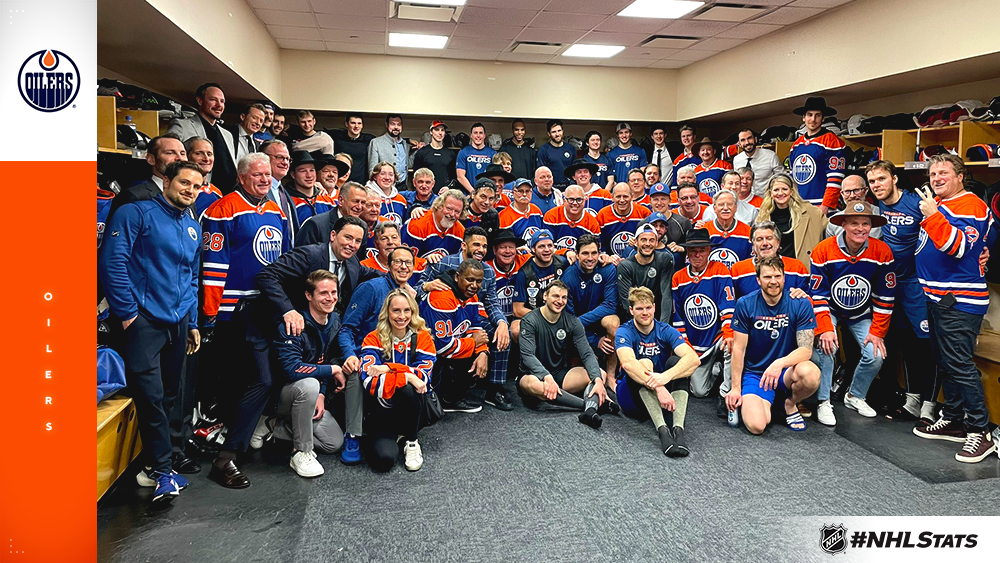 THOMPSON EARNS WIN IN 40TH CAREER START IN #NHLSTATS: LIVE UPDATES
Wednesday's edition of #NHLStats: Live Updates includes Logan Thompson, who made 21 saves for his 25th career win while making his 40th start. The rookie netminder trails only Linus Ullmark (18), Connor Hellebuyck (16) and Igor Shesterkin (16) for the most wins among all goaltenders in 2022-23.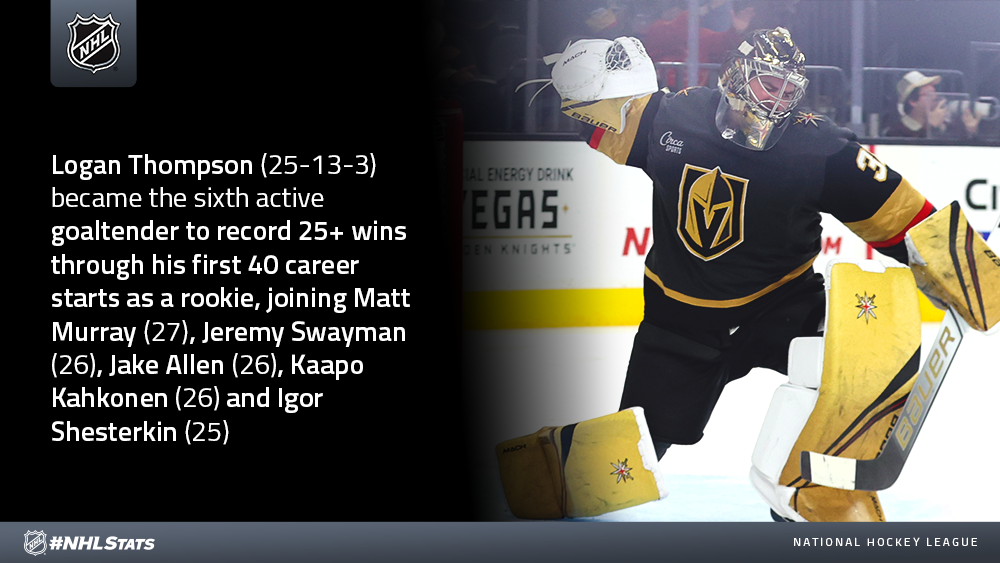 QUICK CLICKS

* Friday's Lightning-Sabres game postponed, rescheduled for March 4
* Start time to Islanders-Sabres game Jan. 19 changed to 7:30 p.m. ET
* NHL extends exclusive paint partnership with PPG
* Lightning defenseman Mikhail Sergachev fined for slashing
* Winter Classic entertainment features The Black Keys, Bel Biv Devoe, Boston Pops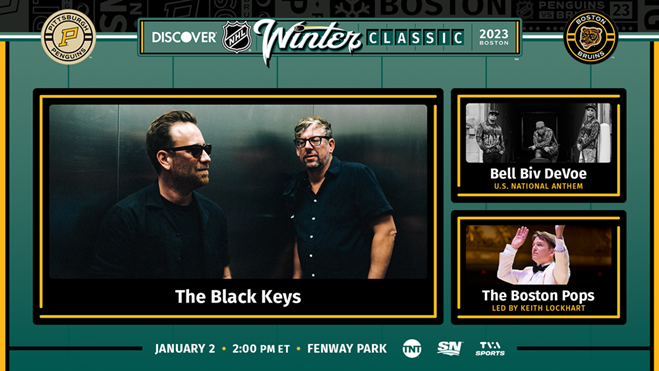 IS TONIGHT THE NIGHT OVECHKIN SCORES NO. 801?
Alex Ovechkin (800-646—1,446 in 1,308 GP) takes to the ice against the Senators on Thursday with another opportunity to tie Gordie Howe (801-1,049—1850 in 1,767 GP) for second place on the NHL's all-time goals list.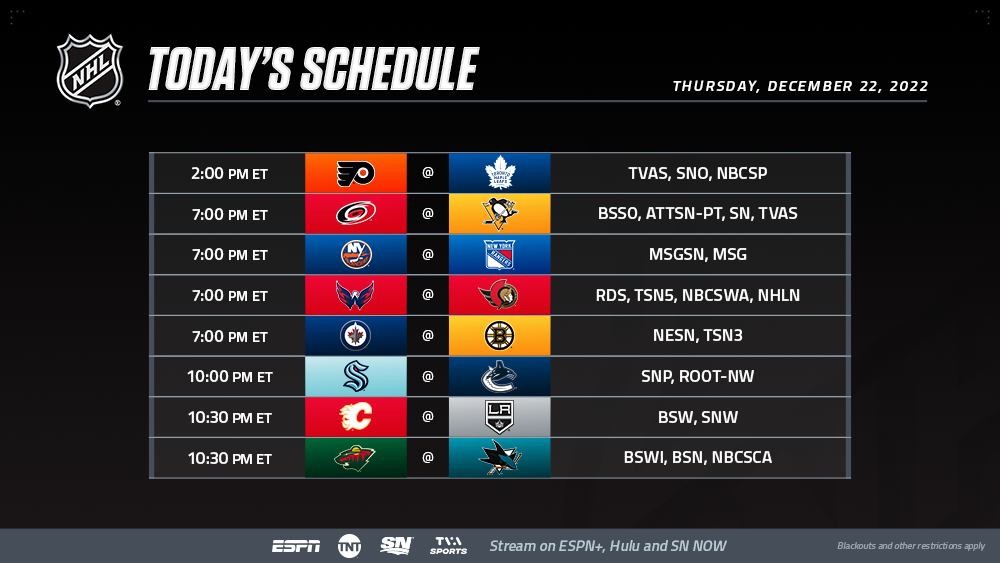 * Ovechkin, without a goal in each of his past three outings, is no stranger to achieving milestones against the Senators after notching No. 500 against the club Jan. 10, 2016. The Capitals captain has gone scoreless in three consecutive games three times in 2022-23, but co-leads the League in road goals this season and has broken the drought in the subsequent contest twice (2-2—4 on Oct. 17 & 2-0—2 on Dec. 7).

HOT METROPOLITAN DIVISION TEAMS DROP THE PUCK AT PPG PAINTS ARENA
Two of the NHL's hottest teams meet when the Hurricanes (20-6-6, 46 points) visit the Penguins (19-9-4, 42 points) with the clubs sitting in first and third in the Metropolitan Division, respectively. Each club has collected eight wins since Dec. 1, trailing only Minnesota (9) for the most among all teams through that span.

* Captain Jordan Staal has scored the game-winning goal in each of his past two outings for the Hurricanes, a club that has gone 10-0-2 in their past 12 contests and can match the longest point streak in franchise history (13 GP: 9-0-4 in 2020-21 & 2016-17). Staal, who spent 2006-07 to 2011-12 with the Penguins, can join Sebastian Aho (3 GP from Feb. 26 – March 2, 2019) as the second player in franchise history with three consecutive game winners.

* Fresh off becoming the 10th player in NHL history with at least 500 multi-point games in the regular-season and playoffs combined, Sidney Crosby looks to guide the Penguins – who have a 13-2-1 record in their past 16 contests – to their seventh straight home win dating to Dec. 1. Pittsburgh leads all teams in home victories since Crosby entered the League in 2005-06.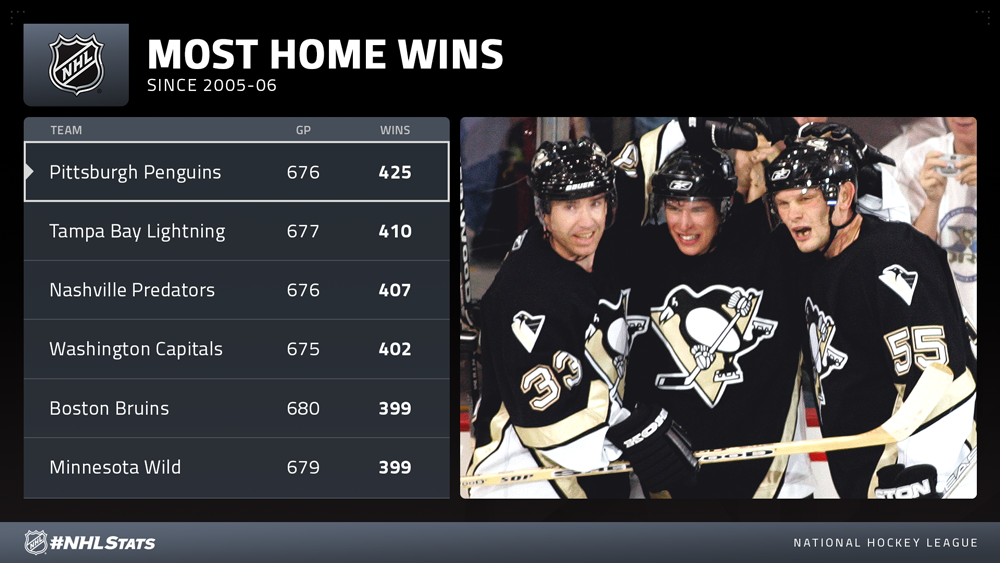 TRIO OF STARS EYE THEIR 100TH POINT OF 2022
David Pastrnak (53-46—99 in 77 GP), Kyle Connor (44-55—99 in 81 GP) and Jonathan Huberdeau (24-75—99 in 79 GP) each eye their 100th regular-season point of the 2022 calendar year – with Pastrnak and Connor looking to hit the mark in their head-to-head matchup when the NHL-leading Bruins (25-4-2, 52 points) put their 19-game home point streak on the line against the Jets (21-10-1, 43 points).

* While Connor can join Marian Hossa (46-56—102 in 2006 w/ ATL) as the second player in Jets/Thrashers history to collect 100 regular-season points in a single calendar year, Pastrnak can join Brad Marchand (44-74—118 in 2019) and Adam Oates (36-96—132 in 1993) as just the third Bruins skater in the past 30 years to do so.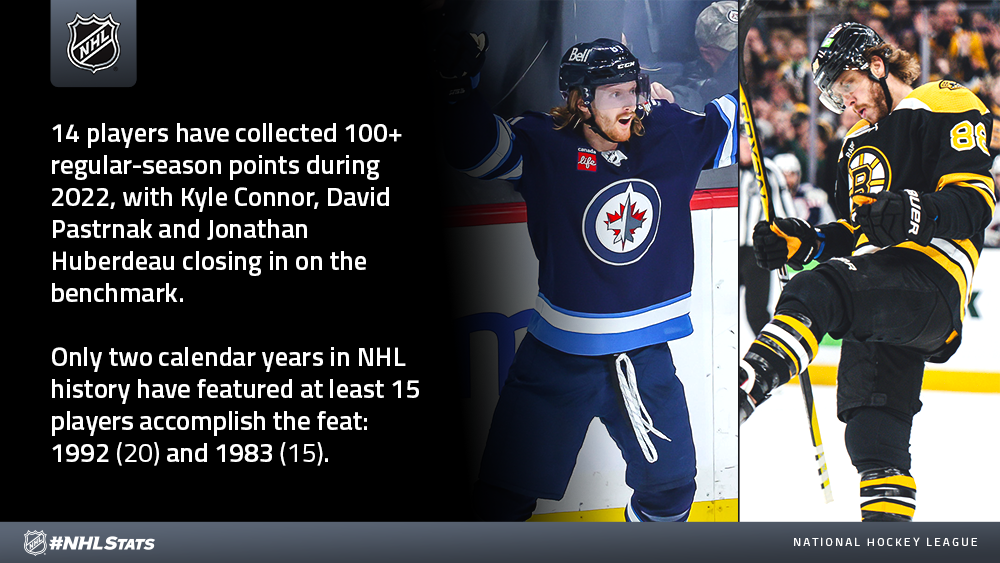 COURTESY NHLmedia.com