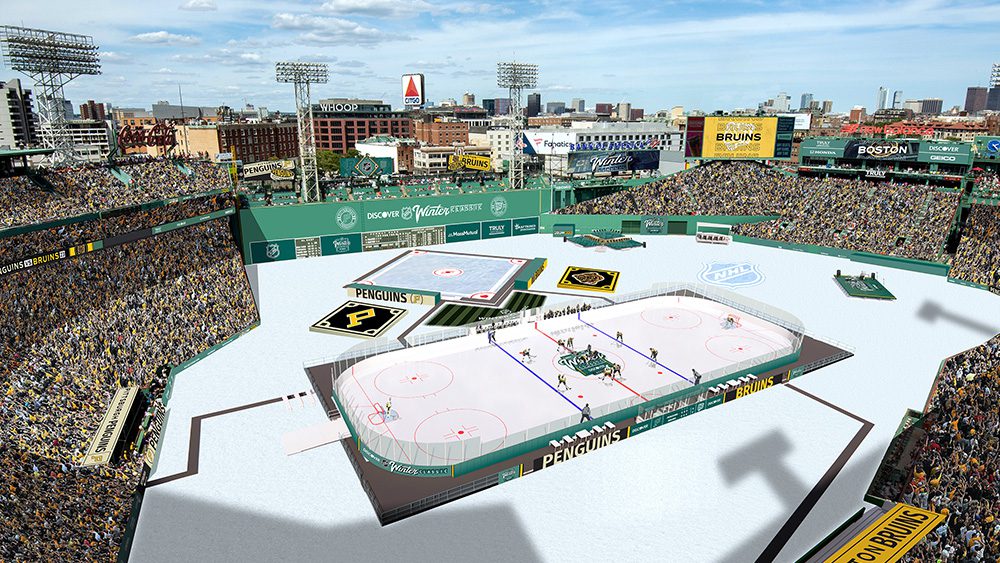 NEW YORK (December 19, 2022) –The National Hockey League (NHL) today unveiled a preview of the planned transformation of Fenway Park in Boston for the 2023 Discover NHL Winter Classic® outdoor game between the Boston Bruins and Pittsburgh Penguins on Monday, Jan. 2. The game, which will be broadcast live at 2 p.m. ET on TNT, Sportsnet, CBC and TVA Sports, will pay homage to the oldest major league baseball stadium and honor former and current Bruins and Boston Red Sox legends.
To commemorate the NHL's return to Fenway Park for the first time since the 2010 NHL Winter Classic, the Bruins and Penguins will face off on an NHL-regulation size rink constructed to sit parallel to the iconic Green Monster. In a first for an NHL game at a baseball venue, the traditional first-to-third base rink orientation shifts to one parallel to the fabled Green Monster, the left field wall that ranks among the most recognizable landmarks in sports.
In another nod to the historic venue and the sport that calls Fenway home, an auxiliary rink built behind the NHL rink will become the "Ice Diamond," complete with Penguins and Bruins dugouts and a faceoff circle in place of the pitcher's mound. The 84' x 84' sheet of ice will host local youth hockey teams, special baseball activities throughout the game, and appearances by Boston sports stars, past and present.
Two entertainment stages erected in the outfield will host musical performances throughout the game. The entertainment lineup for the NHL Winter Classic will be announced in the coming days.
Before the Bruins and Penguins face off at Fenway Park, the NHL will host NHL Winter Classic Plaza™, a free two-day, non-ticketed fan festival open to the public at Boston City Hall Plaza on December 30 and December 31. For more information on the event, visit NHL.com/WinterClassic.
The 2023 Discover NHL Winter Classic® continues the tradition the League established in 2008 of hosting a regular-season outdoor game at the onset of the new year, with the 2023 edition marking the 15-year anniversary of the first NHL Winter Classic® in Buffalo. The game will be the 14th NHL Winter Classic®, the 36th NHL regular-season outdoor game, and the first of two NHL regular-season outdoor games scheduled for the 2022-23 season. For a complete history of NHL regular-season outdoor games, click here.
COURTESY NHLmedia.com