NHL Public Relations
December 19, 2022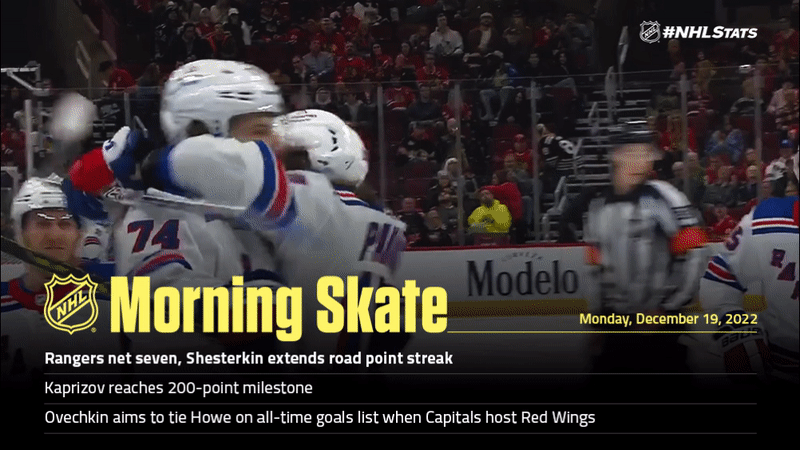 * The Rangers posted their third seven-goal game of the season to earn their seventh consecutive win as Igor Shesterkin improved to 9-0-1 on the road in 2022-23.

* Kirill Kaprizov eclipsed the 200-point mark with a three-point performance and became the fourth-fastest active player to reach the milestone.

* Alex Ovechkin's pursuit of Gordie Howe for second on the NHL's all-time goals list continues Monday as the Capitals host the Red Wings during a busy eight-game slate.

RANGERS, HURRICANES EXTEND STREAKS WITH VICTORIES
A number of streaks were extended Sunday as the Rangers (18-10-5, 41 points) moved past the Penguins (18-9-4, 40 points) for third place in the Metropolitan Division and the Hurricanes (19-6-6, 44 points) maintained their position.

* The Rangers scored seven goals for the third time this season – tied with the Sabres for the most among all teams – and earned their seventh straight win with the help of three-point performances by Adam Fox (0-3—3) and Artemi Panarin (1-2—3). Fox's three-assist outing marked his third of the season – the most among all blueliners – as well as the ninth of his career. Only four defensemen in Rangers history have more: Brian Leetch (37), Brad Park (12), Bill Gadsby (12) and James Patrick (10).

* Igor Shesterkin stopped 29 of 30 shots to extend his season-opening road point streak to 10 games (9-0-1) and matched John Ross Roach (10 GP in 1931-32) for the second longest such run by a Rangers goaltender, behind only Dave Kerr (11 GP in 1939-40).




* Jordan Staal scored the game-winning goal while Pyotr Kochetkov made 23 saves to help the Hurricanes extend their point streak to 11 games (9-0-2) – two shy of matching the longest in franchise history – and maintain second place in the Metropolitan Division standings.

* Kochetkov, who has been in net for nine of Carolina's 11 games during its run, established a franchise record for longest point streak by a rookie goaltender (7-0-2 dating to Nov. 25), surpassing Alex Nedeljkovic (7-0-1 from April 8 – May 3, 2021).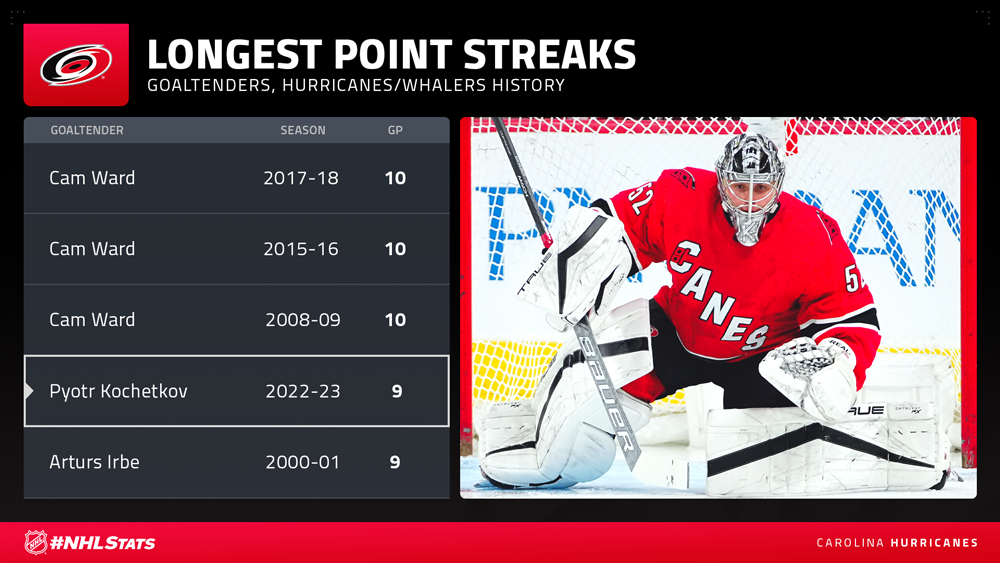 KAPRIZOV'S 200TH POINT PROPELS WILD TO FIFTH STRAIGHT WIN
Kirill Kaprizov (1-2—3) factored on three of Minnesota's goals to boost his career totals to 93-108—201 (167 GP) and guide the Wild (18-11-2, 38 points) to their fifth straight win as well as their seventh straight home victory. Kaprizov became the first player in Wild history to record his first 200 career points with the franchise in fewer than 200 games, besting the previous mark held by Brian Rolston (239 GP).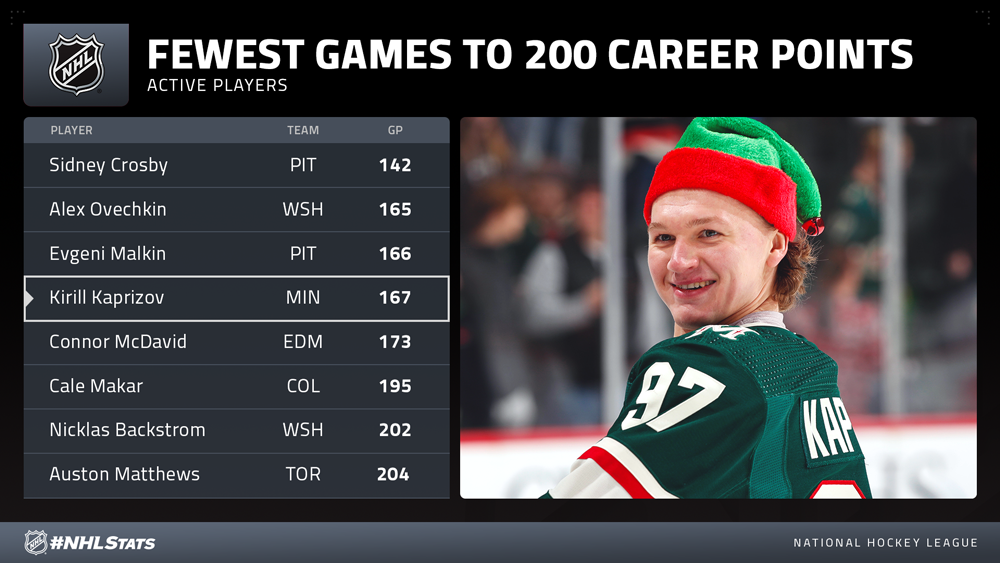 * Sunday marked Kaprizov's fifth three-point game of the season, all of which have come at Xcel Energy Center. Only three other players have had as many home games with three-plus points in 2022-23: Connor McDavid (6 GP), Mikko Rantanen (5 GP) and Nikita Kucherov (5 GP).

* Mats Zuccarello (1-1—2) combined with Kaprizov on two Wild tallies to register his second double-digit point streak with the franchise (also 10 GP in 2021-22). He became just the third player in Wild history with multiple 10-game point streaks, joining Kevin Fiala (12 GP & 10 GP in 2021-22) and Mikael Granlund (12 GP in 2016-17 & 10 GP in 2018-19).

KARLSSON, MORRISSEY EACH JOIN ELITE LISTS SUNDAY
Erik Karlsson and Josh Morrissey each posted multi-point performances, joining elite lists in the process.

* Karlsson(0-2—2) accomplished a pair of feats Sunday, becoming the first defenseman to reach the 40-point mark in 2022-23 while also surpassing the 700-point milestone in his career. Karlsson, who has 12-29—41 (33 GP), required the third-fewest games to reach 40 points among defensemen over the past 20 years, trailing only John Carlson (29 GP in 2019-20) and Bryan McCabe (32 GP in 2005-06).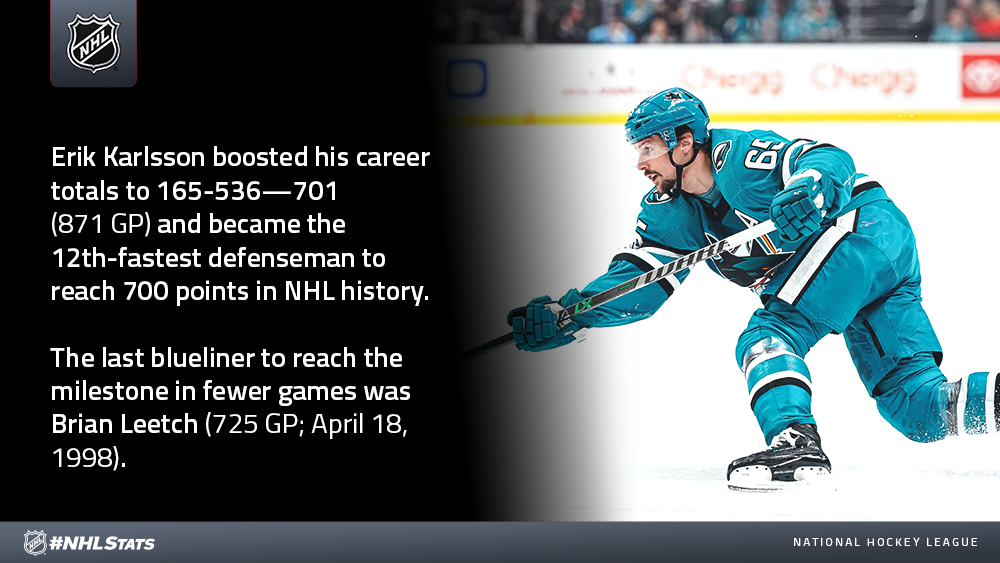 * Morrissey (0-2—2) extended his point streak to nine games, establishing a Jets/Thrashers record for longest by a defenseman, while also reaching and eclipsing the 30-assist mark in 2022-23 (5-31—36 in 31 GP). Morrissey, who matched Blake Wheeler (9 GP in 2018-19 & 2017-18) for the longest assist streak in franchise history, required the third-fewest games to reach 30 assists in a season with the Jets/Thrashers behind only Wheeler (26 GP in 2018-19 & 30 GP in 2017-18).

MORE WESTERN CONFERENCE CLUBS SPOTLIGHTED IN #NHLSTATS: LIVE UPDATES
The Sunday edition of #NHLStats: Live Updates featured a number of notes from across a five-game slate, including noteworthy performances from Western Conference clubs. Here are some highlights:

* Elias Lindholm (2-1—3) scored twice in the first 35 seconds of the third period to propel the Flames to victory. Lindholm tied Bob Murray (0:35 of P2 on March 27, 1977 w/ CHI) for the eighth-fastest two goals by one player to start a period in NHL history – the last skater to score two faster period-opening tallies was Mike Knuble (0:27 of P1 on Feb. 14, 2003 w/ BOS), who also holds the NHL benchmark.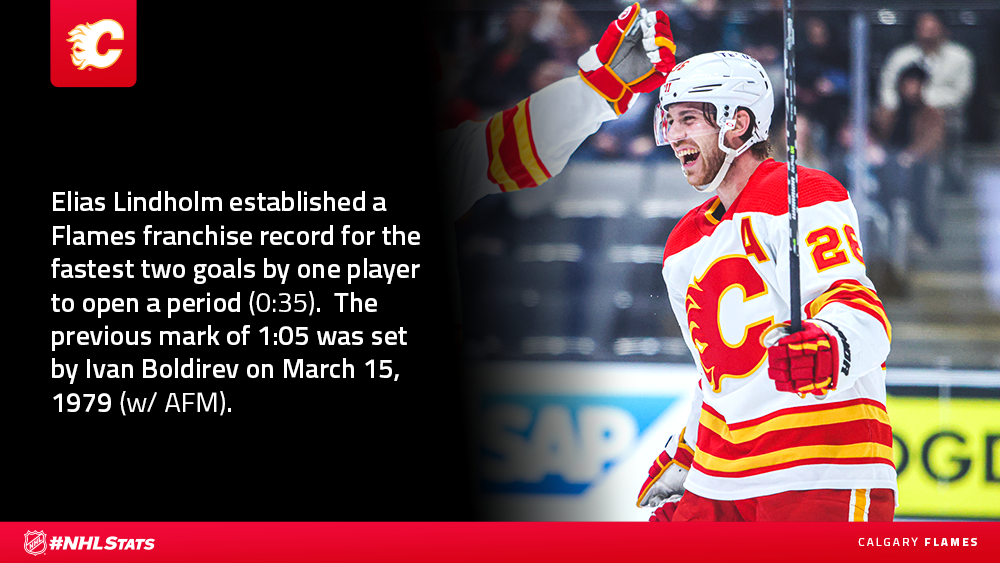 * Matty Beniers (0-1—1) factored on one of his team's three goals as the Kraken rallied from two one-goal deficits to earn a win and improve to 17-10-3 (37 points) through 30 games in 2022-23, maintaining third place in the Pacific Division and 13th in the overall NHL standings – a 15-position improvement over last season which saw Seattle post a 10-17-3 (23 points) record through as many contests.

* Patrick Kane and Jonathan Toews skated in their 1,000th career game together and became just the third active pair of teammates to reach the milestone, joining Drew Doughty and Anze Kopitar (1,028 GP) as well as Nicklas Backstrom and Alex Ovechkin (1,020 GP).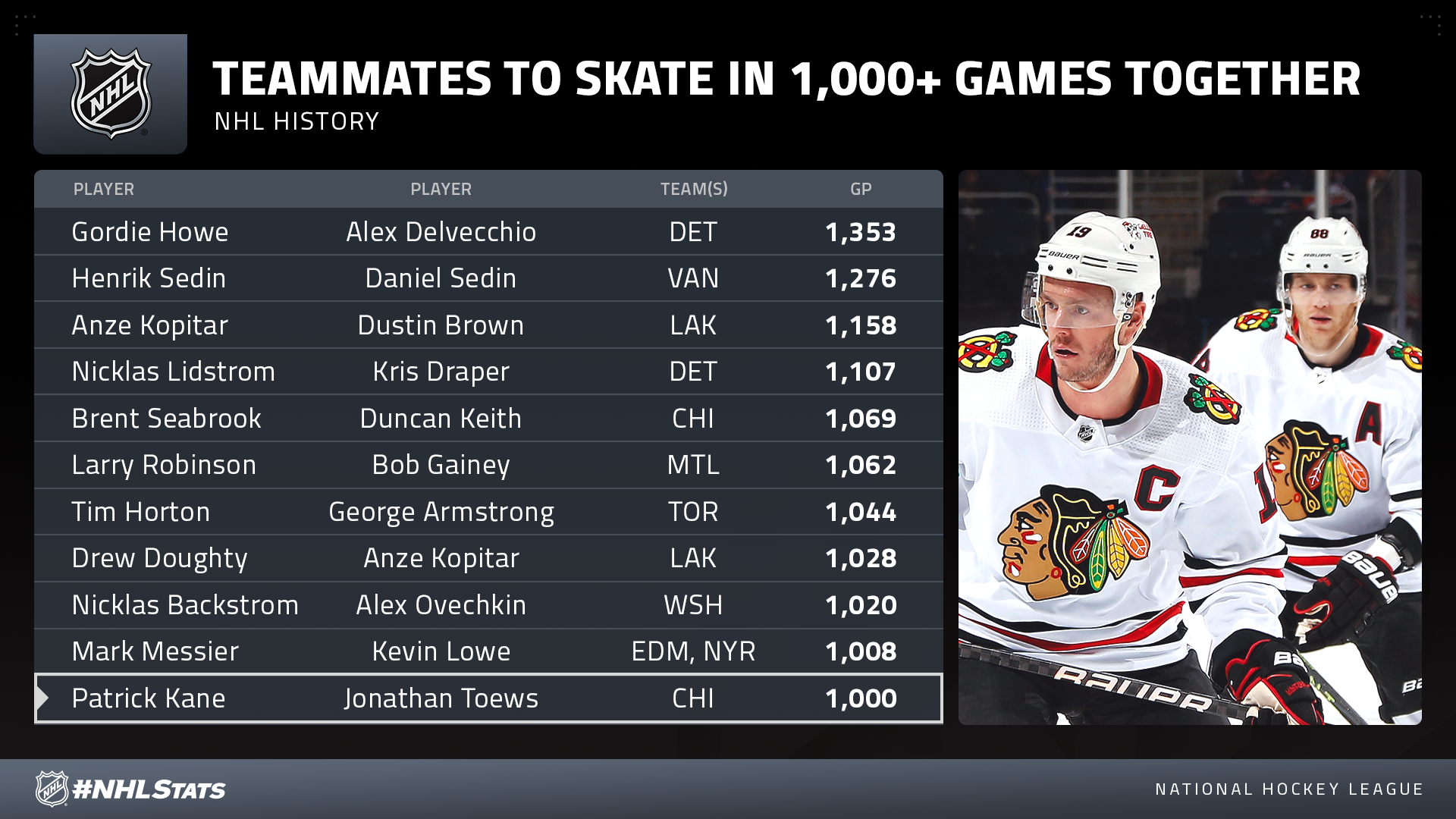 QUICK CLICKS

* Austin Watson fined maximum for actions in Senators game
*Shane Wright, Kraken forward, named Canada captain for 2023 World Juniors
* Rookie Watch: Pyotr Kochetkov, Logan Thompson among top 1st-year goalies
* Goaltender Francois Brassard scores in ECHL game
OVECHKIN EYES GOAL NO. 801 IN MATCHUP WITH RED WINGS
Alex Ovechkin's chase of Gordie Howe for second on the NHL's all-time goals list continues Monday when the Capitals (16-13-4, 36 points) host the Red Wings (13-11-6, 32 points) – a franchise Howe scored 786 of his 801 NHL tallies with.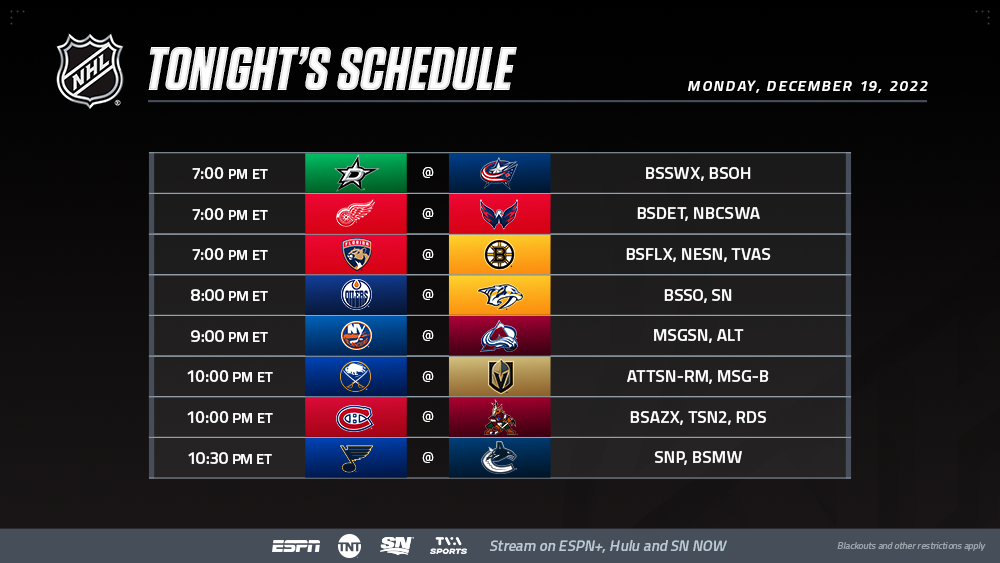 * After surpassing Howe (786 w/ DET) for the most goals with one franchise on Nov. 5, Ovechkin enters his tilt Monday with 23 tallies in 31 career games against the Red Wings (0.74 G/GP). It marks his fourth-highest goals-per-game percentage against a single franchise (min. 15 GP), trailing only the Wild (17 in 19 GP; 0.90 G/GP), Blues (19 in 23 GP; 0.83 G/GP) and Maple Leafs (41 in 55 GP; 0.75 G/GP).

* Ovechkin and the Capitals have six games remaining in 2022, with The Great Eight having collected 46-29—75 in 77 regular-season games this calendar year. With four more goals through that span, Ovechkin will record his eighth calendar year with 50-plus regular-season goals – a feat only Mike Bossy (8x) has accomplished in NHL history.

* NHL.com's Tom Gulitti previewed tonight's game against the Red Wings with comments from Marty and Mark Howe as Ovechkin continues his pursuit of their father for second place on the NHL's all-time goals list.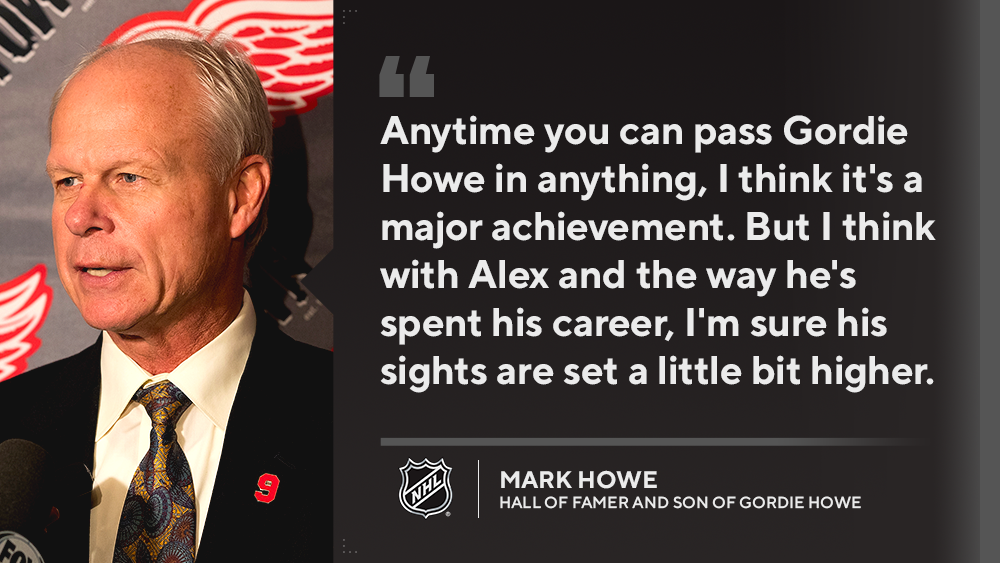 COURTESY NHLmedia.com