NHL Public Relations
December 16, 2022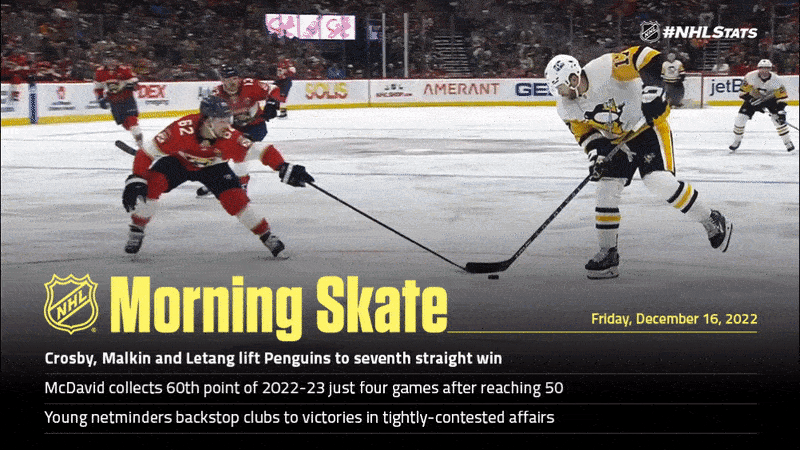 * Sidney Crosby climbed an NHL all-time list, Kris Letang scored for the first time since recovering from a stroke and the Penguins improved to 173-28-11 when the pair plus Evgeni Malkin each find the score sheet.
* Connor McDavid reached the 60-point plateau in the fewest games the NHL has witnessed in more than 25 years.

* Standout performances from three young netminders – Jake Oettinger, Carter Hart and Pyotr Kochetkov – helped each of their clubs earn wins Thursday.



LONGTIME PENGUINS TRIO LEAD CLUB TO SEVENTH STRAIGHT WIN
Kris Letang (1-1—2) scored for the first time since returning to the lineup on Dec. 10 after recovering from a stroke, while his longtime counterparts of Evgeni Malkin (1-1—2) and Sidney Crosby (0-2—2) also skated to multi-point outings as the Penguins improved their all-time record to 173-28-11 when all three find the score sheet (7-0-0 in 2022-23).

* Pittsburgh improved to 7-0-0 in its past seven games, which marks the longest active winning streak, backstopped by Tristan Jarry who made 32 saves to extend his point streak to 12 contests (10-0-2). He became the second Penguins netminder in the past 20 years to reach the dozen mark, joining Marc-Andre Fleury (3x: 14 GP in 2010-11 & 2006-07, 12 GP in 2011-12). Only one goaltender posted a run of as many games last season: Cam Talbot (15 GP w/ MIN; 12-0-3).
* Crosby secured his 225th career multi-assist outing which allowed him to surpass Steve Yzerman for sole possession of 12th place on the NHL's all-time list. Crosby improved his team-leading totals to 17-23—40 (30 GP) and has now reached the 40-point mark in a season in 30 or fewer games for the ninth time in his career. The only Penguins player to do so more: Mario Lemieux (13x). The Penguins captain is on pace for 46-63—109 in 2022-23.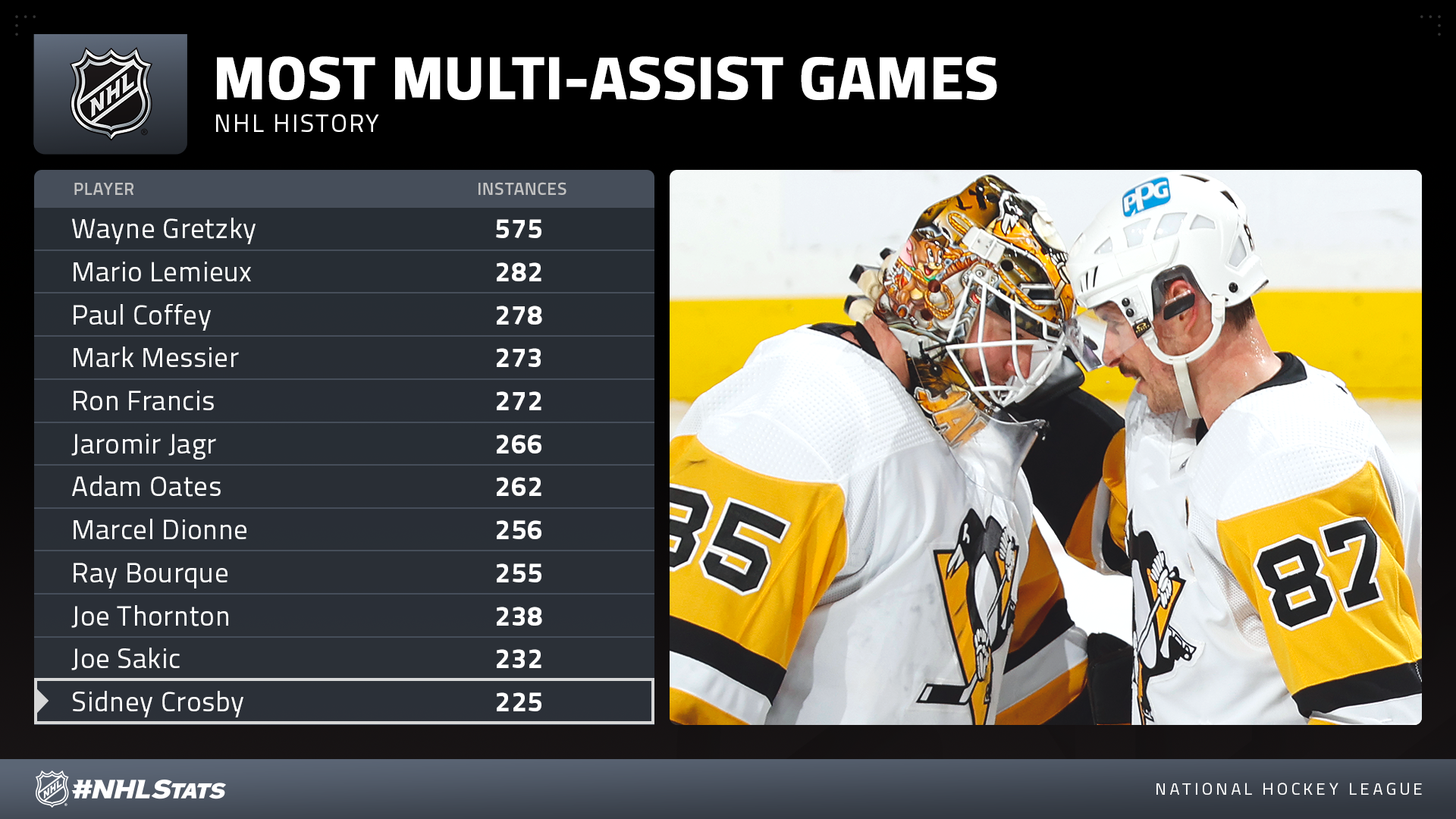 McDAVID GOES "ZERO TO SIXTY" IN 31 GAMES
Connor McDavid scored yet another highlight-reel goal to boost his season totals to 27-33—60 (31 GP) en route to becoming the first skater to reach the 60-point mark in 2022-23 – just four games after eclipsing the 50-point plateau on Dec. 7.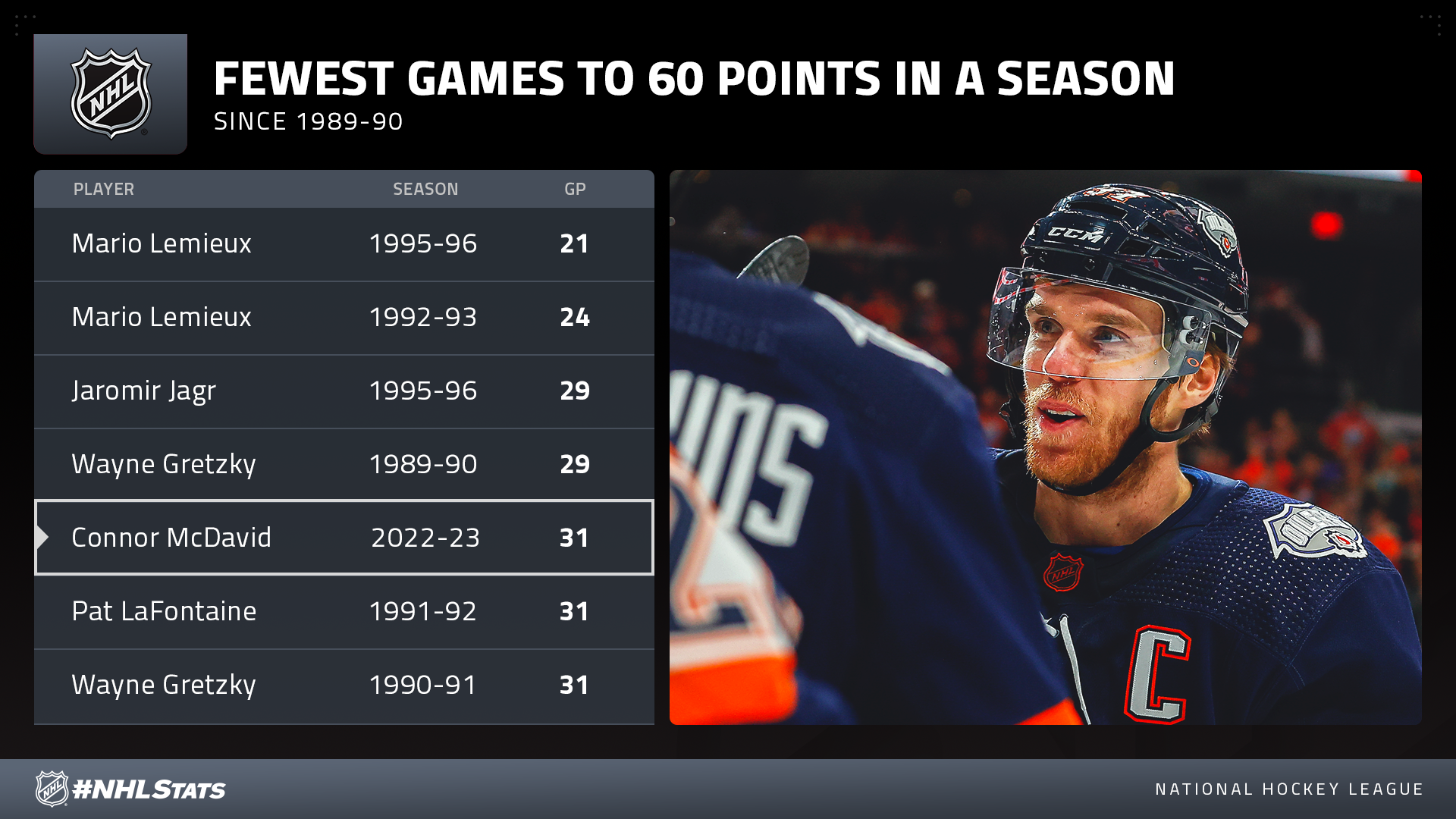 * McDavid extended his home goal streak to seven games and matched the second-longest run in Oilers history – a feat he also accomplished in 2020-21. The franchise mark is held by Wayne Gretzky, who scored in 10 consecutive home games during the 1981-82 season.

YOUNG GOALTENDERS SHINE BETWEEN THE PIPES
The trio of Jake Oettinger (45 saves), Carter Hart (48 saves) and Pyotr Kochetkov (15 saves), all of whom have yet to celebrate their 25th birthday, backstopped the Stars (18-8-5, 41 points), Flyers (10-14-7, 27 points) and Hurricanes (17-6-6, 40 points) to victory in tightly-contested affairs.

* Oettinger, who turned aside five Alex Ovechkin shots in his pursuit of goal No. 801, has stifled the Capitals in both his appearances against the club this season which includes 72 saves on 73 shots, a 0.50 goals-against average, .986 save percentage and one shutout. The Stars netminder, who improved to 3-0-0 when making 40-plus saves in a regular-season game, stood tall in his 99th career outing.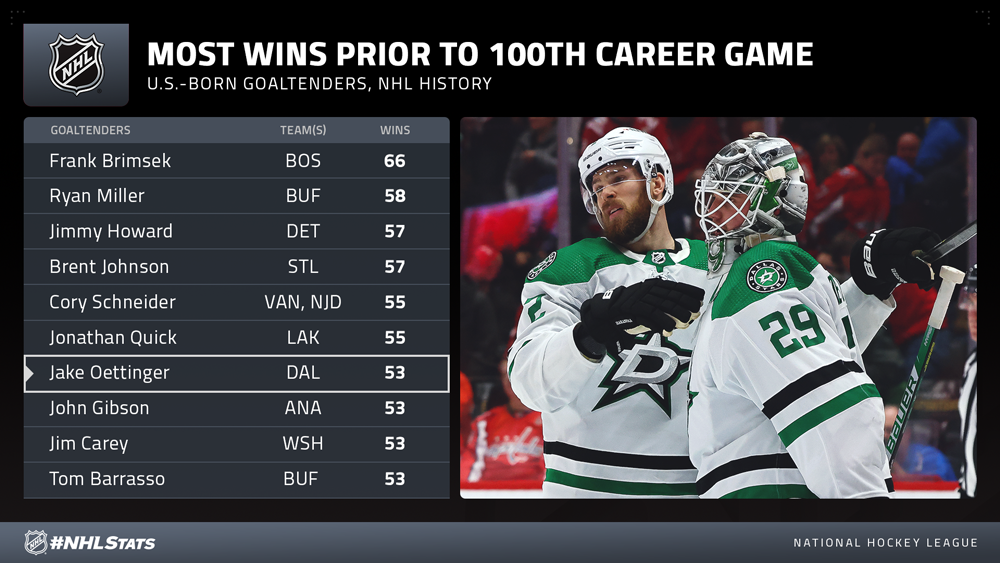 * Hart matched a regular-season career high with 48 saves, a feat he achieved previously this season (Oct. 27). While the Flyers goaltender is the only netminder with multiple 45-plus save performances in 2022-23, he recorded his fourth such outing during the regular season – trailing only Bernie Parent (6 GP) for the most in franchise history.

* Stefan Noesen's penalty-shot goal stood as the game winnerand Kochetkov helped the Hurricanes halt a Kraken three-goal comeback attempt to improve to 6-0-2 in his past eight appearances – tying the longest point streak by a rookie goaltender in franchise history (also Alex Nedeljkovic: 7-0-1 in 2020-21). The No. 36 pick in the 2019 NHL Draft saw his shutout sequence come to an end with 8:34 remaining in the second period, a stretch lasting 151:26 and besting Jason Muzzatti (130:12 from March 22 – April 6, 1996 w/ HFD) for the longest by a rookie goaltender in Hurricanes/Whalers history.

THOMPSON, BLUES FEATURED ON #NHLSTATS: LIVE UPDATES
Thursday's edition of #NHLStats: Live Updates featured a number of notes, included a goal and multi-point outing from Tage Thompson, as well as a late game-tying tally from Vladimir Tarasenko.

* Tarasenkoscored a shorthanded goal with 20 seconds remaining in regulation to force overtime and help his Blues erase a two-goal deficit in the third period en route to a shootout win. Tarasenko's tally marked just the 13th time a team scored a game-tying goal while shorthanded in the final 20 seconds – St. Louis now accounts for three of the 13 instances including each of the last two (also Nov. 3, 2021).

* Thompsontallied 1-1—2 to improve his team-leading totals to 24-22—46. Only three Sabres players have more points through 30 games of a season: Pat LaFontaine (1991-92 & 1992-93), Alexander Mogilny (1992-93) and Gilbert Perreault (1974-75).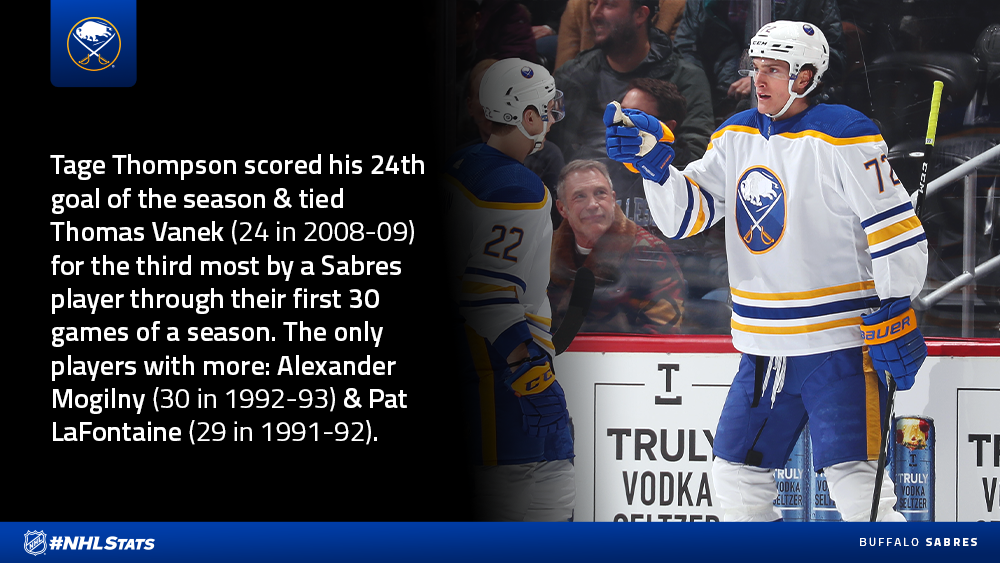 QUICK CLICKS

* Trevor Moore signs 5-year, $21 million contract with Kings
* NHL to host free outdoor fan festival ahead of Winter Classic
* Alex Ovechkin's son updates his goal counter before Capitals game on Thursday
* Lightning players, especially Victor Hedman, fail at holiday edition lip reading
*Paul Cotter's parents drive four hours to see son play in Chicago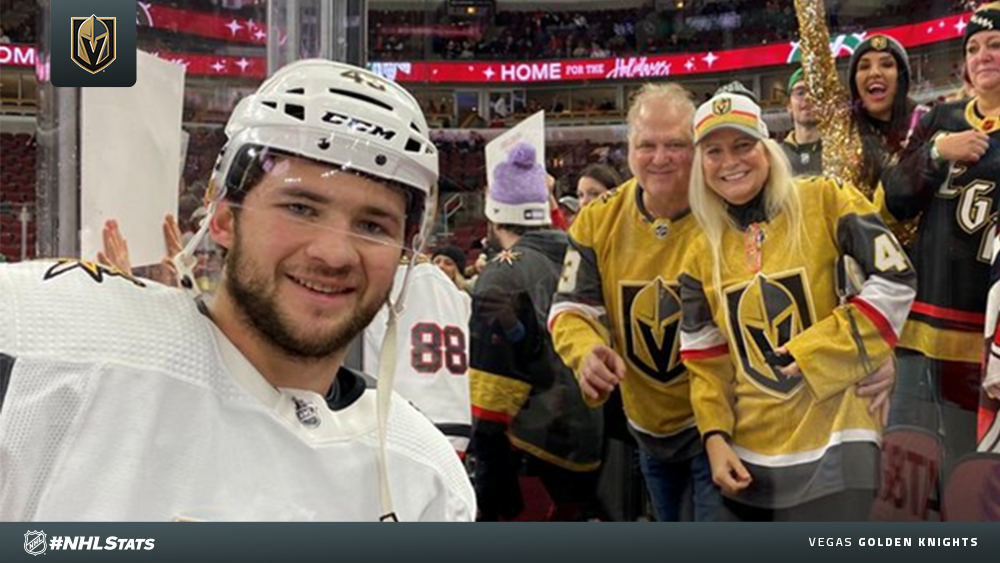 Photo via @GoldenKnights

A PAIR OF HOME STREAKS LOOK TO LENGTHEN IN MINNESOTA ON FRIDAY
Friday's three-game slate begins with Chicago visiting Minnesota, where the Wild will look to establish the NHL's longest active home winning streak with their sixth straight victory at Xcel Energy Center, while Kirill Kaprizov (5-11—16 in 10 GP) can match Jason Pominville (11 GP in 2014-15) for the second-longest home point streak in franchise history, behind only Maran Gaborik's 14-game run in 2007-08.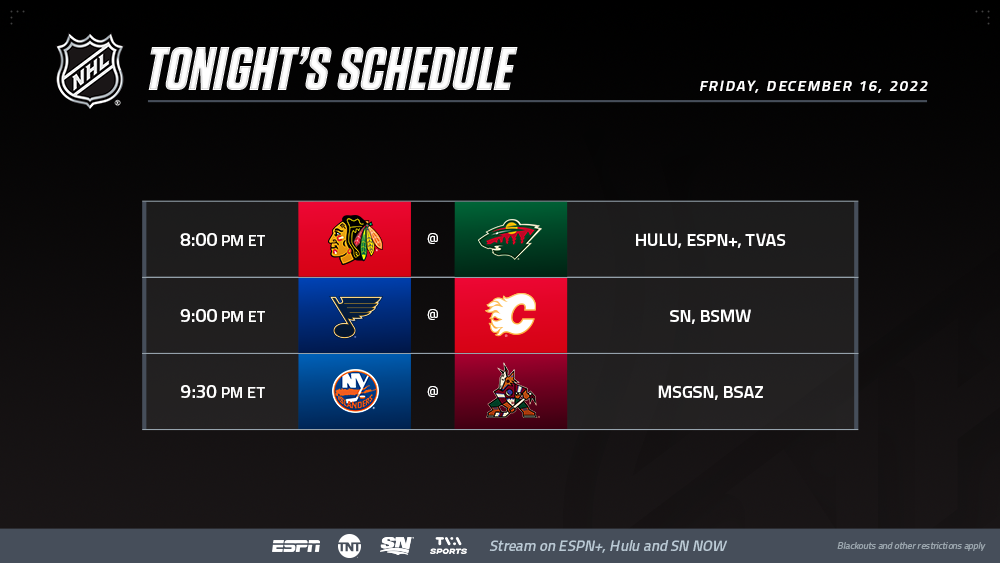 COURTESY NHLmedia.com