NHL Public Relations
December 11, 2022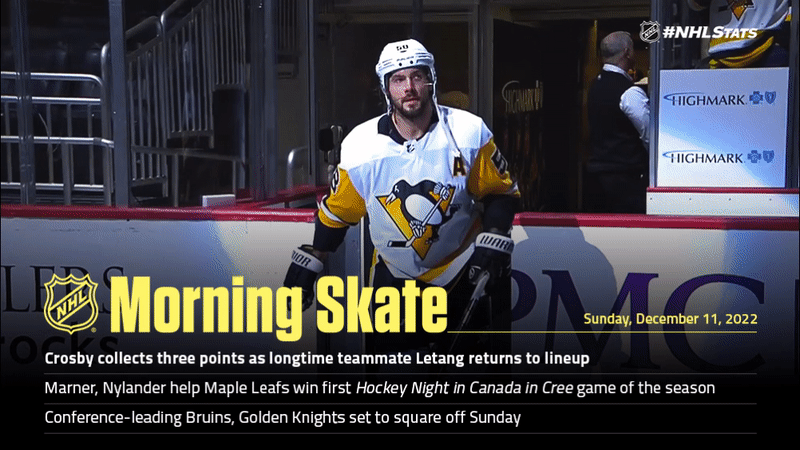 * Sidney Crosby climbed another all-time NHL list as his longtime teammate Kris Letang returned to the Penguins' lineup less than two weeks after suffering a stroke.

* Mitchell Marner extended his franchise-record point streak and William Nylander notched a career-high five points as the Maple Leafs rallied from three separate deficits to win the first Hockey Night in Canada in Cree contest of the season.

* Sunday's six-game slate is highlighted by the Eastern Conference-leading Bruins visiting the Western Conference-leading Golden Knights, who are led by former Boston head coach Bruce Cassidy.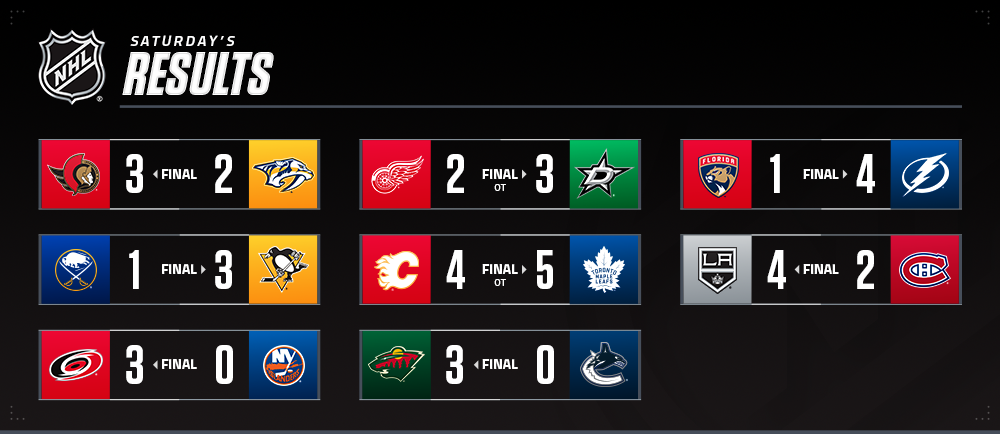 CROSBY COLLECTS THREE POINTS AS LETANG RETURNS TO PENGUINS' LINEUP
Sidney Crosby (2-1—3) contributed on all three Pittsburgh goals as the Penguins swept their back-to-back, home-and-home set with the Sabres in Kris Letang's return to the lineup. Letang received a thunderous applause from fans at PPG Paints Arena after missing just five games following a stroke on Nov. 28, with Pittsburgh going 4-0-1 in his absence.

* Crosby collected the 165th three-point game of his NHL career and surpassed Jari Kurri (164) for sole possession of the ninth most in League history. Crosby (290-512—802 in 565 GP) also became the second player in franchise history to record 800 home points with the Penguins, joining Mario Lemieux (375-564—939 in 472 GP).

* Click here to read more on the return of Letang, who led Pittsburgh skaters with 22:14 of ice time and was named the "Third Star" of the game Saturday.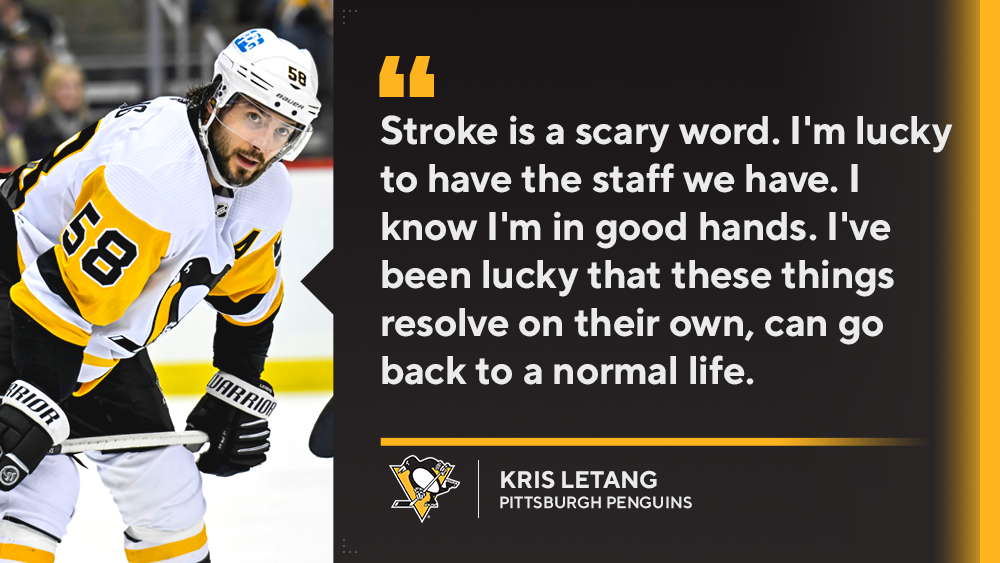 HOCKEY NIGHT IN CANADA IN CREE HIGHLIGHTED BY MARNER EXTENDING STREAK
Maple Leafs forward Mitchell Marner (11-19—30 in 22 GP) had a first-period assist and the overtime winner to extend his franchise-record point streak to 22 contests, doing so during the first Hockey Night in Canada in Cree game of the season. The national broadcast series by APTN and Sportsnet, which delivers exclusive Cree-language commentary and analysis to hockey fans across Canada, is set to return on Jan. 21 (EDM at VAN), Feb. 25 (OTT at MTL), March 4 (EDM at WPG) and April 1 (TOR at OTT).

* Marner became the 14th different player in NHL history to record a point streak of at least 22 contests, with the list also including Bryan Trottier whose father was of Cree Métis Chippewa descent. Trottier, a cornerstone of the early-1980s Islanders dynasty, tallied a 25-game point streak in 1981-82 en route to helping New York win its third of four straight Stanley Cups.

* William Nylander (2-3—5) assisted on the overtime winner to record the first five-point game of his NHL career. Toronto improved to 11-0-3 in its last 14 contests dating to Nov. 12 and moved within two games of matching the franchise record for longest point streak, a mark set from Nov. 22 to Dec. 26, 2003 (14-0-2 in 16 GP).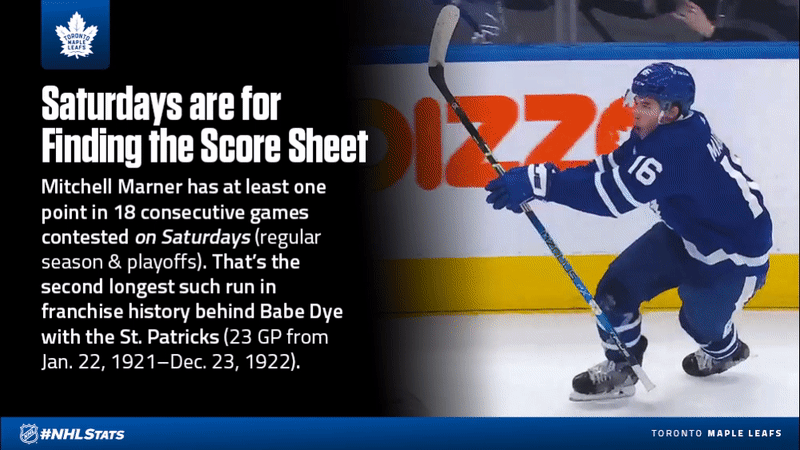 STAMKOS, KOCHETKOV ALSO STRETCH LENGTHY POINT STREAKS
Mitchell Marner wasn't the only player to extend a noteworthy point streak Saturday:

* Steven Stamkos (8-12—20 in 13 GP) scored to extend his point streak to 13 games – the second longest active run in the NHL behind Marner – and help the Lightning earn the 10th win in their past 14 contests. Stamkos (41-59—100 in 76 GP) became the 10th player to record 100 points in the 2022 calendar year and tied the second-longest point streaks in franchise history – a list he already tops after finding the score sheet in 18 straight games nearly 13 years ago.

* Pyotr Kochetkov (16 saves) helped the Hurricanes blank the Islanders at UBS Arena and improved to 8-0-4 in 12 career road appearances, including a 5-0-4 record in nine this season. He became the fourth rookie goaltender in NHL history with a season-opening road point streak of nine or more games, joining Pete Peeters (9-0-2 in 11 GP in 1979-80), Patrick Lalime (8-0-1 in 9 GP in 1996-97) and Grant Fuhr (3-0-6 in 9 GP in 1981-82).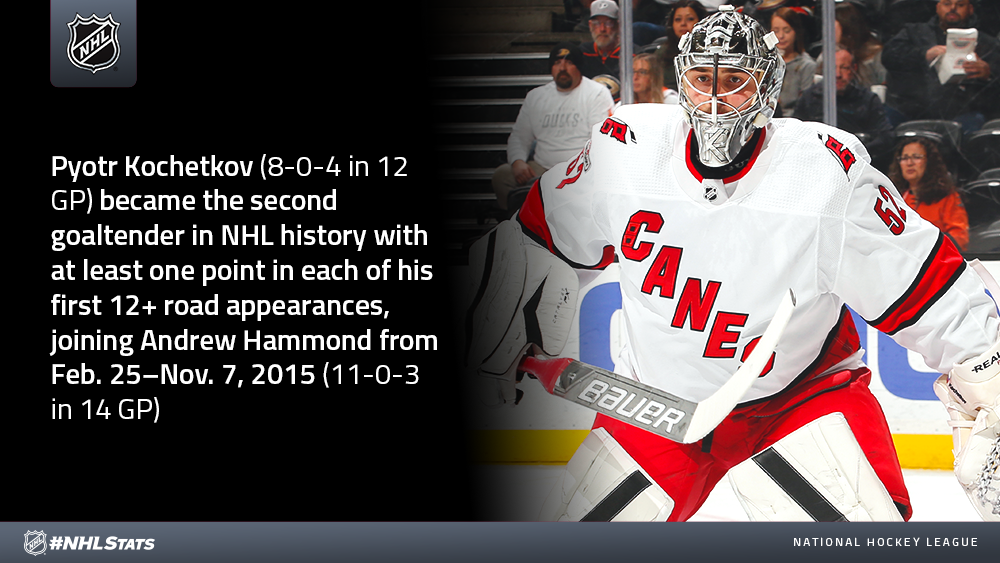 OVERTIME WINNER BY STARS ROOKIE LUNDKVIST FEATURED IN LIVE UPDATES
Nils Lundkvist thrilled Dallas fans with a matinee overtime winner to lift his club to victory and help the Stars (16-7-5, 37 points) move into a tie with the first-place Jets (18-7-1, 37 points) for the most points in the Central Division. In the process, Lundkvist became the third rookie to score an overtime goal this season (also Fabian Zetterlund & Matty Beniers). More #NHLStats on Lundkvist and others can be found in the most-recent edition of Live Updates.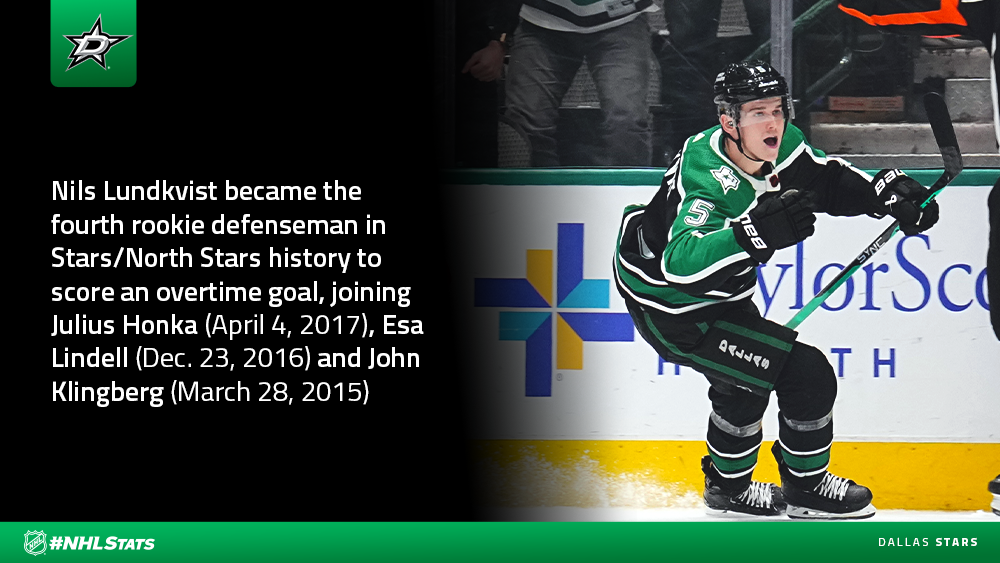 QUICK CLICKS

* Red Wings celebrate David Perron's 1,000th game with video, custom T-shirts
* Jamie Oleksiak, Jeff Skinner each suspended for three games
* Zizing 'Em Up: Late Oilers scout Barry Fraser remembered as dynasty builder
* Ab McDonald Arena honors Winnipeg icon, four-time Stanley Cup champion
* Islanders bring back Fisherman logo for first time since 1997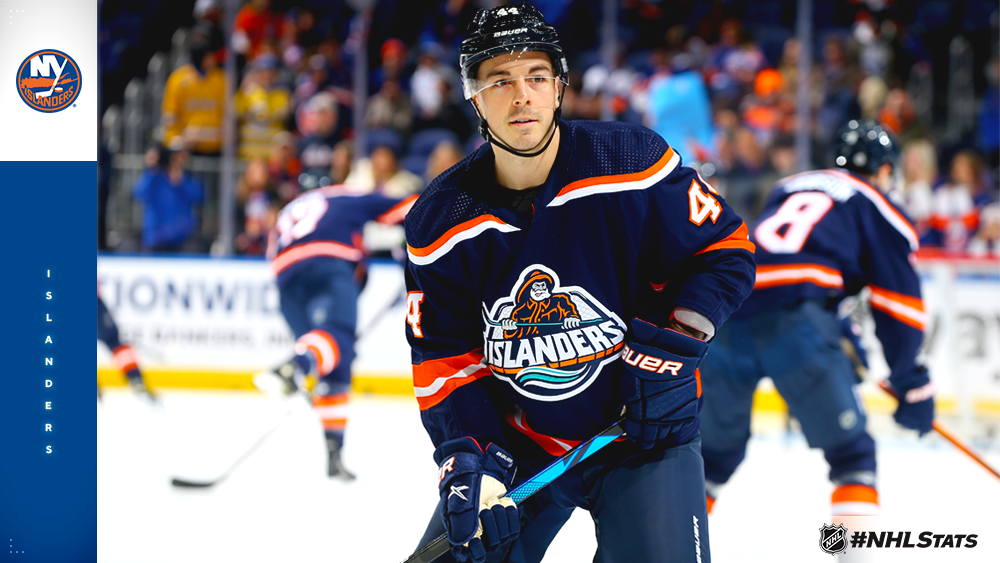 TOP TEAMS IN EACH CONFERENCE SET TO GO HEAD-TO-HEAD SUNDAY
A battle between the top teams in each conference will cap off a six-game Sunday when the Eastern Conference-leading Bruins (21-4-1, 43 points) visit the Western Conference-leading Golden Knights (20-8-1, 41 points). Alex Ovechkin (796-643—1,439 in 1,303 GP) will also be in action as he continues his "Road to 800" when the Capitals square off against the Jets – one of two franchises he has 50 career goals against (also 50 vs. TBL).

* Ovechkin, who has scored 50 goals through 69 contests against the Jets/Thrashers, is averaging 0.72 goals per game versus the franchise in his NHL career. He has a higher average against just four clubs (min. 5 GP): Minnesota (17 G in 19 GP; 0.89 G/GP), St. Louis (19 G in 23 GP; 0.83 G/GP), Toronto (41 G in 54 GP; 0.76 G/GP) and Detroit (23 G in 31 GP; 0.74 G/GP).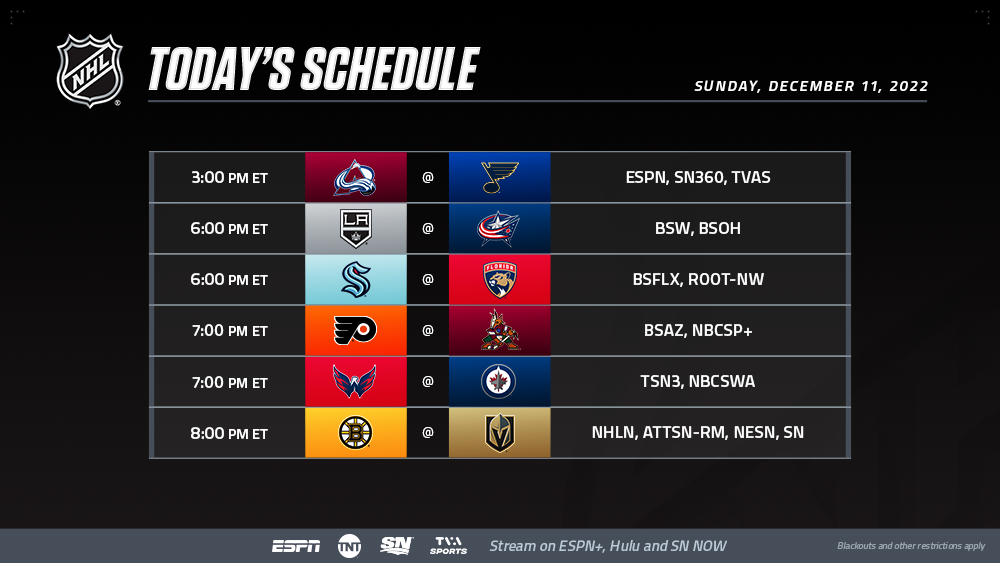 COURTESY NHLmedia.com