NHL Public Relations
December 6, 2022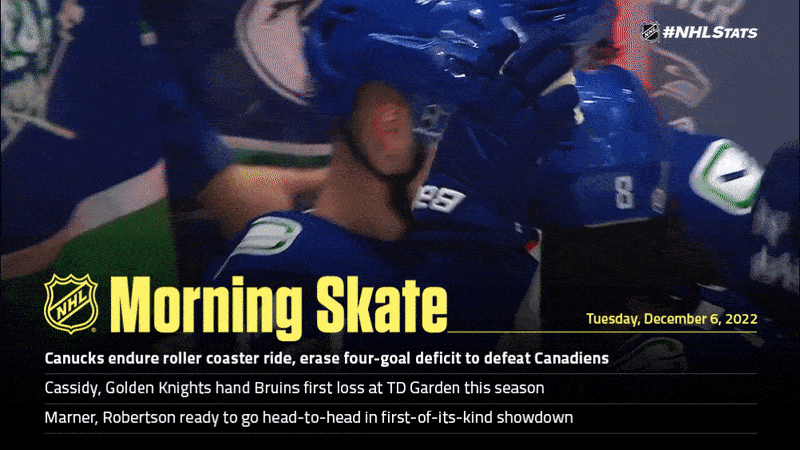 * Just a day after the Stars rallied from a 5-1 deficit to force overtime against the Wild, the Canucks mounted the first four-goal comeback win of the 2022-23 season, capped off by Elias Pettersson scoring the fastest overtime goal in Canucks history.

* The Golden Knights held off a Bruins comeback attempt to earn a win in their 400th game and became the first team to capture a victory at TD Garden since April 16 (regular season & playoffs).

* Mitchell Marner and Jason Robertson are set to put their 19- and 18-game point streaks on the line when the Maple Leafs and Stars face off at American Airlines Center.



ROLLER COASTER RIDE CONCLUDES WITH CANUCKS OVERTIME VICTORY
The Canadiens built a 4-0 lead through the first 16:17 of play but that was only the prelude of what was to come between Montreal and Vancouver. While Jack Studnicka gave the Canucks a 5-4 lead 8:49 into the third period and Josh Anderson restored a one-goal advantage for the Canadiens with three minutes remaining in the final frame, Andrei Kuzmenko (1-1—2)once again tied the game for the Canucks with 1:25 remaining in regulation and set the stage for Elias Pettersson (1-2—3) in overtime.

* A day after Dallas' four-goal, third-period comeback fell just short against Minnesota, Vancouver secured its third four-goal comeback win in franchise history following Jan. 16, 1973 (vs. TOR) and Oct. 15, 1971 (at CGS).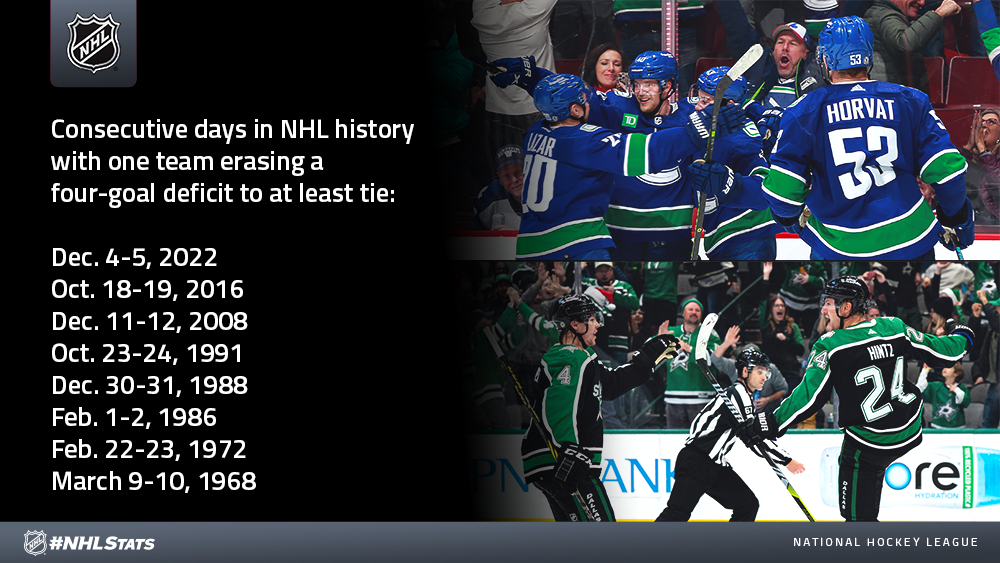 * Vancouver is the first team to erase a four-goal deficit to win in 2022-23 after four teams accomplished the feat in 2021-22: Arizona (April 29), Florida (April 2 & April 5), Buffalo (March 28) and Carolina (Jan. 1).

DID YOU KNOW?
Overall, there have been 13 four-goal comeback wins dating to 2018-19 (5 seasons), while the previous stretch of 13 such victories spanned from 2003-04 to 2016-17 (13 seasons).

MORE FROM VANCOUVER'S FOUR-GOAL COMEBACK

* Elias Pettersson (12-20—32 in 26 GP), who eclipsed the 30-point mark in 2022-23, netted the overtime winner 13 seconds into 3-on-3 action – the fastest goal to start an overtime period in Canucks history, besting Dixon Ward (0:15 on Nov. 29, 1993).

* Bo Horvat (20-7—27 in 26 GP) scored his 20th goal of the season 103 seconds before Ilya Mikheyev tied the game 4-4 in the third period to join Jason Robertson (23 in 25 GP) and Connor McDavid (22 in 26 GP) as the NHL's third 20-goal scorer in 2022-23.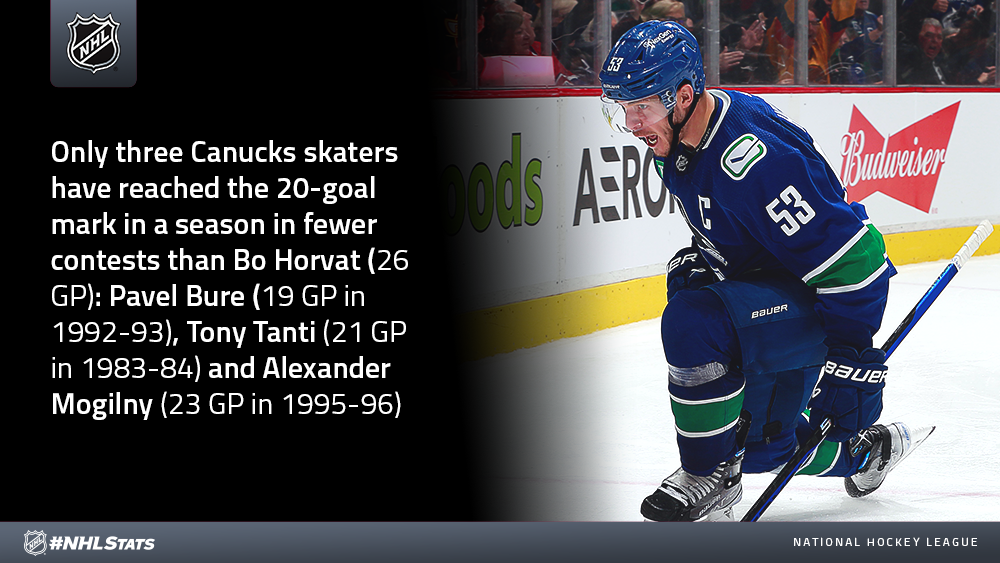 * Bruce Boudreau earned his third career win in a game where his team trailed by four-plus goals (also Dec. 23, 2008 w/ WSH & March 31, 2014 w/ ANA). Only two other coaches have as many such victories: Joel Quenneville (5x) and Glen Sather (4x).

GOLDEN KNIGHTS CLAIM VICTORY IN 400TH GAME, SPOIL BRUINS' HOME WINNING STREAK
The Golden Knights built a 3-0 lead only to have the Bruins rally to force overtime, but Logan Thompson made 40 saves and turned aside all five shootout attempts to help Vegas earn a victory in its 400th contest and snap Boston's NHL-record season-opening home winning streak at 14 games.
* The Golden Knights helped Bruce Cassidy capture a victory in his return to TD Garden – an arena where he posted a 149-59-23 record during his tenure with the Bruins (regular season & playoffs). Vegas' 235 all-time victories are tied with Toronto for the third-most wins since entering the League in 2017-18, trailing only Tampa Bay (261) and Boston (247).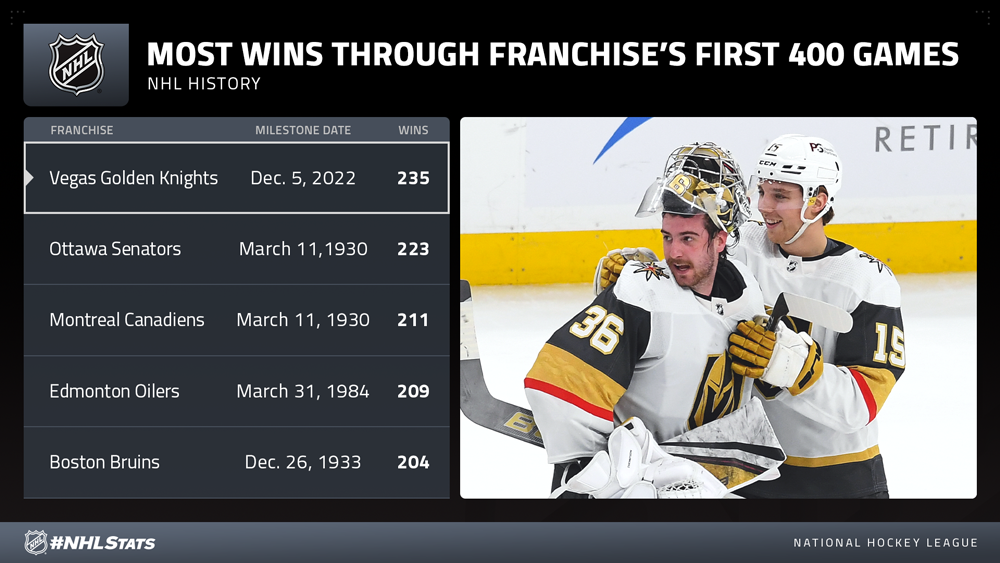 * Thompson, who leads all rookie goaltenders with 13 wins this season and sits one behind Linus Ullmark (14-1-0 w/ BOS) for the most among all netminders, posted his second straight road game with at least 40 saves (also 43 on Dec. 1). He became just the 11th rookie goaltender since 1955-56 (when shots on goal began being tracked) to register 40-plus saves in consecutive appearances, both on the road. Juuse Saros (Dec. 5 & Dec. 14, 2017 w/ NSH), Jeff Deslauriers (April 11 and Oct. 12, 2009 w/ EDM) and Dan Blackburn (Nov. 23 & Dec. 1, 2001 w/ NYR) are the only ones to do so since the 1990s.

RANGERS ALSO OUTLAST BLUES IN BACK-AND-FORTH AFFAIR
In a contest that featured the Rangers and Blues combine for four game-tying tallies as well as five goals in a span of 3:53, Artemi Panarin (0-2—2) and Adam Fox (1-0—1) propelled New York to victory. Only three contests in 2022-23 have featured more game-tying goals: Nov. 29 (SEA at LAK: 6), Nov. 1 (ANA at SJS: 5) and Oct. 27 (EDM at CHI: 5).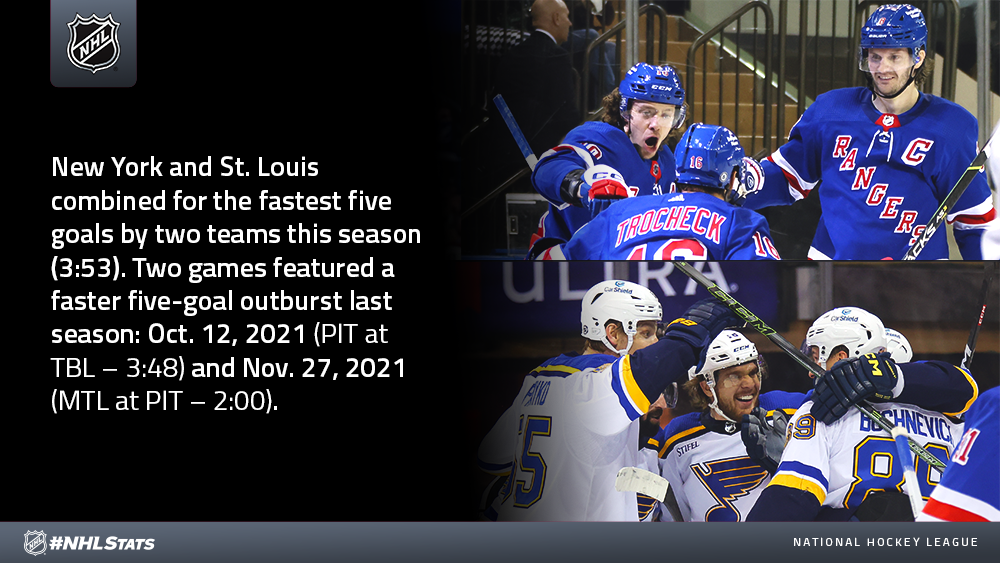 * Panarin (193-406—599 in 534 GP), who moved within one point of 600 in his career, registered his 103rd career multi-assist game since making his NHL debut in 2015-16. Connor McDavid (137 GP) is the only player with more over that span.

* Fox scored the third of five goals during the 3:53 span to extend his home point streak to nine games dating to Nov. 3 (3-7—10). Only five defensemen in the past 15 seasons have posted a longer home point streak than the Rangers blueliner: Brent Burns (12 GP in 2017-18), John Klingberg (11 GP in 2017-18), P.K. Subban (10 GP in 2015-16), Torey Krug (10 GP in 2013-14) and Mike Green (14 GP in 2009-10).

QUICK CLICKS

* Monday's edition of #NHLStats: Live Updates
* Connor McDavid, Dylan Cozens and Jason Robertson named NHL's "Three Stars" of the week
* Shane Wright back for Kraken, set to face Canadiens after stint in AHL
* Rookie Watch: Logan Thompson, Noah Cates among top undrafted, late-round picks
* Women in Hockey: Miranda McMillan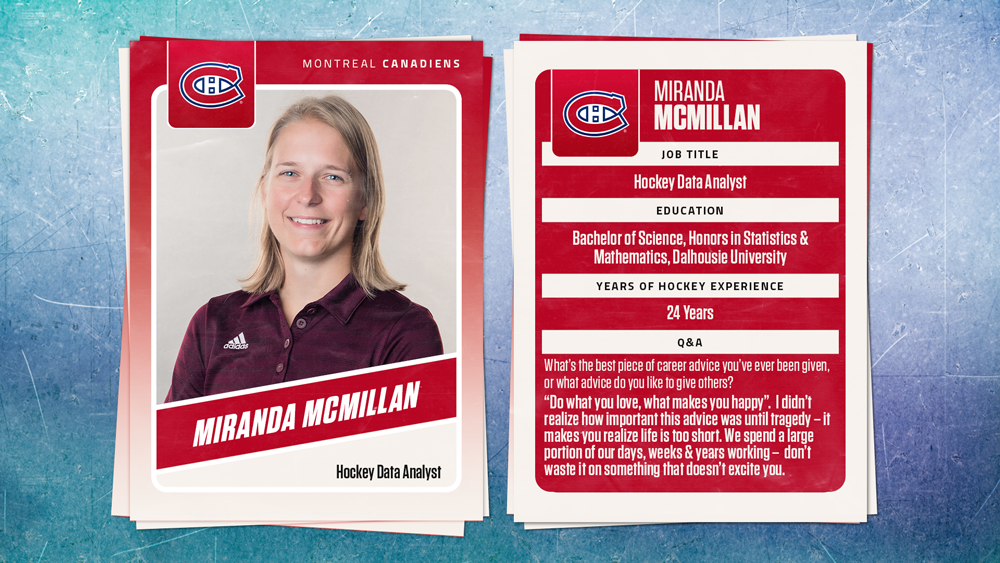 NHL-FIRST TAKES SPOTLIGHT AT AMERICAN AIRLINES CENTER
Mitchell Marner and Jason Robertson, who each hold the two longest point streaks in 2022-23, will be on opposite ends of the ice when the Maple Leafs visit the Stars at 8:30 p.m. ET on Hulu, ESPN+ and Sportsnet. It will mark the first game in NHL history to feature two players with an active point streak of at least 18 consecutive games going head-to-head.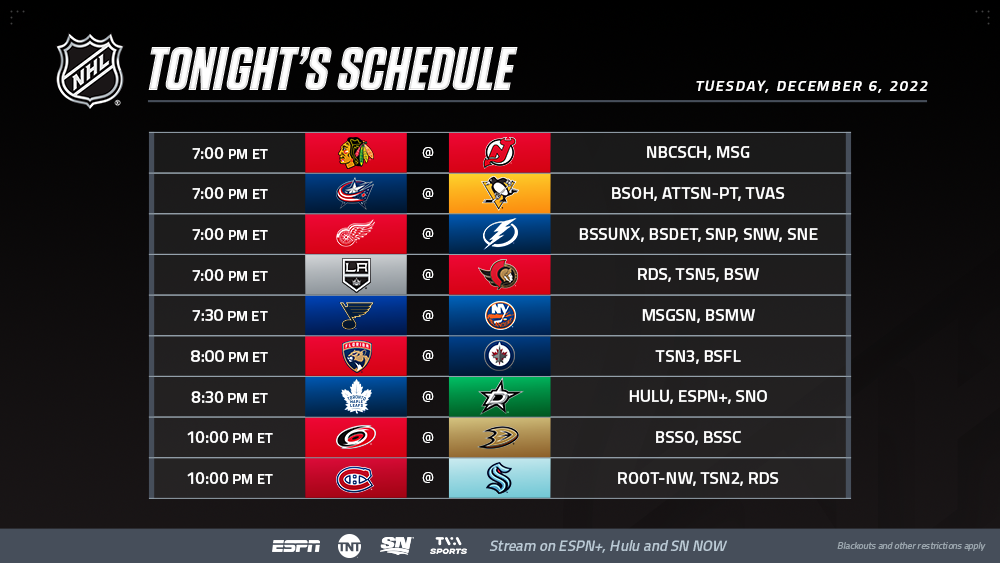 * Toronto and Dallas first faced off on Oct. 20, with neither Marner nor Robertson finding the score sheet. It wasn't until three and four games later, respectively, that the pair began their current point streaks.

* Marner (9-17—26 in 19 GP) can become the fourth active player to record a point streak of at least 20 games. The others: Patrick Kane (26 GP in 2015-16 & 20 GP in 2018-19), Sidney Crosby (25 GP in 2010-11) and Paul Stastny (20 GP in 2006-07).

* Robertson has recorded 21-13—34 through his 18-game run. Only seven different players in NHL history have scored more goals during a point streak of at least 18 contests, including one active skater: Sidney Crosby (26 in 25 GP; 2010-11 w/ PIT).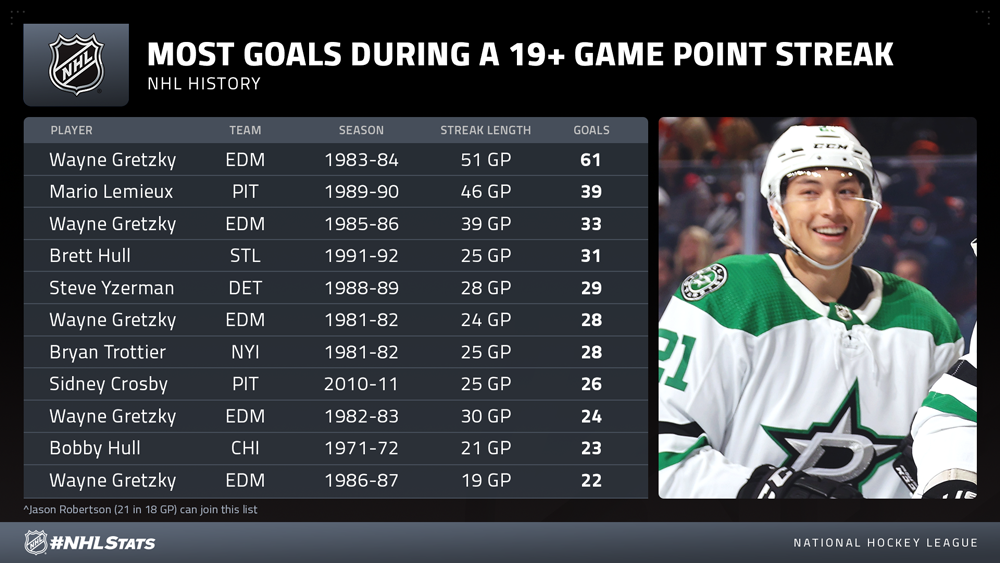 COURTESY NHLmedia.com