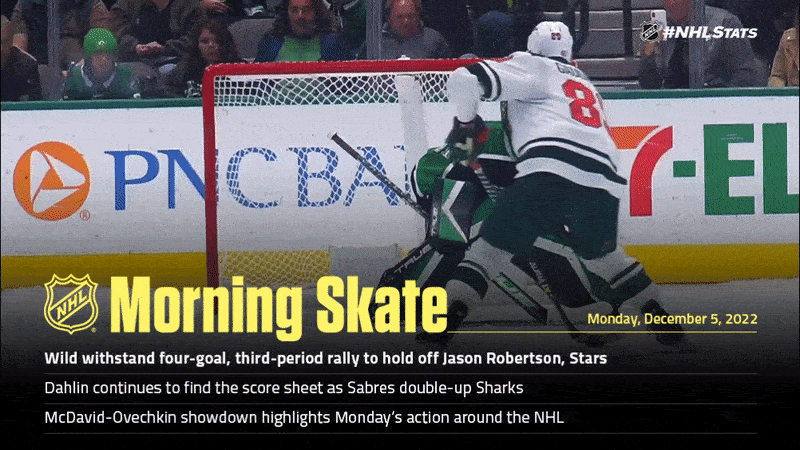 * In a contest Kirill Kaprizov and Jason Robertson each extended their recent strings of success, the Stars nearly completed a four-goal, third-period comeback, but the Wild halted all hopes with a shootout victory.
* Rasmus Dahlin and the Sabres outdueled Erik Karlsson and the Sharks in a showdown between the two highest-scoring defensemen in the NHL this season.
* Connor McDavid and Alex Ovechkin are set to go head-to-head for the 11th time in their careers, with the Capitals captain holding the all-time edge (WSH: 6-2-2; EDM: 4-5-1).



KAPRIZOV, WILD WITHSTAND FOUR-GOAL COMEBACK TO OUTLAST ROBERTSON, STARS
While Kirill Kaprizov (1-0—1) played a part in helping Minnesota build a 5-1 lead through the first 29 seconds of the third period, Jason Robertson (1-1—2) scored one of four consecutive Stars goals later in the final frame to help Dallas extend the game beyond regulation. While both Kaprizov and Robertson also converted their shootout attempts, Frederick Gaudreau was finally able to help the Wild collect two points with the decisive marker.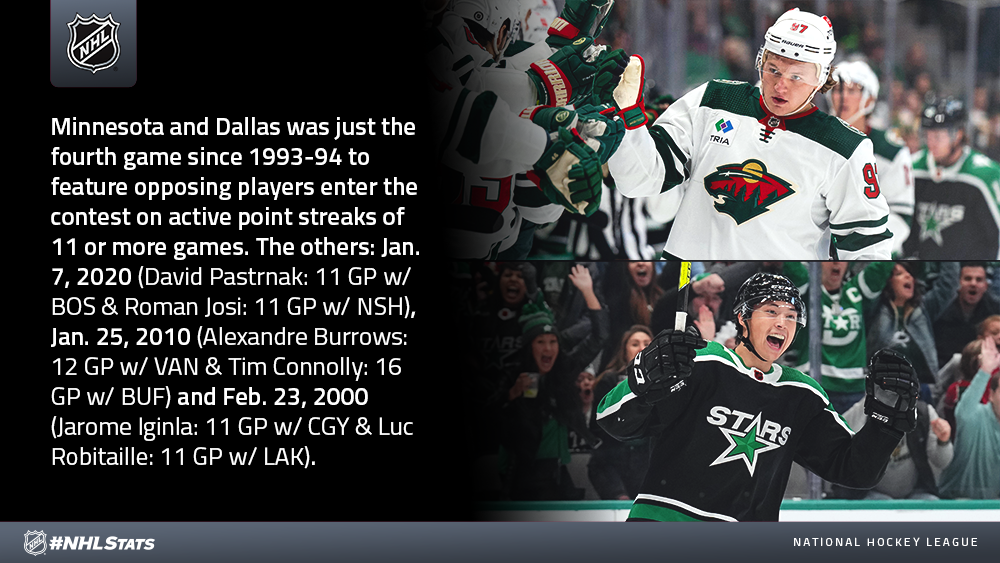 * Kaprizov extended his goal streak to six games (6 in 6 GP dating to Nov. 23) and point streak to 12 games (8-11—19 in 12 GP dating to Nov. 9), tying the longest such runs by any player in Wild history. After also establishing the longest assist streak in franchise history earlier this season, Kaprizov is the only player among all 32 current clubs to hold the franchise record (outright or tied) for each of the three categories.

* Robertson (21-13—34 in 18 GP), who moved within two games of the longest point streak in Stars/North Stars history, has scored 21 goals through his current string of success and now sits five shy of the most goals by an active player in any point streak (Sidney Crosby (26 in 25 GP; 2010-11 w/ PIT). Mitchell Marner (19 GP w/ TOR, active) is the only player with a longer stretch in 2022-23.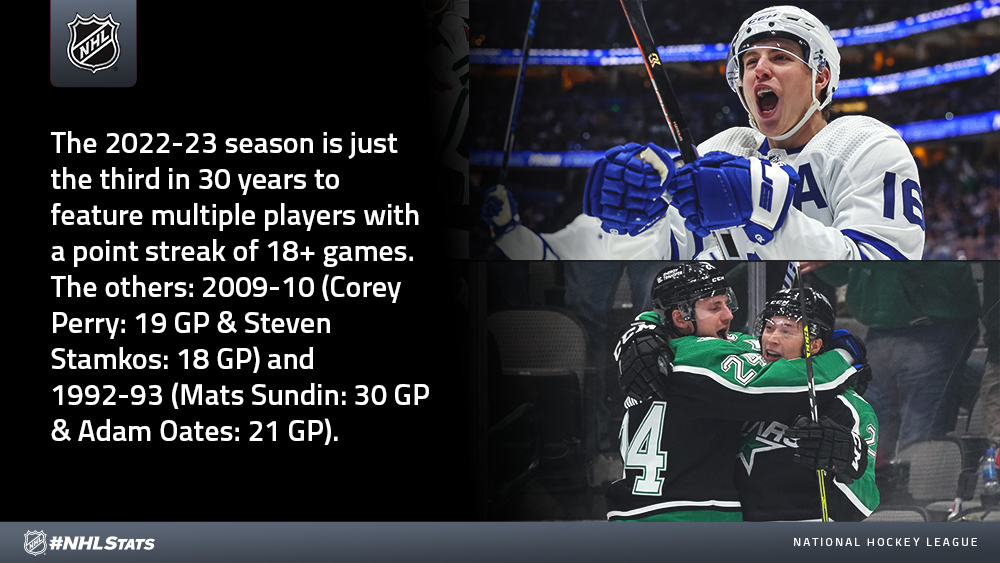 * Roope Hintz (3-1—4) played a pivotal part in helping the Stars salvage one point by scoring the game-tying goal with 2:11 remaining in regulation to complete the NHL's fourth hat trick in the month of December and second by a Stars player in as many games (Robertson: 3-0—3 on Dec. 1).

* The Stars have had at least one player with a hat trick in consecutive games for the sixth time in franchise history. The others: March 4-6, 2022 (Jason Robertson, 2x), Nov. 24-28, 2017 (Tyler Seguin & Radek Faksa), March 17-19, 1986 (Dino Ciccarelli & Scott Bjugstad), March 6-8, 1983 (George Ferguson, Steve Payne & Tim Young) and March 16-21, 1971 (Bill Goldsworthy, 2x).

DID YOU KNOW?
Mitchell Marner and the Maple Leafs will tangle with Jason Robertson and the Stars at American Airlines Center later this week on Dec. 6 at 8:30 p.m. ET. It will mark the first game in NHL history to feature two players enter the contest with an active point streak of at least 18 consecutive games.

DAHLIN KEEPS PRODUCING, OTHER YOUNG SABRES PITCH IN
Sabres defenseman Rasmus Dahlin (0-2—2) was once again a catalyst for Buffalo in a home victory, recording his eighth multi-point game of the season. The only defenseman with more multi-point outings in 2022-23 was also his opponent in Sunday's contest: Erik Karlsson (10 GP). Karlsson (11-23—34 in 28 GP) is also the only defenseman with more points than Dahlin (8-21—29 in 24 GP) this season.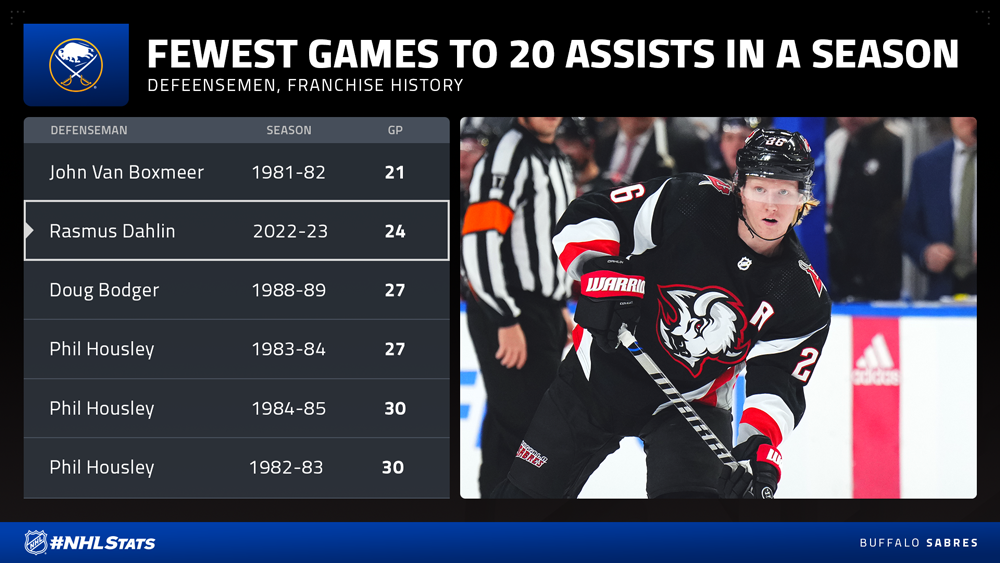 * The Sabres, who currently have the youngest roster in the NHL (average age: 25.97), received six points from players age 21 or younger to boost their season totals to 65 and surpass Montreal (63) for the most by any club in 2022-23. Among the impressive performances from players in that category was a multi-goal outing from 21-year-old Jack Quinn (2-0—2) and a three-assist performance from 21-year-old Dylan Cozens (0-3—3).

* Cozens became the third 21-year-old since 1990-91 to register three consecutive multi-point games for the Sabres. The others: Jack Eichel (3-4—7 in 3 GP from Jan. 9-18, 2018) and Tyler Ennis (2-4—6 in 3 GP from Jan. 15-20, 2011).

JETS MULTI-GOAL COMEBACK AMONG HIGHLIGHTS IN #NHLSTATS: LIVE UPDATES
After falling behind by two goals 5:09 into the second period, the Jets rallied with five unanswered goals the rest of the way to earn their third multi-goal comeback win of the season and improve their home record to 9-3-0 in 2022-23. Winnipeg became the seventh team to post three or more multi-goal comeback wins this season.

* CLICK HERE to view even more stats from Sunday's action.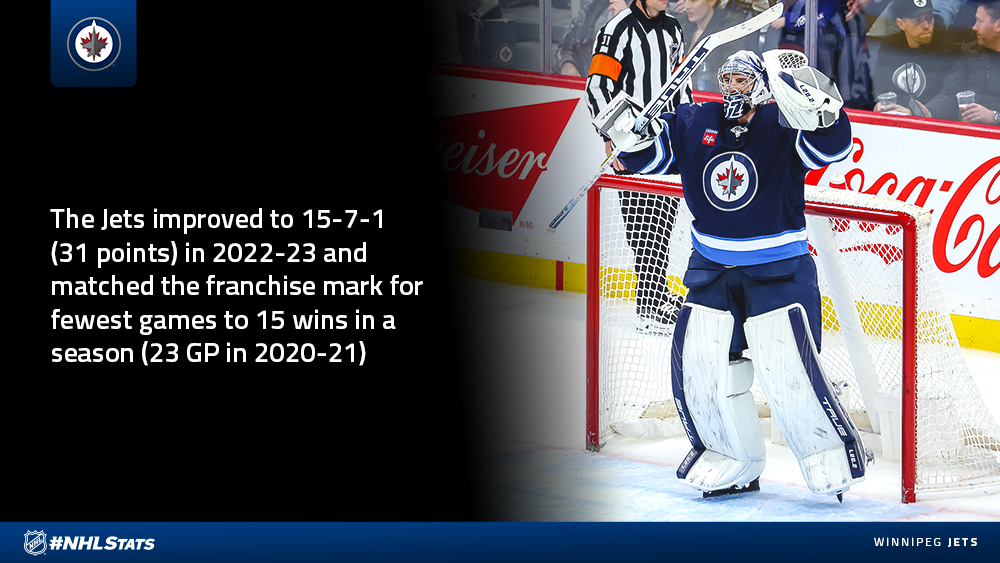 QUICK CLICKS

* Erik Karlsson healthy again, producing at elite rate with Sharks
* NFL's Jets honor 'Mighty Ducks' upon arrival in Minnesota
* Zizing 'Em Up: Bruce Cassidy set for Boston homecoming with Vegas
* Capitals feeling sense of urgency, have small margin for error, GM says
* Steven Stamkos 1,000 points ceremony includes golf club, mini sticks for sons
BOTH TEAMS THRIVING AS CASSIDY RETURNS TO FACE BRUINS
Golden Knights head coach Bruce Cassidy is set to return to Boston for the first time, with both his current and former team ranking among the top three in the overall League standings. Boston (20-3-0, 40 points) ranks second, while Vegas (18-7-1, 37 points) is right behind them in third.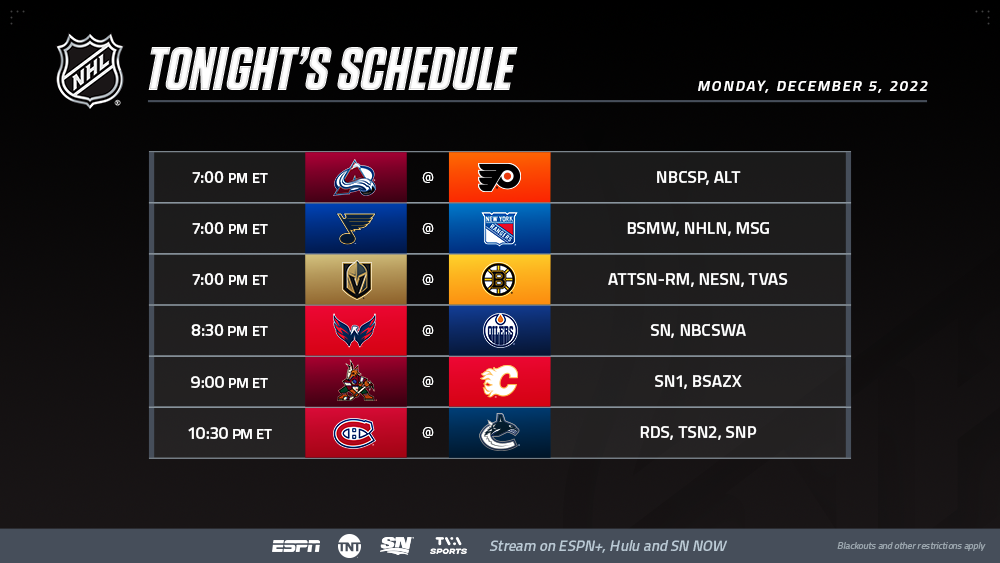 * Cassidy was Boston's head coach for parts of six seasons from 2016-17 to 2021-22 where he guided the franchise to a 245-108-46 record across 399 regular-season games. Cassidy's .672 points percentage at the Bruins helm was the third-highest in franchise history (min. 100 GP) behind Tom Johnson (.738 in 208 GP) and Bep Guidolin (.736 in 104 GP). Of note, Boston's current head coach, Jim Montgomery, has a .870 points percentage through his first 23 games with the club.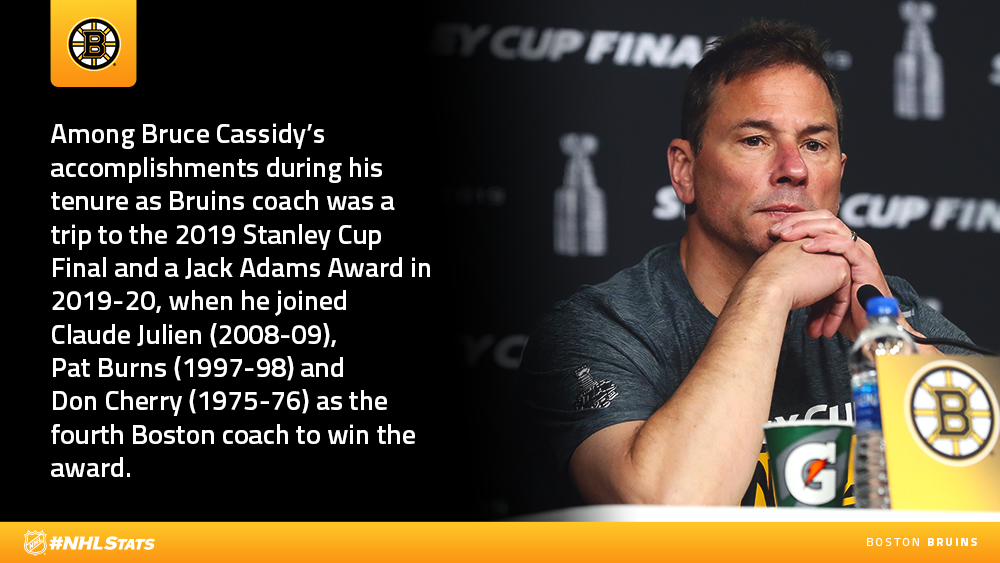 * The Bruins host Cassidy and the Golden Knights at TD Garden where they have yet to lose this season (14-0-0) while setting an NHL record for longest home winning streak to start a season. With another win Monday, they would register the ninth instance in NHL history of a team winning 15 consecutive games at home (at any point within a regular season).

McDAVID, OVECHKIN READY FOR 11TH ALL-TIME MEETING
Connor McDavid (21-26—47 in 25 GP) and Alex Ovechkin (13-12—25 in 26 GP) will battle it out at Rogers Place for their 11th head-to-head meeting when the Oilers (14-11-0, 28 points) host the Capitals (10-12-4, 24 points).

* While there has only been one NHL season to conclude with McDavid scoring more goals than Ovechkin (2020-21), the duo are both within the top five in goals since the former entered the League in the 2015-16 campaign.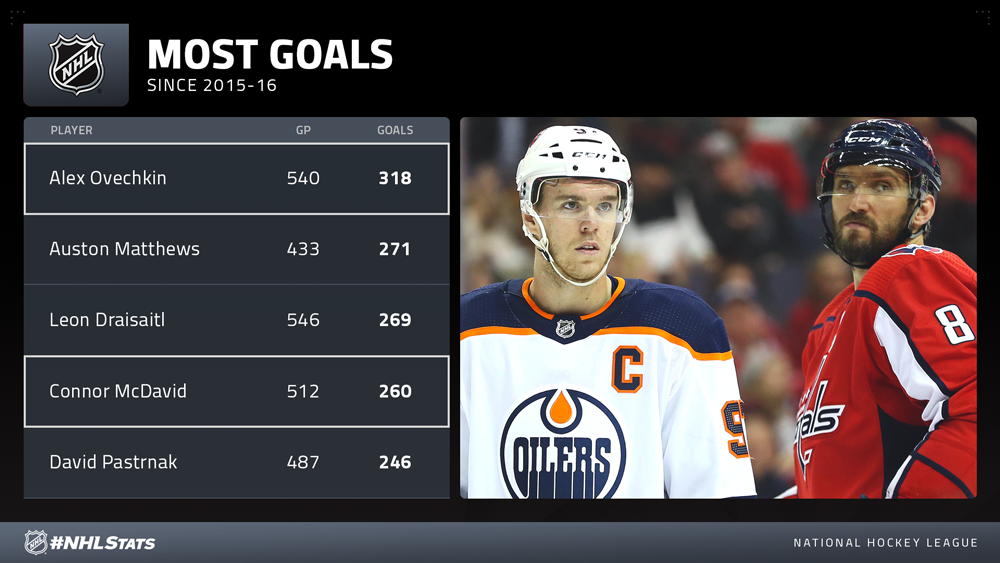 * Ovechkin's team holds the head-to-head advantage through their previous 10 meetings (WSH: 6-2-2; EDM: 4-5-1), however McDavid holds the statistical advantage in those outings (6-9—15 in 10 GP) – producing more goals, assist and points than the Capitals captain (5-6—11 in 10 GP).

* While Ovechkin continues his "Road to 800", McDavid enters Monday with multiple points in each of his past four contests – including a four-point performance in his last outing. A three-point game against Washington would make the Oilers captain the first NHL player with 50 points in 26 outings since Mario Lemieux in 2002-03 (26 GP w/ PIT). Lemieux is also the last player to do so in fewer contests (18 in 1995-96 w/ PIT).

COURTESY NHLmedia.com