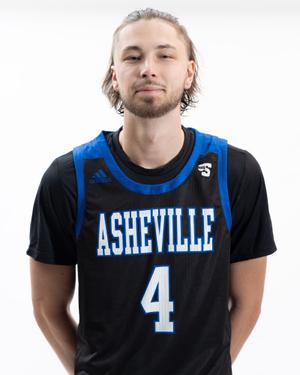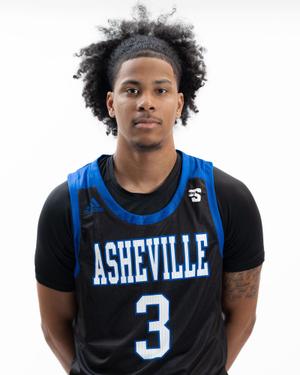 CHARLOTTE, N.C. – The Big South Conference announced Wednesday that UNC Asheville men's basketball player Drew Pember has been named the Conference's Preseason Player of the Year. Furthermore, Tajion Jones earned a spot on the All-Big South Second Team, while the Bulldogs were picked to finish third in the Preseason Poll.
The annual preseason poll had defending champion Longwood at the top with 195 points. Winthrop (170 points), Asheville (159 points), and Gardner-Webb (136 points) all totaled over 100 points as well to make up the league's top four teams. High Point (89 points), Campbell (88 points), Radford (88 points), and USC Upstate (86 points) were separated by just three points, while Presbyterian (49 points) and Charleston Southern (40 points) closed out the poll.
Pember is just the fifth Bulldog to be named the Big South's Preseason Player of the Year and the first since Matt Dickey prior to the 2011-12 season. In his first season with the Bulldogs, Pember was named the Big South's Defensive Player of the Year and was named to the League's First Team at season's end. Pember was just the third Bulldog to ever earn the Big South's Defensive Player of the Year Award. A 2021-22 NABC Second Team All-District selection as well, Pember led Asheville in scoring (488 points), scoring average (15.7 PPG), free throw percentage (86.3 %), rebounding (205), and blocks (93). Pember finished the season ranking sixth nationally in blocks per game (3.0) and 10th in the country with 93 blocks. A three-time Big South Player of the Week selection, Pember topped the 20-point mark nine times in 2021-22 with seven of those outings coming against Big South foes. His best performance of the season came in an overtime win at Radford where he netted 41 points and added 11 rebounds.
A 2021-22 Preseason All-Big South First Team selection, Jones was the only Bulldog to start all 32 games for the team last season. He played a team-high 1,057 minutes, shot 42.6 percent from the field, and a 39.3 clip from 3-point range. Jones knocked down 83 shots from beyond the arc. His 83 3-pointers made and his shooting percentage from 3-point range both ranked second in the Big South.
Overall, he averaged 12.8 points per game to go with 5.6 rebounds per game. He eclipsed the 20-point mark on three occasions, including a season-high 23-point effort in a win over North Carolina Central in early December. Jones also had 10 rebounds in that game. Jones knocked down at least one 3-pointer in 28 of his 32 games in 2021-22. Drained a season-high six 3-pointers vs. Chattanooga on December 8. Entering 2022-23, Jones ranks 11th all-time in scoring (1.466 points) and second all-time in 3-pointers made (261) at UNC Asheville.
COURTESY BIG SOUTH CONFERENCE COMMUNICATIONS AND UNC ASHEVILLE ATHLETICS