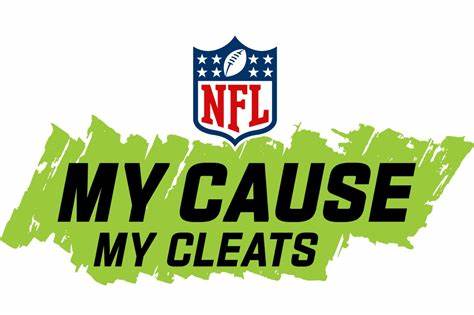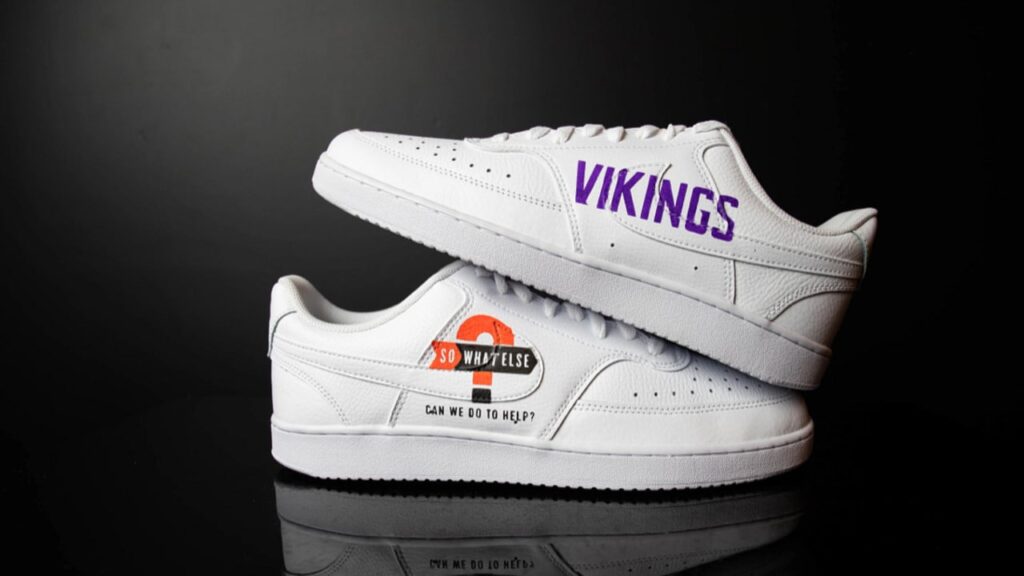 NEW YORK, NY (December 1, 2022) – This week, NFL players, coaches, and staff across the league will wear custom-painted cleats highlighting different non-profit organizations and causes that mean the most to them. For the seventh consecutive season, the My Cause My Cleats initiative will bring awareness to important, player-picked causes through the screens of millions across the globe. My Cause My Cleats games begin today, and NFL clubs and players will continue to unveil their cause-inspired cleats throughout the week.
Launched in 2016, the My Cause My Cleats initiative brings off-field causes, on-field throughout Week 13. Year after year, the player-led campaign fuels crucial conversations and puts these causes at the forefront. The causes players have chosen to support this year include topics such as preventing gun violence, tackling social justice, prioritizing mental health, raising awareness for individuals with disabilities and disability research, youth & education, military support, cancer & other diseases, animal welfare and more. This year, more than 30% of players have chosen to support various forms of cancer and other physical health related causes, while nearly 20% have selected topics related to youth and education.

Players combine forces with artists and cleat manufacturers each year to create these custom-designed cleats that showcase their causes in a way that resonates personally to the player, their fans and the cause. NFL teams without a home game during Week 13 may also activate during Week 14 or 15. You can see all of the causes players are representing here.

"It's very special every year to see the causes that matter most to our players take center stage during My Cause My Cleats week," said NFL Commissioner Roger Goodell. "Our players support these causes and individuals year-round and we at the league are grateful for their continued commitment to this important initiative."

The NFL kicked off this year's My Cause My Cleats campaign during the John Madden Thanksgiving Celebration NFL games with promotional efforts including a marketing spot that calls out the many causes that NFL players have chosen to support. The 90-second spot features DEVIN MCCOURTY of the New England Patriots, CHRIS GODWIN of the Tampa Bay Buccaneers, JARVIS LANDRY of the New Orleans Saints, and RASHAN GARY of the Green Bay Packers. Additional television spots will run through Week 13 with features from New England Patriots cornerback, JONATHAN JONES, and Green Bay Packers linebacker RASHAN GARY. Jonathan Jones will call attention to the gender disparities within STEM and sports with the help of the Play Like A Girl organization and his daughter, Skylar. In another spot, Rashan Gary teams up with Made By Dyslexia to address the inequalities that kids with dyslexia face daily. These spots all strive to provide more insight into the personal connections behind the various causes that these players are choosing support through My Cause My Cleats.

NFL Network will air features highlighting the charitable efforts of various players and their chosen causes. These features will kick off tonight with a Thursday Night Football first look at Dolphins quarterback TEDDY BRIDGEWATER and Texans linebacker CHRISTIAN KIRKSEY bringing to light health care disparities and how they impact Black women by supporting Black Women's Health Imperative. Steelers lineman KEVIN DOTSON will talk about programs to integrate the creation of fine arts with educational programs. Packers linebacker JUSTIN HOLLINS will speak on his work with the Thirst Project, while Washington Commanders tight end JOHN BATES tells the story of how being born with a cleft pallet led to him working to help other children. NFL Network's coverage of My Cause My Cleats will conclude with Steelers running back NAJEE HARRIS using his personal experience growing up to assist underserved families reach their potential and goals.

New this season, fans are encouraged to build and share their own customized digital cleat showcasing their favorite team and charity of choice. Four fans who create a customized cleat will be selected to win a real version of the cleats they created.

The NFL recently partnered with pioneering shoe customizer Dominic Ciambrone, aka 'The Shoe Surgeon,' to empower the local community and youth through fashion and football. Recognized for his bespoke one-of-a-kind creations, Ciambrone has continuously transformed the high-end fashion customization and sports landscape by offering his made-to-order services for top football athletes such as Odell Beckham Jr and Jalen Ramsey.
As a part of this collaboration, Ciambrone creative directs a special My Cause My Cleats activation, where he has hand selected four SRGN Academy alumni sneaker customizers and paired them with NFL players. Past students of the academy had the opportunity to customize one-of-one cleats, creatively displaying and bringing awareness to the non-profit organization of the athlete's choosing. Players for this special My Cause My Cleats initiative include JUSTIN JEFFERSON of the Minnesota Vikings, DERRICK HENRY of the Tennessee Titans, MICAH PARSONS of the Dallas Cowboys, and JALEN RAMSEY of the Los Angeles Rams.

The local designers and player pairings can be found below:
Visa – the official payments services technology partner of the NFL– is working with NFL Auction to help elevate this year's donation process by providing football fans with a solution to make donations to select player's causes, regardless of if they chose to bid on the player's cleats or not. This is the first time fans will have the opportunity to donate to player causes through NFL Auction without bidding on cleats. Through this enhanced partnership, Visa and the NFL are expanding the options for fans to engage with, and impact player-led causes.

Following Week 13 games, hundreds of players will donate their cleats by auctioning them on NFL Auction. The NFL does not profit from the sale of these cleats and the funds raised will be donated to the charities they select. Fans may bid on these cleats at NFL.com/Auction starting today. To learn more about each player's cause visit NFL.com/mycausemycleats.
COURTESY NFLmedia.com