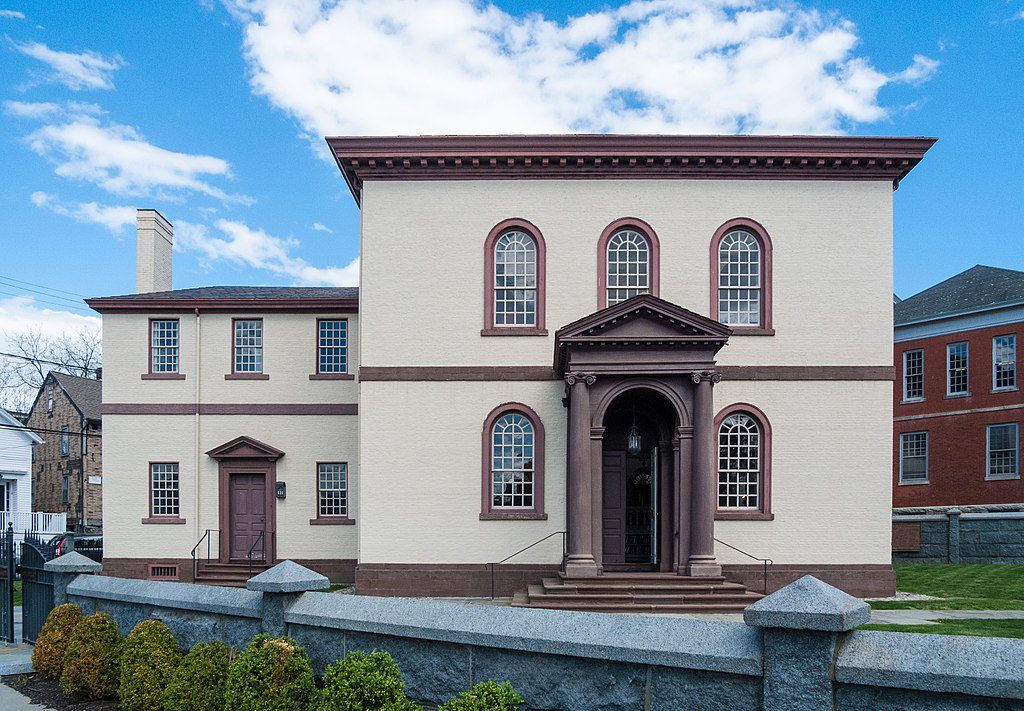 FROM WIKIPEDIA COMMONS
The Touro Synagogue or Congregation Jeshuat Israel (Hebrew: קהל קדוש ישועת ישראל) is a synagogue built in 1763 in Newport, Rhode Island. It is the oldest synagogue building still standing in the United States, the only surviving synagogue building in the U.S. dating to the colonial era, and the oldest surviving Jewish synagogue building in North America. In 1946, it was declared a National Historic Site.
The first congregation was made up of Sephardic Jews, who are believed to have come via the West Indies, where they participated in the triangular trade along with Dutch and English settlements. They practiced a Spanish and Portuguese Jewish liturgy and ritual. In the late eighteenth century, when warfare threatened, the congregation transferred the deed and Torah scrolls to Congregation Shearith Israel in New York for safekeeping. Since the late 19th century, the congregants have been primarily Ashkenazi.
In 2012 the two congregations went to court to try to resolve which owned the synagogue and its contents, as the Newport congregation wanted to sell some items to raise money for restoration of the building. In 2017 the United States Court of Appeals for the First Circuit ruled that the New York congregation owned it; as the US Supreme Court declined to hear the case, this ruling stands.
TODAY'S ALAMANAC
Question of the Day
What is red flannel hash?
In old-time New England, red flannel hash was any combination of hash to which red beets were added, the standard hash being made of corned beef, onions, turnips, potatoes, and seasonings. Without the beets, it was white flannel hash. Don't sneak in any orts (scraps meant for the chickens or the compost) if you are proud of your hash.
Advice of the Day
A freshly cut tree can consume a gallon of water in the first 24 hours.
Home Hint of the Day
The tender branches of small fruit trees are a temptation for deer. Try hanging some strongly scented soap on the branches to discourage them.
Word of the Day
Pineapple Express
A strong south-westerly wind off the Pacific Ocean. This wind can bring heavy rain and flooding to the Pacific Northwest during winter.
Puzzle of the Day
Why didn't the dog want to go into the ark?
He had a bark (ship) of his own.
Born
Jean-Charles Chapais (statesman) – 1811
Charles Ringling (circus owner) – 1863
Charles E. Bennett (In God We Trust" promoter") – 1910
Julie Harris (actress) – 1925
Lucy Liu (actress) – 1968
Monica Seles (tennis player) – 1973
Nelly Furtado (singer & songwriter) – 1978
Britney Spears (singer) – 1981
Aaron Rogers (football player) – 1983
Died
Jane Means Appleton Pierce (U.S. First Lady) – 1863
Desi Arnaz (actor) – 1986
Aaron Copland (composer) – 1990
Events
Touro Synagogue, oldest in the United States, was dedicated in Newport, Rhode Island– 1763
Napoleon Bonaparte was crowned French Emperor Napoleon I of France– 1804
First T. Eaton Co. Santa Claus parade, in Toronto, Ontario– 1905
Ambrose Small sold Canadian chain of theaters and disappeared the next day– 1919
First controlled, self-sustained nuclear chain reaction– 1946
The first televised human birth was transmitted on 49 NBC network stations– 1952
The United States Environmental Protection Agency began operation– 1970
First unmanned landing on Mars, by USSR Mars 3– 1971
Cowhide-made baseballs first accepted for use by Major League Baseball– 1974
First pizza party in space took place on the International Space Station– 2017
Weather
A late-season tornado killed four people in Illinois– 1950
COURTESY www.almanac.com