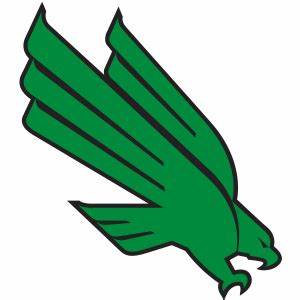 11/29/2022
DENTON – The UNT football team will make a second trip to the Alamodome in just more than a month to take on rival UTSA on Friday night at 6:30 p.m., with the Conference USA championship on the line. The game can be seen on CBS Sports Network with the radio broadcast on KHYI 95.3/KXXN 97.5 (Wichita Falls)/The Varsity Network.
Head coach Seth Littrell and selected players spoke to the media on Tuesday and discussed, among other things, how the team envisioned this rematch as soon as they left the Alamodome turf last month, what needs to be done to remedy its potent rushing attack after being shut down in the last meeting and what it would mean for the program to win its first conference championship since winning a Sun Belt crown in 2004.
Revenge an added motivator as Mean Green seek championship
It was a month ago when defending Conference USA champion UTSA ended the Mean Green's eight-game conference winning streak inside a raucous Alamodome environment.
As soon as the team got back to its locker room that night after a heartbreaking, last-second loss, the players and coaches alike already had their sights set on a seemingly inevitable rematch with the conference championship on the line.
"I think we walked off the field and told them we'd be back," senior defensive back Sean-Thomas Faulkner said. "It's proving what we all knew. With there being no more divisions, we all knew we could still control our own destiny. We knew we'd be back and would get another shot at them."
In the last meeting, UTSA (10-2, 8-0) ended the game with an acrobatic touchdown reception with 15 seconds remaining to pull out a 31-27 victory over the Mean Green (7-5, 6-2).
"They made one more play than we did down the stretch," Littrell said. "That's football. It was a very competitive game. We knew leaving that field that we wanted another opportunity to get back out there and compete against those guys, and our guys did enough down the stretch to put ourselves in a position to do that."
Not only are the Mean Green trying to avenge a loss earlier in the season, and doing so in a conference championship game, but it also happens to be against one of, if not their most heated rival, as they enter Friday's game with an even split in the all-time series.
"Rivalries are always great to be in and to be playing your rival for a championship is unmatched," sophomore running back Isaiah Johnson said. "I wouldn't want it any other way. I've really grown to not like UTSA but they're a great team and I'm happy to get a chance to play them again."
UNT looking to correct rushing woes against UTSA
Heading into their previous meeting in San Antonio, the Mean Green were fresh off a school-record rushing day when they rolled up 475 yards on the ground in a win over Louisiana Tech the previous week.
That momentum was quickly thwarted by the Roadrunners, as they held UNT to just 22 yards on 21 carries for the typically run-heavy and productive offense.
Senior center Manase Mose, who will be making his 61st career start (good to tie him for third all-time in NCAA history), said he and his teammates in the trenches were simply outplayed on that day and they must do better Friday night to bring home a trophy.
"They just played better football that day," he said. "We kind of lost focus in the first half and slowly picked it up in the second half. The O-line and offense as a whole, we have to focus on the little things and do things right on our end.
"Their D-line and whole front-seven is a good unit. They're strong and big. It's gonna be a challenge for us to get them moving and get rolling."
Littrell said the reason UTSA shut down his ground attack in the last meeting was simple math and the extra men the Roadrunners put in the box. There is one way to exploit that, and that's with explosive plays in the passing game.
"You gotta hit plays in the passing game, for sure," Littrell said. "We had to do that in the second half and we did make some big plays. That's something we have to do. The biggest thing is you have to trust and believe in making your routine plays. There were five or six explosive plays we left out there in the first drive that could've changed the game. You just have to make routine plays. You only get so many opportunities to make them. When you get them, you have to finish them off."
Littrell, players know what a championship would mean
As the Mean Green prepare to play their second-to-last game as a member of Conference USA before next year's move to The American, and their final conference game in the league, they are all aware of what a win and a championship would mean for the program moving into the future.
UNT hasn't won a conference championship since the 2004 Sun Belt title and hasn't played in a conference championship game since a 41-17 loss to FAU in the 2017 Conference USA Championship.
"Any time you have that opportunity to win a championship, it's huge," Littrell said. "We all understand that. You only get so many opportunities to do this. Some of these guys, it might be their only opportunity to play in a championship game and win a championship. You never know how often they come around. You have to be prepared for it and enjoy that preparation and go out and perform at the highest level.
"Winning a championship would be big. That's what the goals are. That's what I envisioned for this university is to go compete for and win championships and win bowl games. Now is a great opportunity to achieve some of those goals."
Even for guys like Faulkner and Mose, whose UNT careers are coming to an end, the importance of Friday's game for the future isn't lost on them.
"For me, being a senior, next year I'll be gone," Faulkner said. "It doesn't affect me. But this program, as a whole, going to a new conference and leaving on a championship note would be a big deal for the whole program – support, recruiting, everything. It's huge for the future of North Texas."

GAME NOTES
https://meangreensports.com/documents/2022/11/29/1_UNT_FB_Game_Notes_2022_13_CUSA_MON.pdf
COURTESY NORTH TEXAS ATHLETIC COMMUNICATIONS