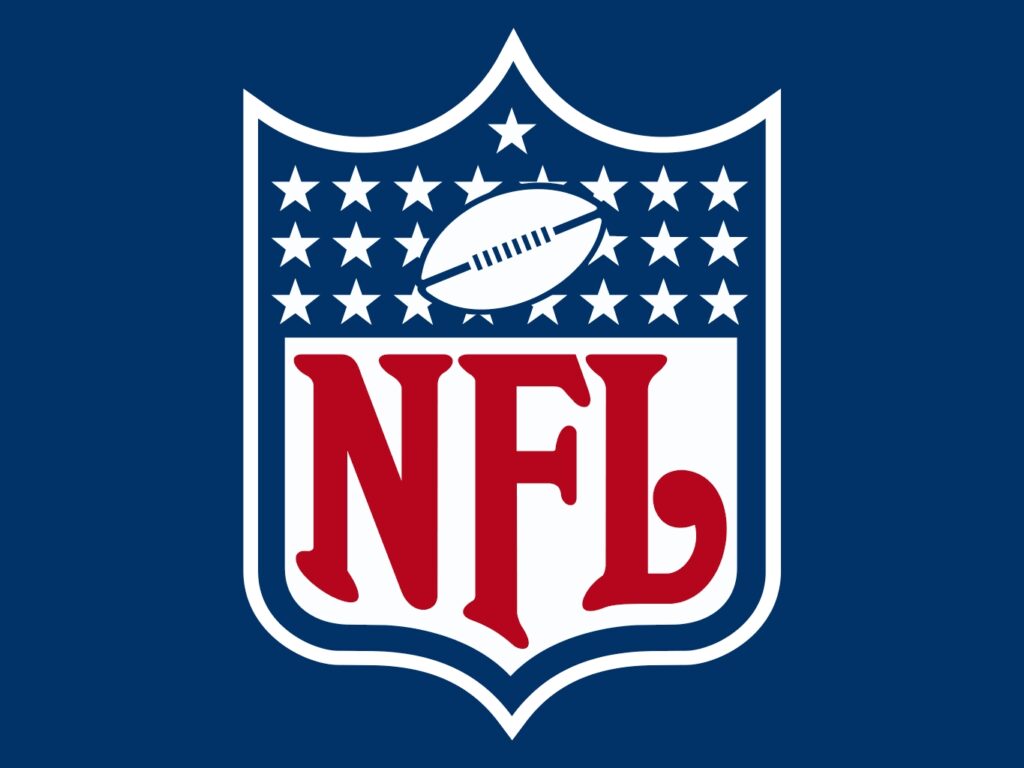 Quality over quantity.
While stellar defensive play across the league is evident, fans, players and coaches have come to expect Sunday recipes complete with razor-thin margins, fantastic finishes and fourth-quarter drama.
NFL games this season have been separated by an average of only 9.29 points. To put that in context, the last time the league finished a season with a lower average margin of victory was 1932, when the figure was 9.13.
This past week, 12 of 14 games were within one score (eight points) in the fourth quarter and there have been 116 games within one score in the fourth quarter this season, the most through the first 10 weeks in NFL history.
The playoffs begin in nine weeks. As the league approaches the third turn on its 2022 track, which teams will separate from the crowded field? Whoever emerges in Week 18, expect plenty of photo finishes along the way.
The Starting 11 entering Week 11…
1. FÚTBOL AMERICANO: Four of the last six teams to play a regular-season game in Mexico have advanced to the playoffs, and each of the last two teams to win a Mexico game went on to play in the Super Bowl (the 2017 NEW ENGLAND PATRIOTS and 2019 KANSAS CITY CHIEFS). This week, the NFL returns to Estadio Azteca when SAN FRANCISCO (5-4) battles ARIZONA (4-6) on Monday Night Football (8:15 PM ET, ESPN).
Monday marks the NFL's fifth regular-season game in Mexico, and 12th overall. In 1978, the league played its first Mexico game, when the Saints beat the Eagles in a preseason contest.
On Oct. 2, 2005, the Cardinals beat the 49ers, 31-14, at Estadio Azteca in the NFL's first regular-season game played outside the United States.
And, at a preseason contest on Aug. 15, 1994, the Dallas Cowboys and Houston Oilers drew an NFL-record 112,376 at Estadio Azteca.
2. NUMBER OF THE WEEK – 2,002: Minnesota wide receiver JUSTIN JEFFERSON is on pace to lead the league with 2,002 receiving yards and break the NFL's single-season record established by Pro Football Hall of Famer CALVIN JOHNSON, 1,964 in 2012.
Chiefs quarterback PATRICK MAHOMES is on pace to lead the league with 5,546 passing yards and break the NFL's single-season record established by Pro Football Hall of Famer PEYTON MANNING, 5,477 in 2013.
3. COMMANDERS OF THE MOUNTAIN: In two of the past three seasons, WASHINGTON has handed the NFL's last undefeated team its first loss. Washington was the first to defeat 11-0 Pittsburgh in Week 13 of the 2020 season and the first to defeat 8-0 Philadelphia this past Monday night. Now, having won four of their last five, the Commanders (5-5) meet the HOUSTON TEXANS (1-7-1) on Sunday at NRG Stadium (1:00 PM ET, FOX).

4. SPOTLIGHT – INDIVIDUAL MATCHUP: Jets defensive tackle QUINNEN WILLIAMS meets Patriots offensive lineman MICHAEL ONWENU in the trenches at Gillette Stadium on Sunday (1:00 PM ET, CBS). Williams, the AFC's October Defensive Player of the Month, has already matched his single-season career best with seven sacks. Onwenu, who hasn't allowed a sack this season and has solidified a reputation as a dominant run-blocker, earned his way onto several mid-season All-Pro teams this past week.

5. SPOTLIGHT – TEAM MATCHUP: Pass protection figures to be a key factor when DALLAS (6-3) visits MINNESOTA (8-1) on Sunday (4:25 PM ET, CBS). The Cowboys' defense leads the league with 35 sacks, on pace for 66 this season, which would be the most by an NFL team since New Orleans had 66 in 2000. Meanwhile, Vikings linebacker ZA'DARIUS SMITH ranks second in the league and tied for the NFC lead with 9.5 sacks. He's on pace for 18 sacks this season, which would be the most by a Vikings player since JARED ALLEN had 22 in 2011.
The last time the Cowboys met the Vikings at any point in a season and both teams were at least three games above .500 was Nov. 26, 1998, when Minnesota (10-1) traveled to Dallas (8-3). Pro Football Hall of Famers CRIS CARTER and RANDY MOSS, a rookie, combined for 298 receiving yards and four touchdown catches in a 46-36 Vikings win.
6. STREAK SPEAK: The NEW ENGLAND PATRIOTS (5-4) have 13 straight wins over the NEW YORK JETS (6-3), whom they host on Sunday at Gillette Stadium (1:00 PM ET, CBS). That's tied with Kansas City (over Denver) for the NFL's longest active winning streak by one team over another. The Jets' last win over the Patriots was Dec. 27, 2015. … Should the Jets break the streak, they'll be in first place in the AFC East, having won a head-to-head game over Miami (7-3).

7. DID YOU KNOW?: Each of the BUFFALO BILLS' three losses this season have been by three points or fewer. The three teams that have defeated Buffalo are a combined 21-7 (.750): Minnesota (8-1), Miami (7-3) and the New York Jets (6-3).

8. UNDER-THE-RADAR STORYLINE: Over the past 16 seasons in which either MIKE SHANAHAN or KYLE SHANAHAN have served as an NFL head coach, their teams have had 15 different leading rushers. With the elder Shanahan as head coach from 2003-13, nine different players led NFL teams over 10 combined seasons (2003-08 with Denver and 2010-13 with Washington). And from 2017-21, San Francisco had a different leading rusher in each of the younger Shanahan's first five seasons as 49ers head coach. The 49ers could also have their sixth different leading rusher in 2022.

9. TREND TIME: Under head coach JOHN HARBAUGH, Baltimore is 11-3 (.786) in games immediately after a bye. That's the second-best record among active coaches (minimum seven games), trailing only ANDY REID (21-3, .875). Fresh off its bye, BALTIMORE (6-3) hosts CAROLINA (3-7) on Sunday (1:00 PM ET, FOX).

10. THIS WEEK IN NFL HISTORY: Nov. 19, 1922 (100 years ago) – NORB SACKSTEDER, a 5-foot-9, 173-pound back, scores on a 35-yard, fourth-quarter touchdown pass from LOU SMYTH to give the CANTON BULLDOGS a 7-0 win over the CHICAGO CARDINALS at Comiskey Park. The victory helps Canton move closer to an eventual 1922 NFL championship and extend one of the most impressive streaks in league history, an eventual NFL-record 27 games without defeat. The NFL's first true powerhouse, the Bulldogs go 24-0-3 over that 27-game stretch in the early 1920s, led by future Pro Football Hall of Fame player-coach GUY CHAMBERLIN.

11. AND LAST BUT NOT LEAST: In 2009, the last time the MINNESOTA VIKINGS were 8-1, they advanced to the NFC Championship Game. In 2016, the last time the GREEN BAY PACKERS were 4-6, they also advanced to the NFC Championship Game.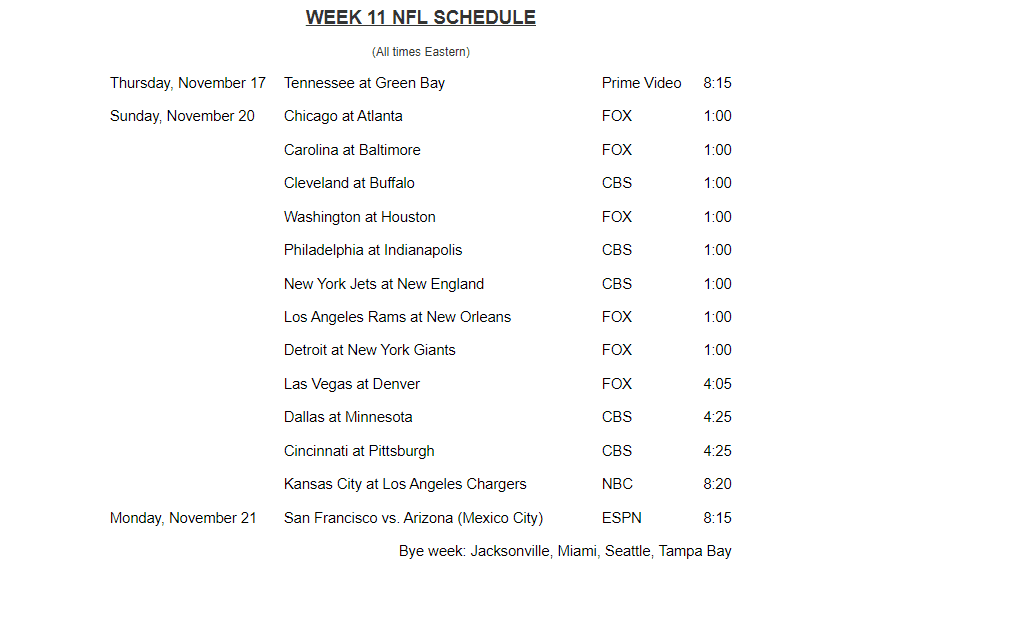 COURTESY NFLmedia.com