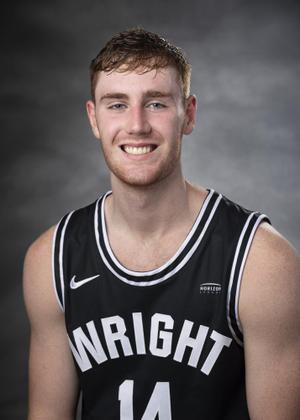 11/15/2022
DAYTON – Four players scored in double figures on Tuesday night as the Wright State men's basketball team downed Bowling Green 80-71 inside the Nutter Center.
 
Wright State (2-1) shot 53 percent from the floor as a group, with Amari Davis tallying a season-best 19 points while Trey Calvin added 15 points, including 11 in the second half. Brandon Noel recorded his first career double-double, finishing with 10 points (all in the second half) and 11 rebounds as he threw down a pair of big-time second half dunks. AJ Braun was the final player in double figures, recording seven of his 10 points in the final 20 minutes.
 
The Raiders led by as many as 10 late in the first half before taking a five-point, 32-27 lead to the break, only to see Bowling Green (2-1) score 10 of the first 14 points in the second half to take a 37-36 advantage. Wright State responded, going on a 12-4 run over the next four minutes to regain the lead for good on a Calvin three-pointer with 17:16 remaining.
 
Despite the Raiders being in control throughout the second half, Bowling Green remained in striking distance, pulling to within four at 72-68 with 2:31 to play before Wright State responded with an 8-1 run over the next minute-plus to put the game away.
 
The Raiders shot 63 percent in the second half on the way to the 53 percent (32-60) overall shooting night, despite only connecting on a trio of three-pointers, one each from three different players, on only 10 total attempts from long distance. Defensively, Wright State held Bowling Green to just 39 percent (27-69) shooting overall with the visitors hitting going just 5-of-24 (21 percent) from three-point range.
 
Buoyed by Noel's 10 points, along with seven points from Andrew Welage and six from Blake Sisley, who combined for all their points in the first 20 minutes, the Raider bench outscored Bowling Green 25-14.
COURTESY WRIGHT STATE ATHLETIC COMMUNICATIONS