11/12/2022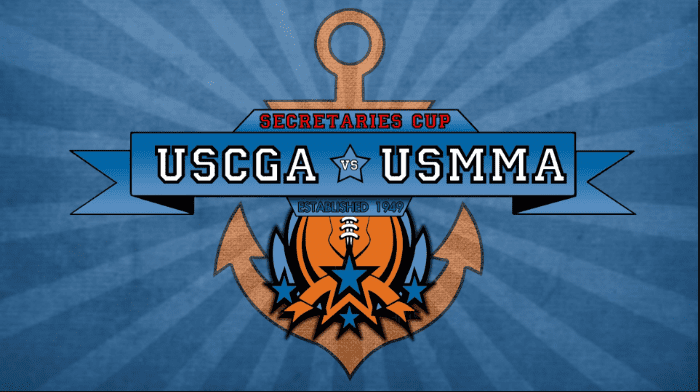 KINGS POINT, N.Y. (Nov. 12, 2022) – For the first time in 20 years, the USMMA football team won its fourth-straight Secretaries' Cup, as the Mariners defeated arch-rival Coast Guard, 41-33, on a beautiful Saturday afternoon at Tomb Field in a game broadcasted on ESPN3. The victory ended the Mariners' season with a 6-3 overall record (4-2 NEWMAC), while the Bears close out the year 3-7 (1-5 NEWMAC) in defeat.
It was a tale of two halves for the Mariners, who uncharacteristically a season-worst 30 points in the first 30 minutes, with two Coast Guard touchdowns coming off of turnovers. The Bears led by as many as 16 points late in the second quarter, 30-14. However, the Merchant Marine offense was able to cash in in the final minute of the second and the extra point by sophomore Jackson Tinkis (Bossier City, La.) made it just a 10-point game at the halftime break, 30-20.
 
That TD at the end of the second was the first of four-straight by the Mariners, who eventually took a 34-30 lead with 10:00 to play in the fourth quarter before adding one more late to make it 41-30. The Bears, who needed two scores late, settled for a field goal with under a minute to play, however they were unable to recover an onside kick and the Mariners held on for the exciting, come-from-behind victory.
 
Senior Jeremiah Wang (Manassas, Va.) ran for a game-high 116 yards on 23 carries with two touchdowns, while also passing for 106 yards with two TD strikes in the air. Classmate Matthew Savard (Orlando, Fla.) also broke the 100-yard rushing threshold with 111 yards and he found the end zone two times. Junior Ceaser Gonzalez (Norco, Calif.) added 95 yards on the ground, including some big first-down conversions when the Mariners needed them.
 
The other two scores were via the air to senior Max Michaels (Fleming Island, Fla.), 30 yards, near the end of the second quarter, and to sophomore Talsen Smith (Roseville, Calif.), 37 yards, that put the Mariners ahead for good in the fourth. Michaels finished with two catches for 58 yards, while Smith also hauled in two for 48 yards.
 
Defensively, junior Thomas Joyce (Taunton, Mass.) had a team-high 11 tackles including a sack for a loss of 11 and one forced fumble. Senior Daniel Falzone (Medford, N.J.) recorded five stops with one sack, and three other Mariners had four tackles each, including senior Connor Caffrey (Spokane Valley, Wash.), who also had an interception, and classmate C.J. Mustain (Oro Valley, Ariz.), who led all players on the afternoon with two tackles for losses (one sack).
 
Tinkis finished the day 5-for-5 on PATs, and classmate George Ethan Ferrey (Bethlehem, Pa.) averaged 42.3 yards on three punts including a 54-yarder.
 
For the Bears, sophomore QB Joey Armentrout passed for 284 yards on 23-of-35 attempts with two touchdowns and one interception. He also rushed for 45 yards with one TD. Senior running back Spencer McMillion ran for a team-best 96 yards with one score. Junior tight end Matt Ross caught both touchdown passes and finished with six catches for 72 yards on the day.
 
On defense, sophomore Ethan Lasher had a game-high 12 tackles and also picked off a pass. Freshman Matthew Lehnhardt was second on the squad with nine tackles. Senior kicker Finnegan Hall hit both of his two field goal attempts from 31 yards and 22 yards and was 3-for-4 on PATs.
 
This was the fourth-straight win for the Mariner seniors, who finished their career having not lost a game to their arch-rivals.
 
Receive USMMA Football News Right To Your E-Mail!
If you would like to receive all the latest news on the USMMA football team, including all press releases, delivered directly to your inbox, fill out this form.
 
Follow USMMA Athletics On Social Media!
Be sure to follow USMMA Athletics on social media to get up-to-the-minute updates on your favorite teams! Start following today on Facebook, Twitter, Instagram and YouTube!
COURTESY US MERCHANT MARINE SPORTS INFORMATION