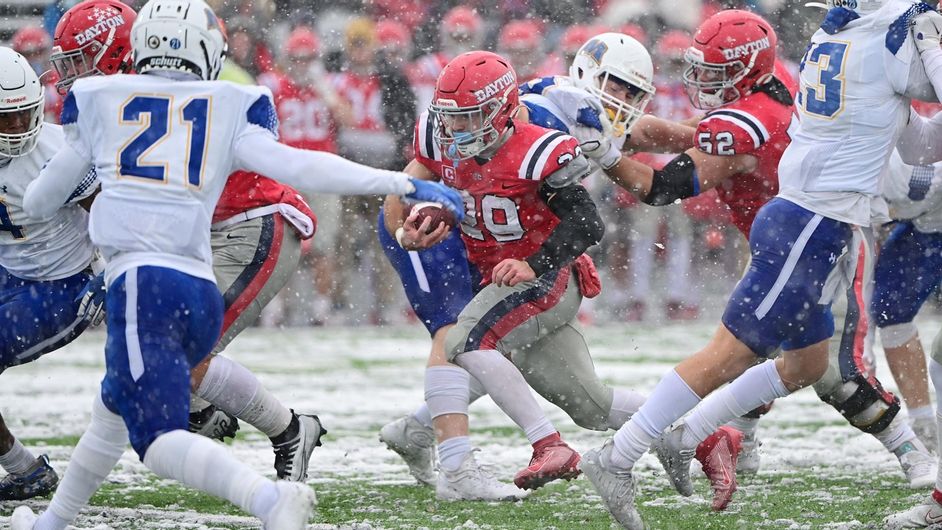 11/12/2022
Jake Chisholm Runs For 205 Yards & 2 TD To Lead UD
DAYTON — The University of Dayton football team won 49-27 Saturday against Morehead State on a snowy Senior Day at Welcome Stadium. Jake Chisholm led the offense with 259 all-purpose yards (34 carries for 205 yards and two catches for 54). Ben Schmiesing and Nathan Arthur led the Flyer defense with seven tackles each.
1st Quarter – Dayton 12, Morehead State 7
• Dayton drove 77 yards in seven plays to open the scoring. Shane Hamm hit Sam Bubonics for a 10-yard pass on third down for the TD. Sam Webster missed his first PAT of the year when he hit the upright to make it 6-0 Dayton just under four minutes in the game.
• Morehead needed one play to take the lead, when James Louis went 72 yards right up the middle .
• Dayton scored again with 17 seconds left in the quarter, after a 10-play, 65-yard drive that ended with a Jake Chisholm four-yard run.
• Even though Louis had the 72 yard run, Chisholm was the top rusher, going over 100 yards in in the first 15 minutes with 13 carries for 110 yards.
2nd Quarter – Dayton 21, Morehead State 17
• MSU regained the lead and Louis temporarily took the individual rushing lead with a one-play, 67-yard scoring drive with 10:39 left in the half.
• Dayton tied it at the 7:28 mark when Michael Franks forced a fumble on punt coverage inside the Morehead five. The Eagles recovered it in the end zone, but the safety tied the game.
• After the free kick gave UD good field position, Dayton took the lead for good three plays later when Michael Neel ran it in from five.
• Nathan Hazlett drilled a 44-yard field goal with 1:23 left to make it a four-point game at half.
3rd Quarter – Dayton 28, Morehead State 20
• The Eagles took the second half kickoff and the Flyer defense forced a three-and-out.
• Dayton drove 64 yards in 11 plays, scoring again on a six-yard Chisholm TD run.
• MSU kept the ball for 12 plays on the next series, driving 65 yards, but the Dayton D turned away a first-and-goal situation to force a 27-yard field goal for Hazlett.
4th Quarter – Dayton 49, Morehead State 27
• Dayton continued a possession to strike first in the fourth when Hamm tossed another third-and-goal TD, this one a five-yarder hauled in by Cade Beam.
• UD had to punt on its next possession, but Franks recovered a fumbled punt to set up a short field for the Flyers.
• One-play later, Beam had a 21-yard catch and run to put Dayton ahead 42-20 with 7:03 left in the game.
• One more play later, Morehead scored again, on a 72-yard pass from Carter Cravens to Kenny Lewi, Jr.
• UD closed the scoring with a five-and-a-half-minute drive, going 68 yards in 12 plays with Neel spinning out of a tackle to take it in from 24 yards out.
• Dayton held Morehead on downs, and all that was left was Zulli winner Ryan VanSchelven to take the final snap in the Victory Formation for a fifth straight Flyer win.
BY THE NUMBERS
• Jake Chisholm was the game's leading ballcarrier, with 34 carries for 205 yards and two touchdowns.
• He went over 3,000 yards for his career in the game. He now has 3,169, third-best at Dayton.
• It was the third straight game over 100 yards for the senior captain, and the 14th of his career, tying him with Connor Kacsor and Dave Jones for the most 100-yards game in a Dayton career.
• Chisholm now has 960 yards this season. Now Dayton player has ever rushed for 1,000 yards in three consecutive seasons.
• Chisholm's 54 yards receiving (in two catches) also led the team.
• Quarterback Shane Hamm ran 13 times for 112 yards and was 12 of 18 passing for 118 yards and three TD.
• Both of Cade Beam's receptions were for touchdowns. He has four catches on the year, with three touchdowns.
• Nathan Arthur and Ben Schmiesing each led UD with seven tackles, with Arthur leading in solo hits with five.
• Michael Franks had a forced fumble that led to a safety and recovered another fumble (both in punt coverage).
• Morehead came into the game leading FCS football in blocked kicks, but blocked none on Saturday.
• The Eagles also were third in FCS in fumbles recovered, but Dayton did not turn the ball over all in the game.
• There were four one-play scoring drives in the game. All of MSU's three were for over 67 yards, accounting for 211 of the Eagles' 404 yards in the game.
• Dayton gained a season-high 517 yards in total offense.
UP NEXT
•    Dayton closes out the regular season at Davidson next Saturday, in a game that has playoff and PFL championship implications.
•    Game time is 1 p.m. ET.
COURTESY DAYTON MEDIA RELATIONS