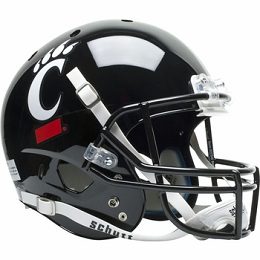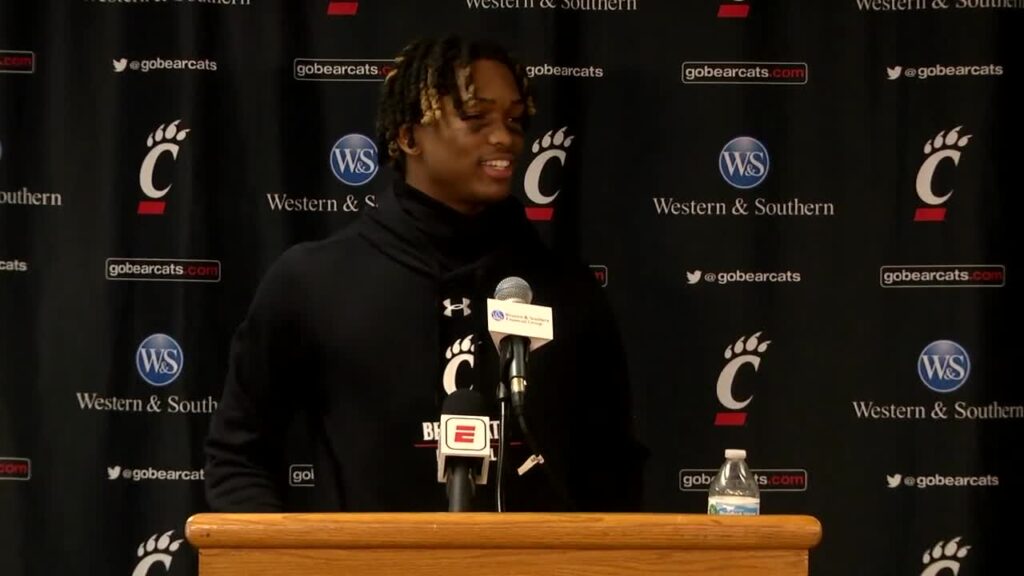 Cincinnati extends its active home winning streak to 32 games.
CINCINNATI – A late fourth down stop and three offensive touchdowns of at least 50 yards, including a 100-yard kickoff return by Jadon Thompson on his second-career attempt, lifted Cincinnati past East Carolina 27-25 on Friday night inside Nippert Stadium.
With the win, Cincinnati extends its active home winning streak to 32 games, the second longest streak in the nation.

Quarterback Ben Bryant finished 14-of-30 for 244 yards and two touchdowns, while junior wide receiver Tyler Scott topped the 100-yard mark for the fourth time this season with a game-high 140 yards on seven receptions, including a 76-yard touchdown.
Trailing 25-24 with 12:33 remaining in the game, Cincinnati forced East Carolina to punt and then proceeded to drive 57 yards on 10 plays to take the final 27-25 lead on Ryan Coe's 21-yard field goal with 9:42 left.

The Blackcats defense made two clutch stops down the stretch in the fourth quarter, including forcing a fourth-and-8 incompletion with under two minutes left.

UC improved to 8-2 on the season and 5-1 in the AAC. The Bearcats remain in contention for the AAC Championship Game and will likely control their own destiny with two more regular season games remaining.

Cincinnati travels to Temple next week before hosting No. 16 Tulane on Black Friday with a likely berth in the AAC Championship on the line.

"November is for champions and November is for championship teams," head coach Luke Fickell said. "You want to be playing for something in November. We could all say we are always playing for things, but what you do in January and what you do in that offseason is really meant for November. We talked about playing your best ball at the end of the year and a lot of things go into that but it's the way I was brought up. Coach (Jim) Tressel, former Ohio State football head coach, instilled and pounded that into my head for 10 years about what it means to play in November and what you have to do. We try to continue to pound that in. That's a big philosophy of how we do things and what we want to do."
The Bearcats' offense got off to a slow start, totaling -10 yards on its first two possessions. Bryant was sacked for a safety on the second offensive possession in the first quarter to provide the Pirates an early lead. The Blackcats defense, however, held the Pirates to a 47-yard field goal following the free kick.

East Carolina held a 5-0 advantage when Thompson ripped off a 100-yard kick return touchdown at the end of the first quarter, breaking a pair of tackles before outrunning the kicker down the sideline for the first of his career.

On Cincinnati's next possession, Bryant dropped off a short pass to senior wide receiver Tre Tucker on a third-and-five tunnel screen that the speedy wide slot man took 55 yards for a touchdown to put the Bearcats ahead 14-5 with 11:34 remaining in the second quarter.

After throwing a long interception, Bryant rebounded on his next possession, finding Scott for a 76-yard catch-and-run to make the score 21-5 midway through the second quarter.

East Carolina answered back with a quick slant 72-yard touchdown pass from Holton Ahlers to C.J. Johnson to cut the deficit to 21-14 with 6:03 left before half. The Bearcats drove down the field on the next possession and senior kicker Ryan Coe buried a 38-yard field goal as the Bearcats took a 24-12 lead into the break.
ECU took control of the game in the third quarter, outscoring Cincinnati, 13-0, to take a 25-24 lead.
After halftime, the Pirates drove down the field to cut their deficit to five, 24-19, on a nine-play, 79-yard drive that was capped off by a Keaton Mitchell four-yard touchdown rush.

A targeting penalty disqualified starting safety Bryon Threats and set up a 15-yard touchdown from Ahlers to C.J. Johnson that gave ECU a 25-24 lead with two minutes left in the third quarter. The Pirates' two-point conversion attempt was thwarted by senior cornerback Ja'Quan Sheppard, who broke up Ahlers' pass in the back corner of the endzone. 

Coe's 21-yard field goal with 9:42 gave UC a 27-25 lead and proved to be the final points of the game as the Cincinnati defense held Ahlers to just 4-of-12 passing the in final frame.
COURTESY UC ATHLETIC COMMUNICATIONS