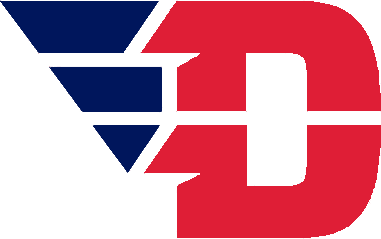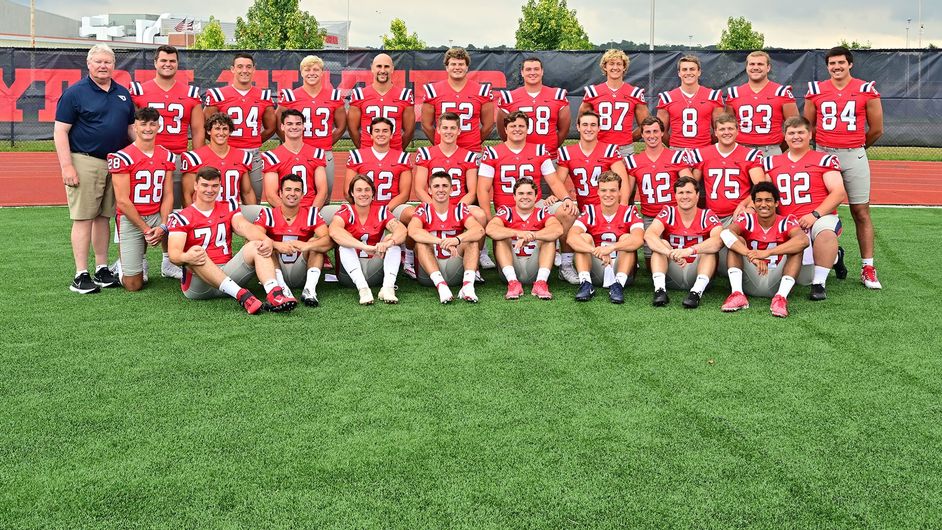 Saturday's Game Time Is 1 P.M. ET
https://daytonflyers.com/documents/2022/11/9/Morehead.pdf
DAYTON — The University of Dayton football team will wrap up the 2022 home schedule Saturday when the Flyers host Morehead State.
UD is 7-2 and 5-1 in the Pioneer Football League, after last week's 52-28 win at Presbyterian.
29 Flyers will be recognized in Senior Day ceremonies on Saturday — Nathan ArthurAustin Bradfish, Sam Bubonics, Jake Chisholm, Joe Craft, Logan Dalton, Michael Denning, Cole Dow, Joe Durham, George Fanelli, Michael Franks, Kyle Hazell, Alex Hirschfield, Matt Lenti, Michael Neel, Drew Nieman, Drew Robertson, Marc Rumpke, Jake Sargent, Sam Schadek, Ben Schmiesing, Billy Skalitzky, Elijah Smith, Hayden Snyder, Brian Stevens, David Tkatch, Ryan VanSchelven, Sam Webster and Derek Willits.
GOOD NEWS WORTH REPEATING
The Flyers entered the season with the fifth-best winning percentage (.727, 168-63) in FCS football since 2000 AND have produced the most football Academic All-Americans (35) in Division I in the same time frame. The top five in winning percentage are North Dakota State (.808), Harvard (.756), Montana (.754), San Diego (.736) and Dayton (.727).
700 CLUB
The Flyers are the ninth team playing at the FCS level to win 700 games. The previous eight members of the FCS 700 Win Club are Yale, Harvard, Penn, Princeton, North Dakota State, Dartmouth, Delaware and Lehigh.
SENIOR DAY TRADITION
At halftime, one of Dayton's 29 seniors will be named the 2022 winner of the Lt. Andy Zulli Memorial Trophy, a character-based award that is considered the most prestigious award in the Flyer football program.
DOWN THE STRETCH THEY COME
Dayton is one of three teams (Butler and Davidson being the other two) currently tied for second in the PFL, one game back of league-leading St. Thomas.
PFL POWER
• The Pioneer Football League is in its 30th season. The original (and now the only) Division I strictly need-based football league began with charter members Butler, Dayton, Drake, Evansville, San Diego and Valparaiso.
• UD's 134-46 record is the best in PFL history.
• The Flyers' 12 league championships are the most in PFL history. San Diego also has 12.
THE MAN AT THE TOP
• Rick Chamberlin is now in his 14th season in charge of Flyer football. His record is 106-47.
• He is the 16th active FCS coach with 100 career wins.
• Chamberlin is just the third D-I coach (out of 429 with 100 career wins) to play for his alma mater, immediately join (and never leave) the coaching staff, and then become the head coach while only doing all at one school.
• The first two were Knute Rockne, and the man who succeeded John Heisman at Georgia Tech, William A. Alexander.
• He is third all-time in wins at UD, behind two College Football Hall of Fame members– Mike Kelly (246 wins) and Harry Baujan (124).
• After coaching the Flyers to the FCS playoffs in 2015, Chamberlin was named the 2015 AFCA District Coach of the Year and the PFL Coach of the Year. He was the school's first AFCA District Coach of the Year, and his PFL honor was the ninth for a Dayton coach.
• Chamberlin is also in his 48th season as part of the Flyer football program. A Flyer All-American linebacker in his playing days, he has been a part of 400 of UD's 700 wins – 26 as a player, 268 as an assistant coach, and 106 as a head coach. He has also been a part of 521 of UD's 1,114 games.
THE MAN AT THE TOP IN THE PFL
• Rick Chamberlin is the winningest coach in Pioneer Football League history, with 79 wins.
• No other PFL coach has 60 league wins.
CAPTAINS, MY CAPTAINS
• The Flyer co-captains for the 2022 season are senior running back Jake Chisholm, graduate linebacker Ben Schmiesing and senior offensive guard Brian Stevens.
• Senior wideout Derek Willits is this year's special teams captain.
CHISHOLM NAMED NFF WILLIAM V. CAMPBELL TROPHY FINALIST
• The National Football Foundation (NFF) & College Hall of Fame announced Oct. 26 that Jake Chisholm is one of 15 finalists for the 2022 William V. Campbell Trophy. The trophy, sometimes referred to as "the Academic Heisman," recognizes the absolute best football scholar-athlete in the nation.
• Chisholm is the eighth UD football student-athlete to earn an NFF Post-Graduate Scholarship. Previous winners were Christopher Beaschler (2016), Brandon Cramer (2007), Leo Dillon (1970), Bob Heckman (1962), Mark Kasmer (2002), Steve Keller (1992) and Tim Quinn (1972).
CHISHOLM TRAIL
• Jake Chisholm was a Second Team Stats Perform FCS All-American last year as an all-purpose runner after finishing second in FCS football in all-purpose yardage (163.9 yards per game). He also led FCS in carries per game (23.5) and TD per game (1.8).
• In 2019, he led FCS in all-purpose yardage (204.3 yards a game) after carrying the ball 153 times for 1,129 yards (and eight touchdowns) while also catching 21 passes for 230 yards (and three touchdowns), and returning 29 kickoffs for a 23.6 yard average (with one 97-yard TD vs. Duquesne).
• He entered 2022 as the UD career all-purpose yardage record holder (now 5,256 yards). He is also third in career rushing (2,967). Next is Connor Kacsor (3,581).
• Last year, Chisholm became just the second Flyer to have back-to-back 1,000 yard seasons (Tucker Yinger was the first in 2017 and 2018.). Chisholm led the Pioneer Football League in rushing (103.3 yards per game in 10 games) and scoring (11.0 points per game), as well as all-purpose yardage in 2021. Chisholm also caught 30 passes for 361 yards, which was the second-most on the team.
• He is a two-time Stats Perform FCS Third Team All-American as an all-purpose runner.
CLASS ACT
• Not only is Jake Chisholm a multi-year All-American, he is a multi-year CoSIDA Academic All-American in the classroom.
• He was a second team Academic All-American in 2019, and first team in 2020 and 2021.
• He is the tenth University of Dayton football player to be named a First Team Academic All-American at least twice, dating back to UD's first football Academic All-American in 1970. The others are Christopher Beaschler, Brandon Cramer, Greg French, Steve Lochow, Tim Quinn, Dan Rosenbaum, Brandon Wingeier and Tucker Yinger.
• Chisholm is also just the eighth Flyer student-athlete to earn any sort of Academic All-America recognition three times . The others are baseball's Tom Beechem, cross country's Amy Fleck, and football's Cramer, Leisring, Rosenbaum, Wingeier and Yinger.
• No Dayton student-athlete has ever been named a four-time Academic All-American.
ON THE RECEIVING END
• Dayton returned five of the seven receivers who caught at least 10 passes in 2021, including the team's top four targets.
• In addition to Sam Bubonics (34 catches) and Jake Chisholm, (30), Joey Swanson caught 25 passes and Kyle Hazell had 19.
• All four averaged at least 12 yards per catch.
• Luke Brenner led UD in yards per catch in 2021 (11 receptions for 24.7 yards per catch).
• This season, six Flyers already have at least 12 catches. Brenner leads with 22, Chisholm has 18, Swanson has 16, Derek Willits has 15, Hazell has 14 and Bubonics has 12.
TO SERVE AND PROTECT
• Dayton returned all five starters from last year's offensive line, although due to injuries they have only started two games together this year, and finished only one.
• Going into the 2021 season, no lineman had played a down in college. The line improved tremendously as the year went on. They opened the holes for Chisholm to gain 502 yards and 13 touchdowns over the last three games, all Flyer wins.
• Flyer co-captain Brian Stevens started eight games last season at offensive tackle and was named UD's Stan Kurdziel Outstanding Lineman. He is playing guard this season.
• The entire line was chosen as UD's Offensive Players of the Week after the Valparaiso win.
• Backup guard Jackson Ward won the UD Student-Athlete Advisory Committee Talent Show on Monday, Sept. 26, for his guitar performance.
ARMS RACE
• Redshirt freshman Shane Hamm was 11-for-19 for 105 yards with a touchdown in his first career start at Marist.
• He completed his first five passes at Marist.
• He did it more with his feet in the Valpo win, rushing 24 times for 125 yards. He also completed 12 passes in 19 attempts for 137.
• At Presbyterian, he ran for 74 and threw for 55
• He is 42 of 77 passing (.545) for 460 yards.
• He redshirted the 2021 season, and was Scout Team Offensive Player of the Year.
• He quarterbacked Archbishop Hoban to three state championships and had a 50-3 record as a four-year starter.
SCHMEISING, SCHMEISING
• Defensive captain Ben Schmeising is enjoying a second college football career.
• A former Buckeye walk-on from Piqua, he graduated with honors from Ohio State in three years and is pursuing an MBA at Dayton.
• Despite not starting until the fifth game of the season, he was third on the team in tackles in 2021 (74).
• He had 19 tackles in the Davidson win.
• He was Second Team All-PFL and First Team CoSIDA Academic All-District.
• At Robert Morris, his first career interception set up the eventual game-winning TD.
• He had 11 tackles and two red-zone PBU in the Drake win.
• Schmiesing leads the team in tackles (68). He also has three PBU, a pick and 1.5 sacks.
KING ME
• Senior linebacker Nathan Arthur had 10 tackles at Marist, with a fumble forced, a fumble recovered and a sack.
• He leads the PFL and is tied for third nationally with three fumbles forced.
• He is second for UD in tackles (58).
SLAMMIN' SAMMY
• Placekicker Sam Webster leads the PFL in field goals made (12).
• In 2021, he was 9-for-14 in field goals.(including five from 30+ yards) and was 36-for-37 in PATs.
• He was third in the PFL in PATs made (36), PAT kicking percentage (97%).
• He is a two-time Second Team All-PFL selection.
• He was 6-for-6 in PATs in his college debut at 14th-ranked Indiana State in 2019.
• His very first college field goal was a 53-yarder the next week at Robert Morris.
• His career field goal conversion rate of .783 (29-37) is the third-best in UD history, and his PAT mark is second (.975, 116-119).
• He missed the Valpo game due to illness.
UP NEXT
• Dayton closes out the regular season next Saturday at Davidson in a game that could have championship or playoff implications for both teams.
• Game time is 1 p.m. ET
COURTESY DAYTON MEDIA RELATIONS