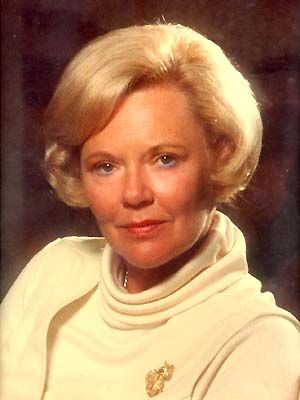 FROM WIKIPEDIA COMMONS
Joan Beverly Kroc (néeMansfield, previously Smith; August 27, 1928 – October 12, 2003), also known as Joni, was an American philanthropist and third wife of McDonald's CEO Ray Kroc.
PHILANTHROPY
In 2002, Kroc Center, a large Salvation Army community center that she helped fund—to the tune of $87 million—opened to the public. She later bequeathed an additional $1.6 billion to open Salvation Army Kroc Centers across the nation, the largest one-time gift ever recorded. Several institutions in the San Diego area are named after her, including the think tank Joan B. Kroc Institute for Peace and Justice and the Joan B. Kroc School of Peace Studies- the world's top peace institution- at the University of San Diego, the St. Vincent de Paul Joan Kroc Center for the Homeless (Part of Father Joe's Villages- San Diego's largest organization helping the homeless) in downtown and the Kroc–Copley Animal Shelter in the Morena District. Additionally, Joan established and endowed University of Notre Dame's Joan B. Kroc Institute for International Peace Studies. Kroc preferred to give donations anonymously, but recipient organizations often insisted on publicizing her gifts, hoping to attract new donors.
As the Padres owner, Kroc started Major League Baseball's first employee-assistance program for players and staff with drug problems.
Kroc was also politically active. In 1985, she spent millions of dollars in support of nuclear disarmament, which included reprinting the book Missile Envy by Helen Caldicott, as well as publishing ads in major newspapers calling for disarmament. She anonymously gifted a Paul Conrad sculpture depicting a nuclear mushroom cloud, Chain Reaction, to the city of Santa Monica, where it still sits today. Because of her public no-nukes work, Cal Thomas, a conservative syndicated columnist, called her a "McNut."
Kroc is affectionately known by the citizens of Grand Forks, North Dakota, and East Grand Forks, Minnesota, as the "Angel" because of her anonymous $15 million donation to assist the cities after a devastating flood occurred there in 1997. She was revealed as the source of the funds after reporters tracked down ownership of the jet that she used to fly into the area to survey the damage.
After her death in 2003, it was announced that Kroc had left the majority of her estate to the Salvation Army for the purpose of building recreation centers all across the nation. Another of her major donations was $225 million to National Public Radio (NPR) including $5 million to her local public radio station, San Diego's KPBS.
TODAY'S ALMANAC

Daylight Saving Time 2022 ends on Sunday, November 6 at 2:00 A.M. Remember to "fall back" by setting your clocks back one hour. (The exceptions are Arizona, Hawaii, Puerto Rico, the Virgin Islands, and American Samoa.) Credit for Daylight Saving Time belongs to Benjamin Franklin, who first suggested the idea in 1784. The idea was revived in 1907, when William Willett, an Englishman, proposed a similar system in the pamphlet The Waste of Daylight. The Germans were the first to officially adopt the light-extending system in 1915 as a fuel-saving measure during World War I. The British switched one year later, and the United States followed in 1918, when Congress passed the Standard Time Act, which established our time zones. This experiment lasted only until 1920, when the law was repealed due to opposition from dairy farmers (cows don't pay attention to clocks). During World War II, Daylight Saving Time was imposed once again (this time year-round) to save fuel. Since then, Daylight Saving Time has been used on and off, with different start and end dates. Learn more about Daylight Saving Time and when the clocks change.
Question of the Day
Can turkeys fly?
Turkeys raised on turkey farms cannot fly. Wild turkeys can fly short distances at up to 55 miles per hour.
Advice of the Day
If you wish good advice, consult an old man or old woman.
Home Hint of the Day
To bring out the color in a rug, dip a broom in a mixture of 1 cup of white vinegar and 1 gallon of water, then brush the rug with the broom. No need to rinse.
Word of the Day
Scuttle
To cut a hole or holes through the bottom, deck, or sides of (as of a ship), for any purpose.
Puzzle of the Day
When will there be but 24 letters in the alphabet?
When U and I are 1.
Born
Adolphe Sax (inventor & musician) – 1814
Charles Henry Dow (founder of Dow Jones & Company) – 1851
John Philip Sousa (composer) – 1854
James Naismith (invented game of basketball) – 1861
Henry Knox Sherrill (clergyman) – 1890
Charles W. Yost (diplomat) – 1907
Sally Field (actress) – 1946
Glenn Frey (musician) – 1948
Maria Shriver (newscaster) – 1955
Ethan Hawke (actor) – 1970
Rebecca Romijn (actress) – 1972
Emma Stone (actress) – 1988
Died
Peter Ilyich Tchaikovsky (composer) – 1893
James Peter Robertson (posthumous Victoria Cross recipient) – 1917
Clarence Ace" Parker" (professional football player) – 2013
Events
First recorded sightings of supernova in Cassiopeia– 1572
Abraham Lincoln was elected president– 1860
Canada's second national Thanksgiving Day after confederation– 1879
Electric shaver patent awarded to Col. Jacob Schick– 1928
Talking headlight installed on locomotive, Schenectady, New York– 1934
Meet the Press made its television debut– 1947
President Dwight D. Eisenhower won reelection– 1956
President Ronald Reagan won reelection in an electoral landslide– 1984
National Public Radio announced the largest donation in its history, a cash bequest from the will of the late philanthropist Joan Kroc of about $200 million. The nonprofit organization called the donation the largest monetary gift ever received by an American cultural institution.– 2003
Weather
Early season snow in Missouri, St. Louis receives 13.3 inches– 1951
Philadelphia, Pennsylvania, received eight inches of snow– 1953
87 degrees F, Charleston, South Carolina– 2003
A tornado tore across western Kentucky and Indiana, killing at least 22 people– 2005
Deadly tornado struck near Evansville, Indiana– 2005
COURTESY www.almanac.com