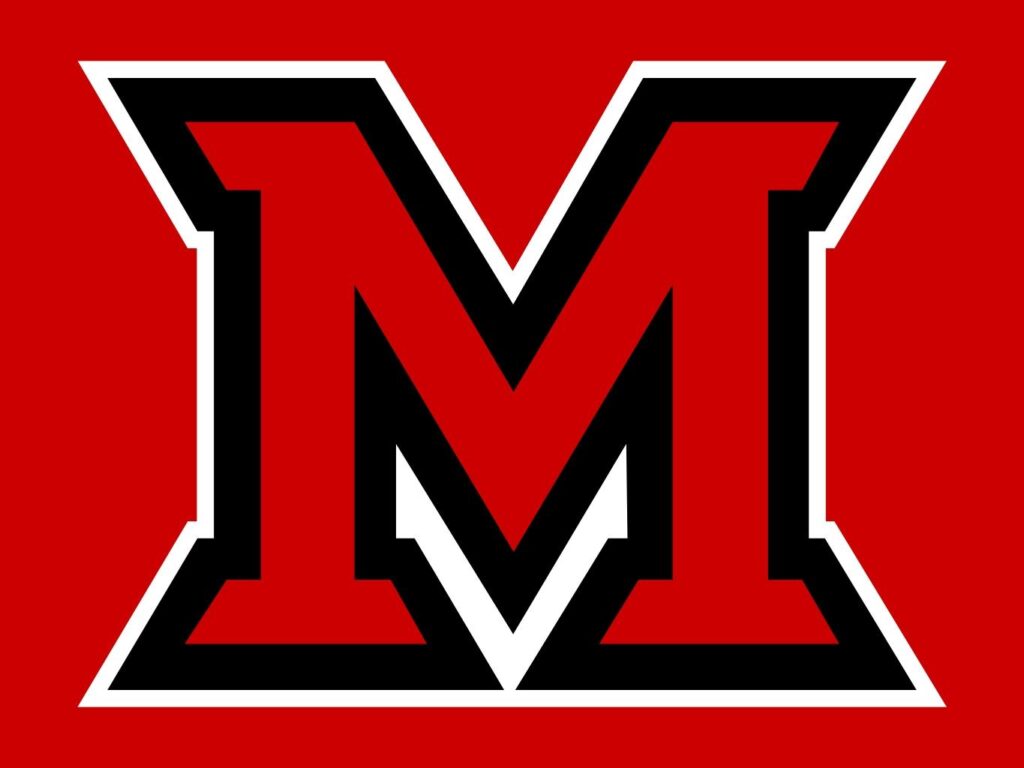 https://miamiredhawks.com/documents/2022/10/25/Game_Notes_-_2022-Akron.pdf
After back-to-back one-score losses, the Miami University football team travels to face the Akron Zips on Saturday, Oct. 29 at Infocision Stadium. Opening kick is slated for noon.
Television
The matchup with Akron will be carried live on ESPN+. Michael Reghi will handle play-by-play duties, while Jerod Cherry will serve as the color analyst.
Radio
In its fourth year of its partnership with Van Wagner, the Miami Sports Network continues its coverage of Miami Football with a group of affiliates blanketing most of Southwest Ohio and Southeast Indiana. "The Voice of the RedHawks" Steve Baker will deliver the play-by-play coverage, while Terry Bridge will provide color commentary. Tune-in to one of Miami's gameday affiliates:
WMOH-AM 1450 (Hamilton, Ohio)
WFMG-FM 101.3 (Richmond, Ind.)
WDBZ-AM 1230 (Cincinnati, Ohio)
WONE-AM 980 (Dayton, Ohio)
First And Ten
• Miami football ranks first all-time in the Mid-American Conference in wins (710), conference wins (307), MAC Championships (16) and bowl wins (8). The RedHawks also captured the 2019 MAC Championship with a 26-21 win over Central Michigan.
• Although Miami was 4-18 in Coach Martin's first 22 Mid-American Conference games, the RedHawks are 31-15 in the last 46 games versus schools from the MAC, the best record in the conference during that span.
• The RedHawks clinched the MAC East Division Championship with a 6-2 record in 2019, went 2-1 in 2020 and 5-3 in 2021. Miami has now had a winning conference record in five of the past six years.
• Martin, in his ninth year leading the RedHawks, has a new-look coaching staff in 2021. Offensive Coordinator Eric Koehler returns for his ninth year calling plays, while Bill Brechin begins year one as the Defensive Coordinator (ninth year at Miami). Special Teams Coordinator Jacob Bronowski is in his first year with the Red and White.
• Miami is 11-7 in one-score games, dating back to the 2018 campaign. The RedHawks were 5-0 in one-score games in 2019, including a 26-21 victory over Central Michigan in the MAC Championship Game. Miami is 2-3 this season in single-score games.
• In its last 46 contests, Miami has had a lead at some point in 41 of those games. The only five setbacks were a 42-10 loss at Buffalo in 2020 and four different losses in 2021. The RedHawks have had a lead at some point in all eight games this year.
• Miami competed in the 2021 Frisco Football Classic (W, 27-14) and the RedHawks have now been bowl eligible five of the last six seasons. From 2006-15, Miami was bowl eligible just twice.
About Chuck Martin
• Head coach Chuck Martin, who earned that title on Dec. 3, 2013, brings an impressive resume to Oxford, Ohio.
• Not only was he 74-7 in six years at Grand Valley State (2004-09), he has coached in seven national championship games in the past 20 seasons. Martin has an all-time head coaching record of 116-64.
• He has twice been named the American Football Coaches Association (AFCA) National Coach of the Year and has been a coordinator on both sides of the ball.
• Martin was inducted into the Hall of Fame at Grand Valley State University on Oct. 23, 2015.
Martin Milestone
On Saturday, Chuck Martin will coach his 100th game with the RedHawks, becoming Miami's all-time leader in games coached. Randy Walker was the previous record holder with 99 games at the helm of Miami.
About Akron
Akron enters Saturday's contest at 1-7 overall and 0-4 in Mid-American Conference play. Quarterback DJ Irons averages 274.9 yards passing per contest and has eight passing scores on the season. Linebacker Bubba Arslanian leads the MAC with 86 tackles on the season.
Series Vs. The Zips
Miami leads the all-time series 20-9-1 and has won five straight games in the series. The RedHawks are 8-6 all-time at Akron and haven't lost a road game to the Zips since 2016.
Last Meeting
Miami used a balanced offensive attack to defeat Akron 34-21 last October, taking a 34-7 lead in the third quarter and coasting to victory from there. The RedHawks produced 245 rushing yards and 229 passing yards in the victory.
Memorable Meeting
"It ain't over Tillitz over!" might always be the No. 1 moment of the Akron-Miami series, but there are plenty of others to choose from. What about Zac Dysert's five first-half touchdown passes in September 2012? Dysert finished with a half-dozen scoring passes to set the school record and Justin Semmes rushed for the game-winning touchdown with 1:04 to play in a 56-49 instant classic. Dysert piled up a MAC-record 624 yards of total offense (516 passing, 108 rushing) in the win.
WMU Recap
The return of starting quarterback Brett Gabbert wasn't enough for the Miami University football team in a 16-10 loss at home to Western Michigan. The loss dropped a 16-game win streak at Yager Stadium. In his first game for the RedHawks since suffering an injury in the season opener, Gabbert put up 222 passing yards against the Broncos.
Heads or Tails
For the first time all season (Miami has won six of eight coin tosses), head coach Chuck Martin elected to defer to the second half after winning the coin toss. When choosing to take the ball to begin contests, the RedHawks have scored three different times, including touchdowns at Kentucky and against Cincinnati. In all, Miami has started seven of eight contests this season with the ball.
Bounce Back
Since early in the 2016 season Miami has lost back-to-back MAC games just twice in that span. In fact, Miami is now 11-2 following a MAC loss under Martin, dating back to Oct. 15, 2016. The last time the Red and White lost three straight conference games was from Oct. 17-29, 2015.
Monsters of the MAC
With so many new faces on defense in 2022, a drop in defensive production could have been expected, instead, Miami is once again one of the best defenses in the conference. Miami ranks first in scoring defense (23.0), first in total defense (342.0), first in rush defense (111.3), fifth in sacks (19) and third in interceptions (6). Miami's rush defense ranks 20th nationally.
Take It Away Defense Take it Away
Through eight games in 2022, the RedHawks defense has already forced 13 turnovers and is on pace for 20 take-aways in 2022. Prior to this season, Miami had averaged 16 turnovers forced per season since Chuck Martin's arrival, with a high of 20 in 2019. Miami's 13 forced turnovers is fourth in the MAC and 29th in the nation.
Five Things to Know About No. 5 Brett Gabbert
• Younger brother of NFL quarterback, Blaine Gabbert.
• Gabbert was named the 2019 MAC Freshman of the Year, joining Ben Roethlisberger (2001) and Deland McCullough (1992) as the only other RedHawks to capture this award.
• When Miami opened the 2019 season at Iowa, Gabbert became the first true freshman quarterback to open the season as the starter in Miami football history.
• Is responsible for 46 touchdowns (41 passing, 5 rushing) in his Miami career.
• Ranks seventh in program history with 5,831 passing yards, completion percentage (.577) and passing touchdowns (41).
Will The Real Rushing Attack Please Stand Up
Miami is averaging 158.4 yards rushing per contest in 2022, the top season average since Coach Martin's arrival in Oxford, but that doesn't tell the whole story. Miami has rushed for over 200 yards four different times this season, including 240 yards at Buffalo and another 236 in a win over Kent State. For whatever reason, Miami's rushing attacked has stalled the last two weeks, rushing for just a combined 181 yards (on 62 carries) in losses to Bowling Green (34-98) and Western Michigan (28-83).
Trench Warfare
Miami's offensive line is by far the most experienced unit for the RedHawks in 2022, returning four starters from last season's squad. In all, Miami's offensive line has started 112 combined games. Caleb Shaffer leads the way with 32 career starts and is followed by Rusty Feth (30), Reid Holskey (21), Sam Vaughan (14, but out for the year in 2022), Will Jados (6), John Brekke (5) and Kolby Borders (3). Brekke was also a three-year starter from Holy Cross before transferring to Miami.
From Zero to Hero
Over the past year, head coach Chuck Martin has awarded six scholarships to walk ons with the football program. Last year Chris Cavalaris and Dominic Nardone earned a free ride and back on Aug. 16, in the middle of fall camp 2022, Oscar McWood, Brendan Beattie, Jack DeJarld and Graham Nicholson were awarded scholarships.
Paging Dr. McWood
Linebacker Ryan McWood (turned 25 on Oct. 13) is in his SEVENTH season with the Red and White. Due to red-shirting the 2016 season, a 2020 COVID year and then a season-ending injury in week one of the 2021 season, McWood is just a handful of college football players playing in their seventh (or eighth) year. McWood ranks third in the MAC with 71 tackles
Nothing But Net
In his first year with the football program, Graham Nicholson did not disappoint. He finished the season 15-20 on field goals, including 6-of-7 on attempts between 40-49 yards. He added 30 touchbacks on 65 kickoffs in 2021. He is 11-for-14 on field goals in 2022. He also had his first game-winning field goal, connecting on a 36-yard field goal with 21 seconds to go in the 17-14 win at Northwestern.
COURTESY MIAMI ATHLETIC COMMUNICATIONS