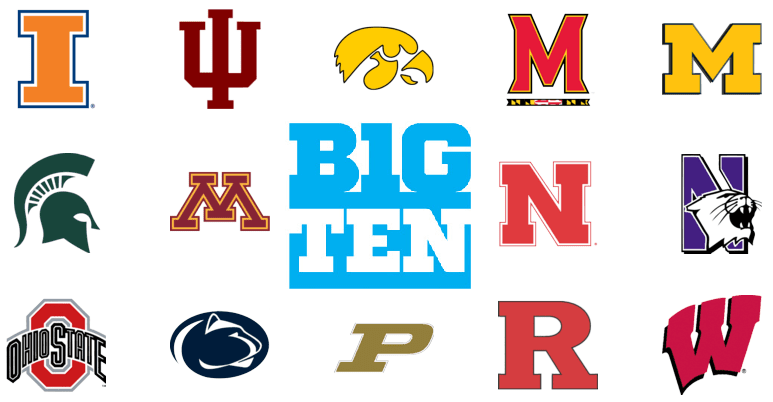 10/17/2022
• Conference action continues this week, with five Big Ten contests highlighted by a pair of divisional matchups. Illinois, Michigan, Michigan State and Nebraska will enjoy byes this week, with the complete schedule appearing to the right.
• Two Big Ten teams remain undefeated on the season, as Michigan and Ohio State are 7-0 and 6-0, respectively. The Wolverines and Buckeyes are both undefeated in conference play at 4-0 and 3-0, respectively.
• Four Big Ten teams appear in the AP Poll this week, highlighted by two of the top five teams. Ohio State leads the conference at No. 2, followed by No. 4 Michigan, No. 16 Penn State and No. 18 Illinois. Maryland, Minnesota and Purdue are all receiving votes.
• Michigan and Ohio State currently rank among the top 10 nationally in both scoring offense and scoring defense. The Wolverines rank seventh nationally in scoring offense, averaging 42.7 points per contest, while ranking No. 5 nationally in scoring defense (12.1 points per game). The Buckeyes lead the nation in scoring offense, averaging 48.8 points per game, while ranking No. 10 nationally in scoring defense (15.7 points per game).
• Four additional Big Ten teams rank in the top 25 in terms of scoring defense: Illinois (1st, 8.9 points per game), Iowa (3rd, 9.8 points per game), Minnesota (4th, 11.7 points per game) and Penn State (22nd, 19.2 points per game).
• Michigan improved to 7-0 on the season following a 41-17 victory against Penn State on Saturday. It marks the third 7-0 start under head coach Harbaugh (2016, 2021) and the first time the Wolverines have begun 7-0 in consecutive years since 1973-74. Running back Blake Corum eclipsed 100 yards for the fourth straight game and ran for his 13th touchdown of the season, the most in FBS.
• Illinois defeated Minnesota 26-14 on Saturday to become the 10th team in the nation to reach bowl eligibility. The Illini have now won six straight home games for the first time since 2001-02 and have beaten Wisconsin, Iowa and Minnesota in a single season for the first time since 1983.
• The Illini's Chase Brown became the first running back in the nation to eclipse the 1,000-yard mark this season. He has 1,059 rushing yards to lead the nation, while also leading the country with 1,166 all-purpose yards. Brown became just the third Illini in history to rush for 1,000 yards in two seasons, joining an elite group that includes Jim Grabowski and Robert Holcombe. Brown has rushed for over 100 yards in an Illinois-record eight straight games.
• Purdue has won four straight games for the first time since 2018, defeating Nebraska 43-37 on Saturday. Aidan O'Connell threw for 300 yards for the 12th time in his career, tying Curtis Painter for the third-most in school history. O'Connell has thrown for 200 yards in 20 of 21 career starts and threw four touchdown passes for the fifth time in his career.
• Boilermaker running back Devin Mockobee set the school freshman rushing record for a single game, tallying a career-high 178 yards and a touchdown on 30 carries to help Purdue win its fourth straight game against Nebraska. He caught two passes for 28 yards to total 206 all-purpose yards, the most by a Boilermaker this season.
• The Big Ten boasts six top 20 FBS running backs in rushing yards per game, including four of the top 15: Illinois' Chase Brown (2nd, 151.3), Minnesota's Mohamed Ibrahim (4th, 138.8), Michigan's Blake Corum (6th, 128.7), Wisconsin's Braelon Allen (13th, 108.1), Ohio State's Miyan Williams (18th, 99.4) and Nebraska's Anthony Grant (20th, 97.4).
• Seven Big Ten Conference programs appear in the top 25 of the latest NCAA attendance rankings, including four of the nation's top 10 schools: No. 1 Michigan (110,053 fans per game), No. 2 Penn State (106,485), No. 3 Ohio State (104,355), No. 10 Nebraska (86,854), No. 19 Wisconsin (73,578), No. 20 Michigan State (72, 786) and No. 21 Iowa (69,250). Additionally, Big Ten teams own 12 of the top 15 single-game attendance highs this season, including the top six spots.
• The 2022 Big Ten Football Championship Game will be played at 8 p.m. ET on Saturday, Dec. 3, at Indianapolis' Lucas Oil Stadium and will be televised nationally on FOX. The winner will earn the Amos Alonzo Stagg Championship Trophy and a chance to play in one of the six bowls that comprise the College Football Playoff, including the Rose Bowl Game.
• Nine Big Ten Conference students are among the 156 semifinalists for the 2022 William V. Campbell Trophy. Now in its 33rd year, the Campbell Trophy is presented annually to the nation's top football scholar-athlete. Representing the Big Ten as this year's Campbell Trophy semifinalists are Illinois' Alex Pihlstrom, Indiana's Beau Robbins, Iowa's Jack Campbell, Michigan's Jake Moody, Nebraska's Travis Vokolek, Northwestern's Charlie Mangieri, Ohio State's Bradley Robinson, Penn State's Jonathan Sutherland and Rutgers' Adam Korsak.
• The 2022 campaign features 94 All-Big Ten honorees (first-, second-, third-team or honorable mention) selected by either the coaches or the media last season. Ohio State leads the way, welcoming back 17 All-Big Ten honorees this season. Each team has at least one All-Big Ten performer returning this season, with 56 of the 94 returning All-Big Ten players coming from the East Division.
• This season's Playoff Semifinals will take place Saturday, December 31, 2022, at the Vrbo Fiesta Bowl and Chick-fil-A Peach Bowl. The Los Angeles region will host the College Football Playoff National Championship on Monday, January 9, 2023, at SoFi Stadium. The College Football Playoff matches the No. 1 ranked team vs. No. 4, and No. 2 vs. No. 3 in semifinal games that rotate annually among six bowl games – the Goodyear Cotton Bowl, Vrbo Fiesta Bowl, Chick-fil-A Peach Bowl, Capital One Orange Bowl, Allstate Sugar Bowl and Rose Bowl Game.
Big Ten Conference Football Week 8 Schedule
Saturday, October 22nd
Iowa vs #2 Ohio State – 12pm ET
Indiana vs Rutgers – 12pm ET
Purdue vs Wisconsin – 3:30pm ET
Northwestern vs Maryland – 3:30pm ET
Minnesota vs #16 Penn State – 7:30pm ET
COURTESY BIG TEN CONFERENCE COMMUNICATIONS