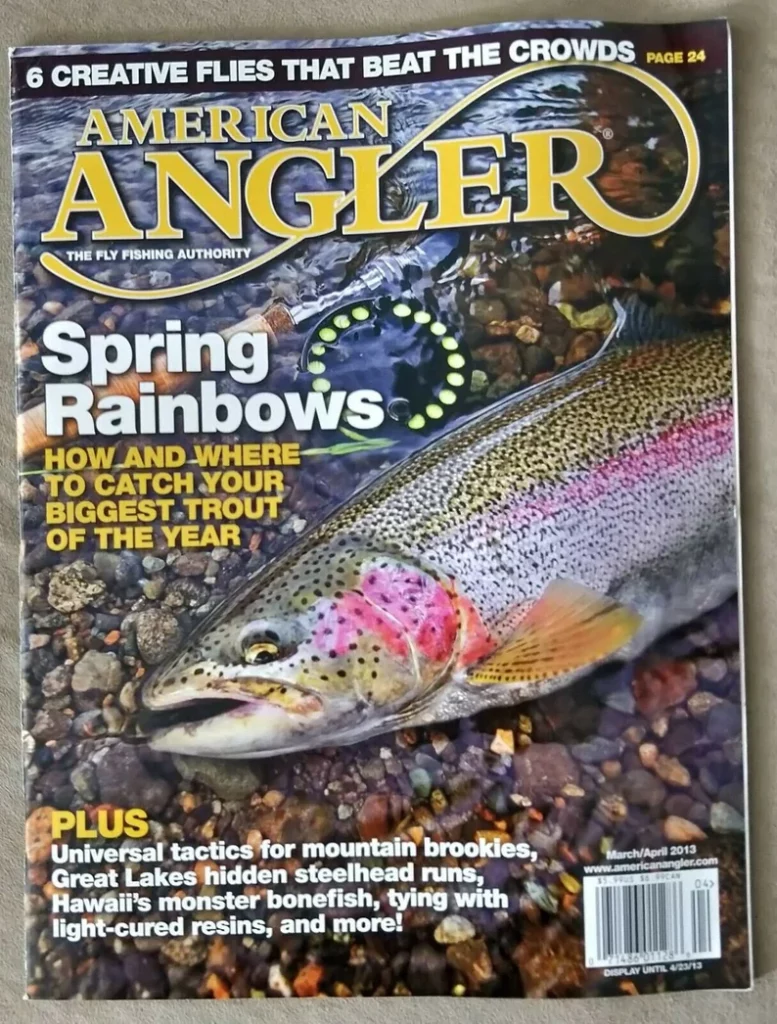 FROM WIKIPEDIA COMMONS
American Angler is a magazine dedicated to the subject of fly fishing, with an emphasis on cold water fisheries, published six times a year. It bills itself as a "how to, where to" magazine focusing on technical fly-fishing informational articles and explorations of new fishing locations. It is an asset of Morris Communications, which also owns publications such as Gray's Sporting Journal, Fly Tyer, and the soon-to-be-defunct Saltwater Fly Fishing. Collectively, these magazines are referred to as the "Morris Group." American Angler is the third-largest fly-fishing magazine in terms of circulation, with approximately 40,000 subscribers, following Fly Fisherman and Fly Rod and Reel. It is the only magazine among those to use "perfect binding" instead of stapled pages.
NOTABLE AUTHORS
Macauley Lord, author of the L.L. Bean Fly-Casting Handbook, is the regular casting columnist.
Phil Monahan is the former editor of American Angler magazine, as well as a feature-articles author and the past editorial director of the Morris Group of fly-fishing magazines.
Ed Engle, author of Splitting Cane, is a frequent contributor.
William "Bill" Tapply, author of the Brady Coyne mystery novels, writes the final column in each issue.
Dave Klausmeyer, editor of Fly Tyer, contributes the Tyer's Notes column in each issue.
READER CONTRIBUTIONS
American Angler is one of the few major fly fishing publications that regularly accepts and publishes reader contributions, in the "Gear I Love" and "The Rant" columns.
TODAY'S ALMANAC
Question of the Day
What's the difference between a cantaloupe and a muskmelon?
These melons come from two different groups of melons, out of a total of seven kinds that are cultivated. A muskmelon is a member of the reticulatus group, characterized by a netlike ribbed rind and sweet orange flesh. A cantaloupe is a member of the cantalupensis group, named for Cantalupo, a former papal villa near Rome. This group is characterized by a rough, warty rind and sweet orange flesh.
Advice of the Day
Take time when time comes, lest time steal away.
Home Hint of the Day
When spreading drop cloths to protect floors from paint spatters, avoid using plastic. It is too slippery and can cause accidents.
Word of the Day
Julian period
A period of 7,980 years beginning January 1, 4713 b.c. Devised in 1583 by Joseph Scaliger, it provides a chronological basis for the study of ancient history. To find the Julian year, add 4,713 to any year.
Puzzle of the Day
What did the beach say when the tide came in?
Long time no sea.
Born
Friedrich Nietzsche (philosopher) – 1844
P. G. Wodehouse (author, humorist) – 1881
C.P. Snow (novelist) – 1905
Lee Iacocca (businessman) – 1924
Linda Lavin (actress) – 1937
Penny Marshall (actress & director) – 1942
Jim Palmer (baseball player) – 1945
Richard Carpenter (musician) – 1946
Emeril Lagasse (chef) – 1959
Sarah Ferguson (Duchess of York) – 1959
Died
Clara Kimball Young (actress) – 1960
Cole Porter (composer) – 1964
Edie Adams (actress & singer) – 2008
Dorcus Reilly (home economist) – 2018
Events
First day of conversion to Gregorian calendar from Julian for several countries (Poland, Spain, Italy, Portugal), due to Pope Gregory XIII's decree. Great Britain and colonies did not convert until 1752– 1582
First U.S. Agriculture Bureau scientific publication issued– 1862
Edison Electric Light Company established– 1878
American Angler, the first fishing magazine in the U.S., was published in Philadelphia, PA– 1881
Symphony Hall in Boston was inaugurated as the home of the Boston Symphony Orchestra– 1900
Mata Hari, one of history's most famous spies, was executed– 1917
Statue of Liberty designated as a National Monument– 1924
President Lyndon B. Johnson signed a bill creating the Department of Transportation– 1966
An earthquake measuring 6.4 on the Richter scale shook southern California– 1979
Veterans Memorial Bridge opened, Port Arthur-Bridge City, Texas– 1991
Andy Green became the first person to break the sound barrier in a land-based vehicle, at 763.035 mph– 1997
In New York, the Staten Island ferry plowed into a pier killing 10 people and injuring 42 more– 2003
China launched its first manned space mission becoming the third country in history to send a person into orbit — four decades after the Soviet Union and the United States– 2003
A magnitude 6.6 earthquake occurred near Kailua-Kona on the west coast of the Big Island of Hawaii– 2006
Weather
Hurricane Hazel hit the Carolinas– 1954
Hazel II storm flooded Toronto– 1954
15.88 inches of rain fell in Ft. Lauderdale, Florida– 1965
COURTESY www.almanac.com