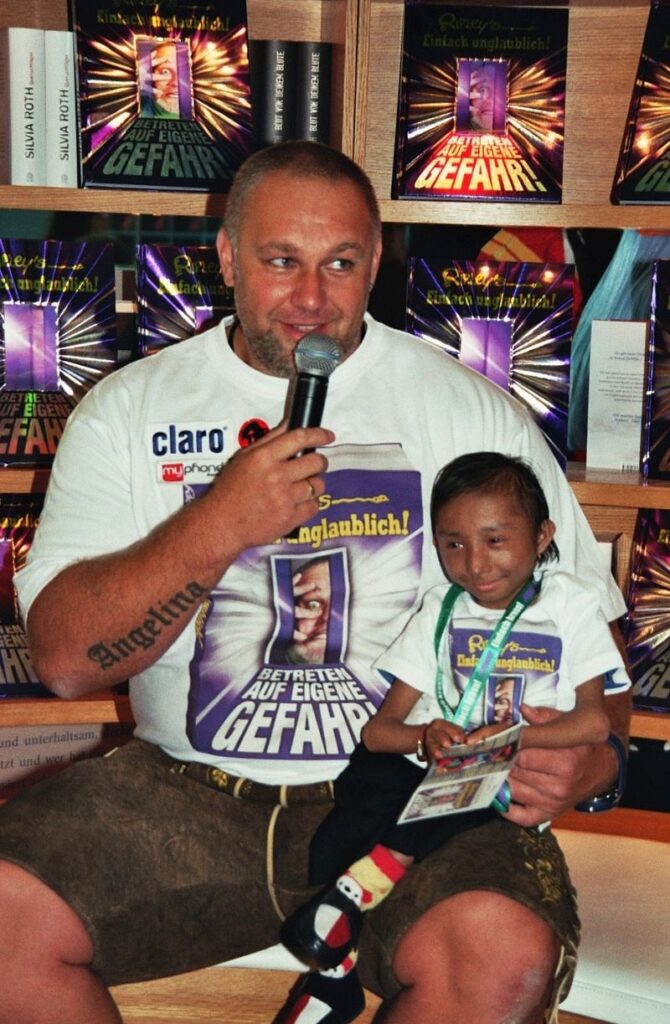 FROM WIKIPEDIA COMMONS
Khagendra Thapa Magar (Nepali: खगेन्द्र थापामगर) (4 October 1992 – 17 January 2020) was a Nepali once known as the shortest man in the world, measuring 0.67 m (2 ft 2 in).[1][3] Magar, who was a primordial dwarf, won the title of shortest man from Edward Niño Hernández. He lost the title in June 2011 to Junrey Balawing of the Philippines.
Born on 18 Asoj in the Nepali calendar, or 4 October 1992, he was from the Baglung District of Nepal. Just 600 grams (21 oz) at birth, he weighed 6.5 kilograms (14 lb; 1.02 st). In May 2008, Khagendra appeared in the British Channel 4 documentary called The World's Smallest Man and Me hosted by Mark Dolan.
Magar died in a Pokhara hospital on 17 January 2020 after complications from pneumonia at the age of 27.
TODAY'S ALMANAC
Question of the Day
I want to make sure my Christmas cactus produces flowers in December. What should I do now?
Buds will form on a Christmas cactus when it is kept at a constant temperature between 50 and 60 degrees Fahrenheit or when you give it at least 13 hours of complete darkness each night. If you can achieve either of these conditions, the December blooms will be well worth the effort.
Advice of the Day
Sprinkle a teaspoon of baking soda on the bottom of your toaster oven to eliminate the burned smell from drippings and crumbs.
Home Hint of the Day
To remove tarnish from brass, bronze, or copper, dip a lemon slice or rind in a little salt and rub it on the object. Then clean and dry with paper towels.
Word of the Day
Moon on equator
The Moon is on the celestial equator.
Puzzle of the Day
Why is it hard to have a conversation with a goat around?
He always butts in!
Born
William Penn (Quaker; founder of Pennsylvania, named in honor of his father) – 1644
Francis Lightfoot Lee (American Revolutionary leader) – 1734
Sir Edward Sabine (astronomer) – 1788
Ray Ewry (track and field star) – 1873
Dwight D. Eisenhower (34th U.S. president) – 1890
e. e. cummings (poet) – 1894
Eugene Fodor (travel writer) – 1905
Charles Everett Koop (U.S. Surgeon General) – 1916
Roger Moore (actor) – 1927
Ralph Lauren (designer) – 1939
Sheila Young (speed skater, cyclist) – 1950
Harry Anderson (actor) – 1952
Usher (singer) – 1978
Jordan Brower (actor) – 1981
Died
Bing Crosby (singer) – 1977
Cleveland Amory (critic and animal rights activist) – 1998
Lou Albano (American professional wrestler, manager and actor) – 2009
Events
While campaigning in Milwaukee, Wisconsin, former president Theodore Roosevelt was shot by William Schrank– 1912
First contingent of Canadian Expeditionary Force arrived in England, during WWI– 1914
Poland presented 5.5 million goodwill signatures to the United States for 150th anniversary of American independence– 1926
A. A. Milne's classic, Winnie-the-Pooh, was published– 1926
Girl Crazy by George Gershwin opened at the Alvin Theatre in New York– 1930
German U-boat sank passenger ferry S.S. Caribou in Cabot Strait– 1942
Charles Yeager, piloting a Bell X-1 jet, became the first person to break the sound barrier, reaching Mach 1.06– 1947
Queen Elizabeth II began Canadian tour– 1977
Eighteen-month old Jessica McClure (Baby Jessica) fell down an abandoned well in Midland, Texas– 1987
The Illinois Natural Resources Department confirmed that a 17-inch fish caught in Chicago's Burnham Harbor in Lake Michigan was an invasive snakehead, a feared Frankenfish known to eat native fish and compete with them for food– 2004
A Ghanaian-registered Boeing 747 cargo jet crashed and burned on take off from Halifax airport in eastern Canada– 2004
The United States Air Force Memorial was dedicated, Arlington, Virginia– 2006
Khagendra Thapa Magar, from Pokhara, Nepal, turned 18 years old and was certified by Guinness World Records as the world's shortest living man, at 26.4 inches tall.– 2010
Video tweet was posted of a miniature horse seen in the back seat of a neighboring car in Iowa– 2017
Weather
Hail in southern Oklahoma caused major crop and property damage– 1925
The first regularly scheduled television weathercast was seen on WNBT (later, WNBC) in New York City.– 1941
Albany, New York, had a temperature of 21 degrees F– 1958
COURTESY www.almanac.com