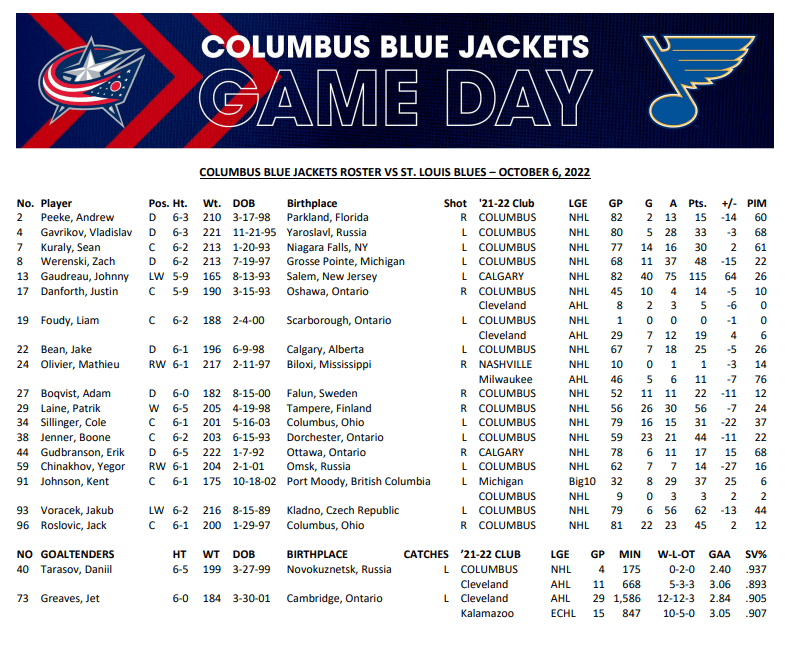 Tonight's National Hockey League preseason game between the Columbus Blue Jackets and St. Louis Blues at Nationwide Arena, will now face off at 7:30 p.m. ET. The game was originally slated to begin at 7 p.m. ET but has been moved to accommodate the Blues' late arrival due to plane issues. Doors at Nationwide Arena will be open to the public at 6 p.m. ET as scheduled.
As training camp winds down, the final roster is starting to take shape. With just 29 players remaining in Blue Jackets camp, the group has been pared down close to what the opening night roster will be. Captain Boone Jenner will make his preseason debut against the Blues.
Columbus is 3-2-1 thus far in the preseason. The Blue Jackets will conclude the preseason Saturday in Washington before the season opener Oct. 12 at Carolina and the home opener Oct. 14 vs. Tampa Bay.
COURTESY BLUE JACKETS COMMUNICATIONS