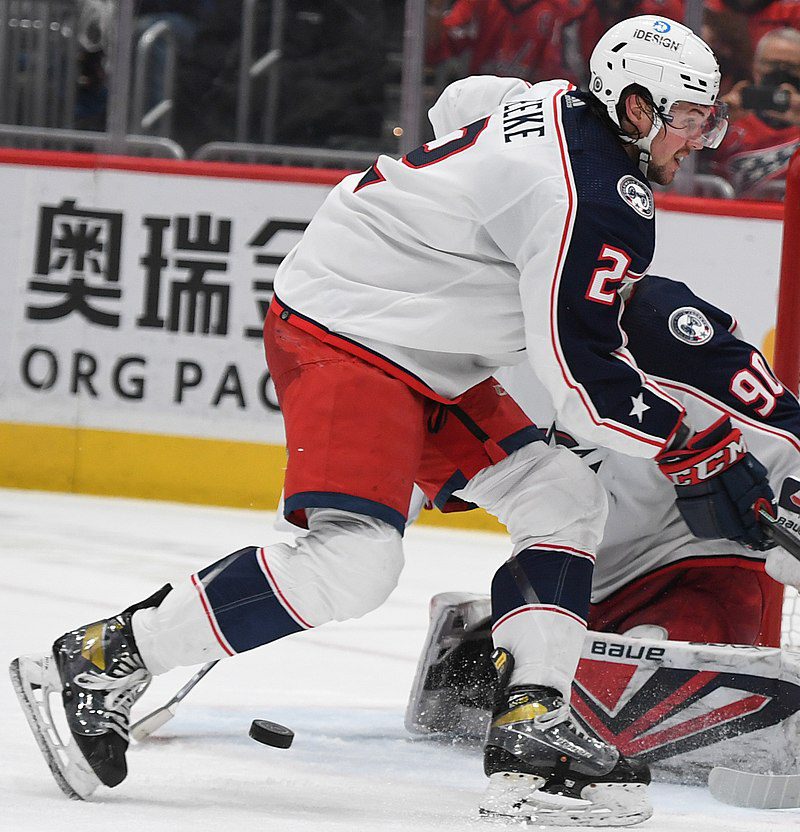 The Columbus Blue Jackets have signed defenseman Andrew Peeke to a three-year, $8.25 million contract extension ($2.75 AAV) through the 2025-26 National Hockey League season, club General Manager and Alternate Governor Jarmo Kekalainen announced today. Peeke is currently in the final year of a two-year contract signed in August 2021.
Peeke, 24, has registered three goals and 18 assists for 21 points with 68 penalty minutes in 115 career NHL games since being selected by the Blue Jackets in the second round, 34th overall, at the 2016 NHL Draft. In 2021-22, he set career highs with 2-13-15, 60 penalty minutes, 191 hits and 169 blocked shots while averaging 21:29 of ice time in 82 games, joining winger Gus Nyquist as the only two Blue Jackets to appear in every game during the campaign. He finished fifth-T in the NHL and posted the second-most blocked shots in a season in franchise history (Ryan Murray, 171 in 2015-16). He went on to represent Team USA at the 2022 IIHF World Championships, leading the team in assists with 0-6-6 in 10 games.
"Andrew is a smart, versatile defenseman who moves the puck well, added an element of physicality to his game last season and showed that he can play effectively in all situations," said Kekalainen. "He arguably was our most improved player a year ago and we are excited to see what the future holds for him as he continues to develop and progress as a player."
A native of Boca Raton, Florida, Peeke has added 5-15-20 with eight penalty minutes and a cumulative +3 plus/minus rating in 36 appearances with the American Hockey League's Cleveland Monsters since making his pro debut in 2019-20. He had 0-4-4 in seven outings with the Monsters in 2020-21. He ranked second among Cleveland defensemen in points-per-game in 2019-20 with 5-11-16 in 29 contests (.55).
The 6-3, 197-pound blueliner totaled 12-40-52 with 62 penalty minutes and a cumulative +20 plus/minus rating in 119 career games at the University of Notre Dame from 2016-19. He set collegiate career highs in assists, points and penalty minutes, while serving as his team's captain in his junior campaign in 2018-19, finishing with 3-21-24 and 24 penalty minutes in 40 contests. He helped the United States capture bronze at the 2018 IIHF World Junior Championships with 1-1-2 in seven games.
COURTESY BLUE JACKETS COMMUNICATIONS