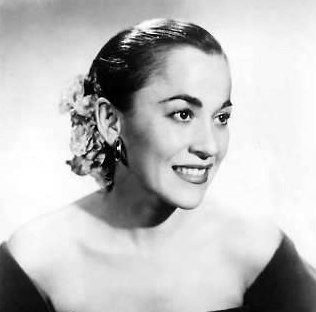 FROM WIKIPEDIA COMMONS
Georgia Gibbs (born Frieda Lipschitz; August 17, 1918 – December 9, 2006) was an American popular singer and vocal entertainer rooted in jazz. Already singing publicly in her early teens, Gibbs first achieved acclaim (and notoriety) in the mid-1950s interpreting songs originating with the black rhythm and blues community and later as a featured vocalist on a long list of radio and television variety and comedy programs. Her key attribute was tremendous versatility and an uncommon stylistic range from melancholy ballad to uptempo swinging jazz and rock and roll.
PERSONAL LIFE
In 1970 she married foreign correspondent and author Frank Gervasi, biographer of Israeli prime minister Menachem Begin, and whose books include To Whom Palestine?, The Case for Israel, The Real Rockefeller and The Violent Decade. They had first met in Paris in the 1930s, but lost touch with one another for 12 years. The marriage lasted until his death in 1990; they had one child who predeceased Georgia.
Georgia Gibbs died of leukemia on December 9, 2006, aged 88, at New York's Memorial Sloan-Kettering Cancer Center. Survivors included grandson Sacha Gervasi (from her husband's previous marriage), her brother Robert Gibson and nieces Patty Turk, Jody (Babydoll) Gibson, and Jody's sister Amy. Gibbs' last interview, conducted by Greg Adams, was subsequently published online.
HER LEGACY
Interest in Gibbs' work has enjoyed a revival with the re-issue on CD of long unavailable material. In her 2006 book, Great Pretenders: My Strange Love Affair With 50s Pop Music, Newsweek music critic Karen Schoemer wrote: "What really turned me around, though, were her R&B covers… Georgia was the rare fifties canary with a genuine flair for rock and roll… by the time I was through listening… I had a healthy new respect for Georgia, and a sense of indignation over her neglect by critics."
TODAY'S ALMANAC
Question of the Day
How can I tell if an egg is fresh?
In water, a fresh egg will rest flat on its side at the bottom of the pan. A stale egg will stand up on the broad end. If the egg floats, it's most likely spoiled.
Advice of the Day
It is a characteristic of wisdom not to do desperate things. —Henry David Thoreau
Home Hint of the Day
If your woodstove requires an 8-inch-diameter stovepipe, the chimney flue it hooks up to should be 8 inches wide.
Word of the Day
Span
9 inches; derived from the distance between the end of the thumb and the end of the little finger when both are outstretched.
Puzzle of the Day
The Beaver State.(Name the U.S. state!)
Oregon
Born
Heinrich Melchior Muhlenberg (founder of Lutheranism in America) – 1711
John Dalton (scientist) – 1766
Frances Wright (author) – 1795
Jane Addams (social worker) – 1860
Joseph P. Kennedy, Sr. (diplomat) – 1888
Jo Anne Worley (comedienne) – 1937
Swoosie Kurtz (actress) – 1944
Jane Curtin (actress) – 1947
John Wall (basketball player) – 1990
Died
Martha Jefferson (wife of Thomas Jefferson; died before presidency) – 1782
Charles Ammi Cutter (librarian) – 1903
Leslie McFarlane (Hardy Boys writer) – 1977
Charles E. Bennett (member of the House of Representatives for 44 years. His legislation in 1955 required that the mint put In God We Trust on all currency. Shortly thereafter, Congress made the words the nation's motto.) – 2003
Luciano Pavarotti (opera singer) – 2007
Events
British Mayflower set sail from Plymouth, England, with 102 Pilgrims who hoped to settle in America– 1620
U.S. President William McKinley was shot by Leon Czolgosz– 1901
A decree was issued in Germany requiring all Jews over the age of six to wear the Star of David– 1941
CBFT Montreal was the first Canadian TV station to begin regular broadcast programming in both French and English. CBLT Toronto followed two days later– 1952
CBFT first Canadian TV station to go on air– 1952
Georgia Gibbs sang The Hula-Hoop Song" on The Ed Sullivan Show. This was the first national exposure for the hula-hoop craze"– 1958
Canadian highway signs, except in Quebec and Nova Scotia, converted to metric– 1977
Cal Ripken, Jr. played his 2,131st game and became a part of baseball history by surpassing Lou Gehrig's record of 2,130 consecutive games played– 1995
Fenway Park in Boston, Massachusetts, hosted Bruce Springsteen for its first rock concert in history– 2003
Jeff Williams returned to Earth after working 172 days on the International Space Station, thereby making a cumulative total of 534 days in space over several missions – the longest time yet recorded for NASA astronauts.– 2016
Weather
On "Yellow Day," forest fires in Michigan and Ontario caused a luminous yellow haze throughout the Northeast– 1881
Iowa had some early snow when a few flakes fell in Alton– 1929
COURTESY www.almanac.com