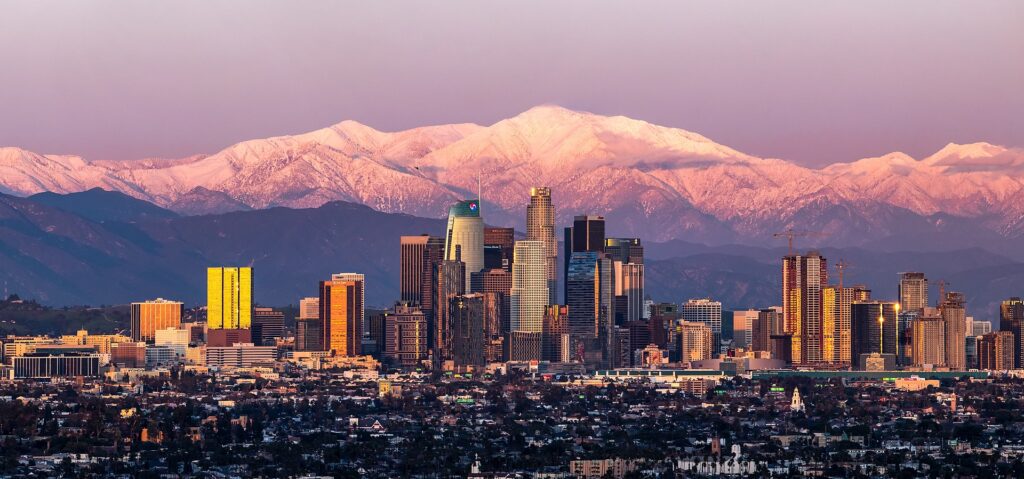 FROM WIKIPEDIA COMMONS
Los Angeles (US: /lɔːs ˈændʒələs/ (listen) lawss AN-jəl-əs;[a] Spanish: Los Ángeles [los ˈaŋxeles], lit. 'The Angels'), often referred to by its initials L.A., is the largest city in the U.S. state of California. It has a population of roughly 3.9 million as of 2020, and is the second largest city in the United States after New York City. Los Angeles is known for its Mediterranean climate, ethnic and cultural diversity, Hollywood film industry, and sprawling metropolitan area. The city of Los Angeles lies in a basin in Southern California, adjacent to the Pacific Ocean extending through the Santa Monica Mountains and into the San Fernando Valley. It covers about 469 square miles (1,210 km2), and is the seat of Los Angeles County, which is the most populous county in the United States with an estimated 9.86 million as of 2022.
Home to the Chumash and Tongva indigenous peoples, the area that became Los Angeles was claimed by Juan Rodríguez Cabrillo for Spain in 1542. The city was founded on September 4, 1781, under Spanish governor Felipe de Neve, on the village of Yaanga. It became a part of Mexico in 1821 following the Mexican War of Independence. In 1848, at the end of the Mexican–American War, Los Angeles and the rest of California were purchased as part of the Treaty of Guadalupe Hidalgo, and thus became part of the United States. Los Angeles was incorporated as a municipality on April 4, 1850, five months before California achieved statehood. The discovery of oil in the 1890s brought rapid growth to the city. The city was further expanded with the completion of the Los Angeles Aqueduct in 1913, which delivers water from Eastern California.
Los Angeles has a diverse economy, and hosts businesses in a broad range of professional and cultural fields. It also has the busiest container port in the Americas. In 2018, the Los Angeles metropolitan area had a gross metropolitan product of over $1.0 trillion, making it the city with the third-largest GDP in the world, after Tokyo and New York City. Los Angeles hosted the 1932 and 1984 Summer Olympics and will host the 2028 Summer Olympics.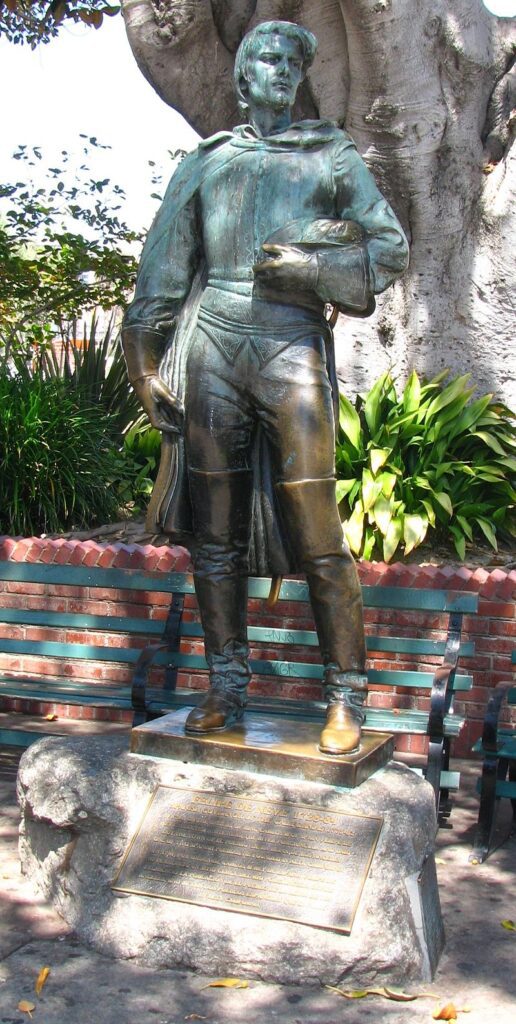 TODAY'S ALMANAC
Question of the Day
Why does the soil of my houseplants get moldy?
It's probably not mold but algae, carried by spores in the air or water. Loosen the dirt in your pots periodically.
Advice of the Day
Procrastination is the thief of time.
Home Hint of the Day
To help keep a pet free of fleas and ticks, add 1 teaspoon of vinegar to each quart of the animal's drinking water.
Word of the Day
Cirrus cloud
Thin feather-like crystal cloud.
Puzzle of the Day
The Sioux State.(Name the U.S. state!)
North Dakota
Born
Sarah Childress Polk (U.S. First Lady) – 1803
Anton Bruckner (composer) – 1824
Richard Wright (author) – 1908
Paul Harvey (radio personality) – 1918
Dick York (actor) – 1928
Mitzi Gaynor (dancer) – 1931
Damon Wayans (actor) – 1960
Mike Piazza (baseball player) – 1968
Jason David Frank (actor) – 1973
Beyonce Knowles (singer) – 1981
Died
Albert Schweitzer (physician) – 1965
Irene Dunne (actress) – 1990
Steve Irwin (died from a stingray barb wound to the chest while filming a documentary) – 2006
Joan Rivers (comedienne) – 2014
Willard Scott (television weatherman) – 2021
Events
Los Angeles founded by Spanish settlers– 1781
Russian decree issued concerning Northwest America– 1821
Ten-year-old Barney Flaherty became first newsboy in the U.S. He worked for New York Sun– 1833
George Eastman received a patent for the roll-film camera– 1888
First transit of McClure Strait (Northwest Passage) made by the US Navy icebreaker, Burton Island and US Coast Guard icebreaker, Northwind– 1954
Ford Motor Company introduced the Edsel– 1957
U.S. swimmer, Mark Spitz, became the first person to win seven gold medals in a single Olympics– 1972
Bob Barker began hosting The Price is Right– 1972
Thieves stole $2 million in art from Montreal Museum of Fine Arts– 1972
A 127-pound cabbage won a prize at the Alaska State Fair– 2009
A 50-year overdue library book, The United States in World War I, was returned to the Lexington, Kentucky, public library.– 2018
Weather
Washington, D.C., got 4.4 inches of rain in 2 hours– 1939
A tornado struck Minneapolis, Minnesota– 1941
Tropical storm Delia dumped very heavy rain on Galveston, Texas, resulting in flooding– 1973
A strong dust devil whirled across the Flagstaff Pulliam Airport in Arizona, flipping a Cessna 182 plane and scattering papers in the National Weather service office.– 1986
COURTESY www.almanac.com