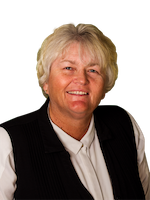 They threw a party at NCR Country Club for the best of the best and everybody came. Swinging into Sunday's final round of the U.S. Senior Women's Open, all three of the past champions are in the mix. Laura Davies and Helen Alfredsson are tied for the lead at 4-under-par 215 with Annika Sorenstam, Jill McGill and Leta Lindley one back.
Davies won the inaugural U.S. Senior Women's Open in 2018, Alfredsson took the title in 2019 and Sorenstam brought home the hardware last year. McGill is a two-time USGA champion, winning the 1993 U.S. Women's Amateur and the 1994 U.S. Women's Amateur Public Links.
Davies, limping along on a sore right Achilles, was brilliant all day as she matched the low round of the week – a bogey-free, 5-under 68 that featured an eagle on the par-5 16th hole.
"I had a bit of acupuncture on the old calf this morning, and although it's still painful walking, it took the pain off the swing so I could get through it again," Davies said. "I got stronger coming in. My ball-striking even got better the last few holes. It will be a bit nerve-racking tomorrow, obviously, because I've not been in this position probably since I won it. But yeah, it'll be nerve-racking but fun."
QUOTABLE
"I'll probably have the acupuncture again in the morning if they're still there. Hopefully it won't hurt to swing. The walking is miserable, but you can deal with that. It's just when you start trying to hit a shot and you're getting that really sharp grab in the back of your calf and you can't get through it. It's difficult." – Laura Davies on her Achilles issues.
COURTESY USGA COMMUNICATIONS