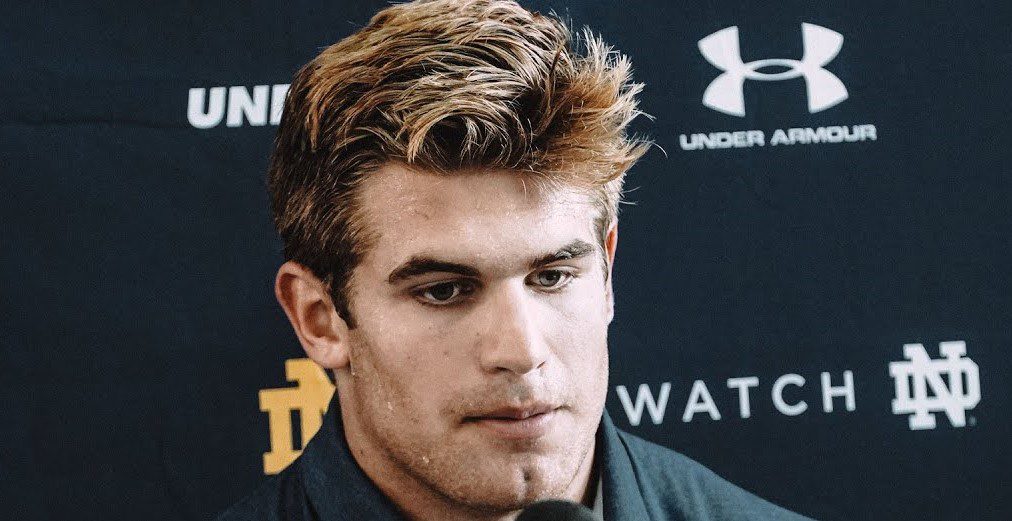 The Friends of John Mackey have released the 2022 John Mackey Award Preseason Watch List. Given annually to the most outstanding collegiate tight end, the award recipient is selected by vote of the John Mackey Award Selection Committee.
Junior tight end Michael Mayer was among the student-athletes named to the preseason watch list.
Michael Mayer Information:
As a sophomore in 2021, led the Irish with 71 catches, a school record for tight end receptions in a season.
Also set school single-season records for tight end receiving yards (840) and touchdown receptions (seven) in 2021.
His 840 receiving yards were the fourth-highest for any FBS tight end in 2021.
Averaged a team-high 70.0 receiving yards per game in 2021.
Matched the Notre Dame record for tight end receptions in a game with nine (for 120 yards) in the 2021 season opener at Florida State.
Notre Dame career ranks – 18th in total receptions (113), third in tight end receptions (113, record is 140), 10th in receiving yards per game (53.8), third in tight end receiving yards (1,290, record is 1,840), third in tight end touchdown receptions (nine, record is 15)
2022 Walter Camp and The Sporting News Preseason All-American
2022 Maxwell, Biletnikoff, Mackey Award Watch Lists
2021 Associated Press Third Team All-American
2021 Mackey Award Semifinalist
2021, 2022 Biletnikoff a preseason Watch List
2020 The Athletic Freshman First Team All-American
2020 All-ACC Third Team
The John Mackey Award is a member of the National College Football Awards Association (NCFAA) which encompasses the most prestigious awards in college football. The 25 awards boast 800 recipients, dating to 1935. Visit www.NCFAA.org to learn more about our story. Please visit www.johnmackeyaward.com for all Mackey Award related information.
COURTESY NOTRE DAME ATHLETICS