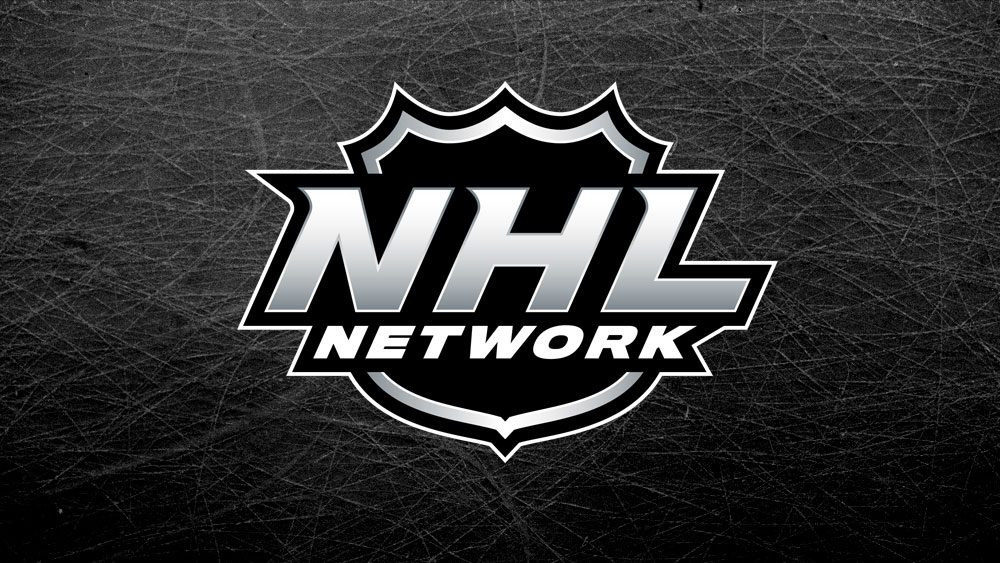 E.J. Hradek and Dave Starman to Call Every USA Game Throughout World Junior Championship; Games to Air Live on NHL Network Beginning Tuesday, Aug. 9
August 3, 2022 – NHL Network today announced it will provide complete coverage of the return of the 2022 IIHF World Junior Championship, as it continues to serve as the exclusive U.S. TV home. Every World Junior Championship game telecast is set to air live, with comprehensive analysis, highlights, interviews and previews of the tournament from Rogers Place in Edmonton, AB, Canada, airing within the flagship studio show NHL Tonight and via @NHLNetwork on Facebook, Instagram and Twitter.
NHL Network's E.J. Hradek is set to provide play-by-play for each USA game along with longtime NCAA hockey analyst Dave Starman and reporter Jon Rosen, beginning on Tuesday, August 9 at 10 p.m. ET when Team USA takes on Germany live from Rogers Place. NHL Network's extensive coverage and game broadcast schedule begins earlier in the day next Tuesday with live telecasts of Slovakia vs. Czechia at 2 p.m. ET, followed by a Finland vs. Latvia matchup at 6 p.m. ET.
NHL Network's Jamison Coyle, E.J. Hradek and Dave Starman will preview the return of the 2022 tournament matchups and players to watch on NHL Tonight: 2022 World Junior Championship Preview on Monday, August 8 at 7 p.m. ET. Leading up to the World Junior Championship, NHL Network's has aired the following:
Wednesday, August 17 will bring a Quarterfinal quadruple header, including primetime matchups at 7 p.m. ET and 10:30 p.m. ET, before Semifinals on Friday, August 19, and the Bronze Medal and Gold Medal Games on Saturday, August 20. NHL Network's complete on-air schedule for the tournament is available here and further below.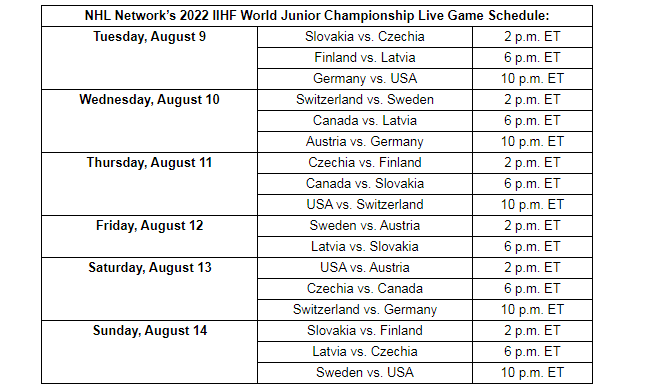 About NHL Network: As the TV home for the National Hockey League, NHL Network™ gives viewers an all-access pass to complete hockey coverage both on and off the ice, including live NHL games and special on-site coverage of NHL events, the documentary series NHL Network Originals, plus three signature studio shows with interviews, highlights and expert analysis from a variety of hockey insiders and former players. Additional programming includes behind-the-scenes features, player profiles and international and amateur hockey competitions. For more information on NHL Network, log on to www.NHLNetwork.com and follow @NHLNetwork on Twitter.
COURTESY NHLmedia.com