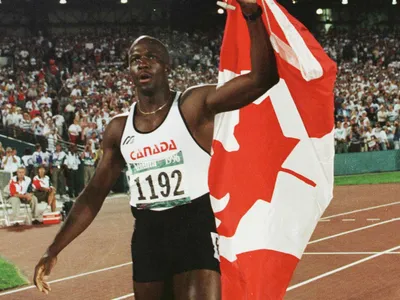 FROM WIKIPEDIA COMMONS
Donovan Anthony Bailey (born December 16, 1967) is a retired Jamaican-Canadian sprinter. He once held the world record for the 100 metres. He recorded a time of 9.84 seconds to win the gold medal at the 1996 Olympic Games. He was the first Canadian to legally break the 10-second barrier in the 100 m. Particularly noted for his top speed, Bailey ran 12.10 m/s (43.6 km/h; 27.1 mph) in his 1996 Olympic title run, the fastest ever recorded by a human at the time. He was inducted into Canada's Sports Hall of Fame in 2004 as an individual athlete and in 2008 as part of the 1996 Summer Olympics 4×100 relay team. In 2005, he was also inducted into the Ontario Sports Hall of Fame.
TODAY'S ALMANAC
Question of the Day
Where did the tradition of having bridesmaids at a wedding come from?
History is not clear on this, but there are several theories. One is that bridesmaids were "stand-ins" for the bride, in case evil spirits, which hated to see anybody happy, tried to do her harm. The bridesmaids would look and dress much like the bride to fool the spirits. Another theory says that bridesmaids, or some crowd of people, were needed to witness the wedding. In ancient Rome, one needed at least ten witnesses to get married. Bridesmaids also may have evolved from a medieval custom of having as many people as possible at a wedding, just in case a former boyfriend showed up to kidnap the bride.
Advice of the Day
Rub raw garlic on an insect bite to relieve the sting or itch.
Home Hint of the Day
Get rid of musty odors in drawers, closets, or rooms by placing a small container of scented cat litter in the affected area. Refresh the litter every few days until the odor is gone.
Word of the Day
Bloomer
From Mrs. Bloomer, an American, who sought to introduce this style of dress. A costume for women, consisting of a short dress, with loose trousers gathered round ankles, and (commonly) a broad-brimmed hat.
Puzzle of the Day
The (Blank) flew to the (Blank) for shelter. (The two 5-letter words to fill the blanks share the same letters.)
1) snipe 2) pines
Died
James I of Aragon – 1276
Robert Dinwiddie (British statesman, lieutenant governor of colonial Virginia) – 1770
Reggie Lewis (basketball player) – 1993
Bob Hope (comedian & actor) – 2003
Morrie R. Yohai (creator of Cheez Doodles) – 2010
Nabire (northern white rhino) – 2015
Sam Shepard (actor & playwright) – 2017
Born
Alexandre Dumas, fils (dramatist, son of Alexandre Dumas) – 1824
Cyrus Eidlitz (architect) – 1853
Gérard Côté (Canadian marathon runner) – 1913
Elizabeth Hardwick (author) – 1916
Norman Lear (television producer) – 1922
Jerry Van Dyke (actor) – 1931
Peggy Fleming (ice skater) – 1948
Alex Rodriguez (baseball player) – 1975
Jonathan Rhys-Meyers (actor) – 1977
Events
Congress established the Department of Foreign Affairs (later renamed Department of State)– 1789
The Atlantic Cable was completed, establishing communication by telegraph between England and the U.S.– 1866
Researchers led by biochemist Frederick Banting announced the discovery of the hormone insulin– 1921
Bugs Bunny made his cartoon debut– 1940
Colonel Joseph Duckworth piloted the first plane that purposely flew into the center of a hurricane– 1943
The United States, China, North Korea, and South Korea signed an armistice agreement, ending the Korean War– 1953
An earthquake in Sharpsburg, Kentucky, measured 5.2 on the Richter scale– 1980
Big traffic jam in Boston– 1988
The Korean War Veterans Memorial was dedicated, Washington, D.C.– 1995
In Atlanta, Georgia, a pipe bomb exploded at Centennial Olympic Park during the 1996 Summer Olympics– 1996
At the Summer Olympics in Atlanta, Georgia, Canadian Donovan Bailey won the men's 100-meter dash in 9.84 seconds, setting a world record– 1996
Weather
Severe thunderstorms in Yuma, Arizona, created zero visibility due to dust blowing in the 90 mph winds– 1989
Several inches of snow fell on Glacier National Park, Big Sky ski area (both in Montana), and a Jackson Hole, Wyoming ski area– 2015
COURTESY www.almanac.com