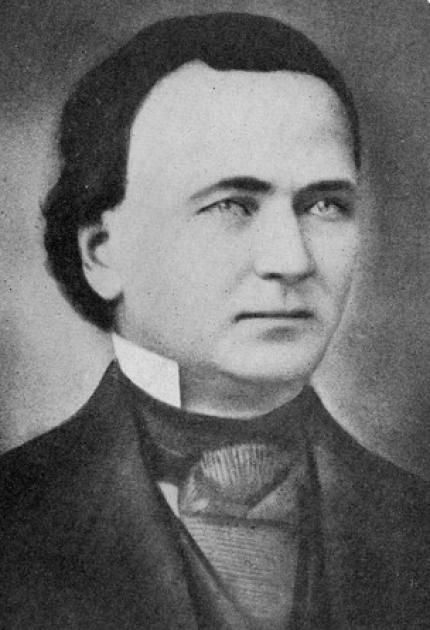 FROM WIKIPEDIA COMMONS
Walter Hunt (July 29, 1796 – June 8, 1859) was an American mechanical engineer. Through the course of his work he became known for being a prolific inventor. He got first involved with mechanical innovations in a linseed producing community in New York state that had flax mills. While in New York City to promote his inventions, one thing led to another and he got involved in inventing the streetcar gong that is used throughout the United States. This then led him to invent other useful items like the safety pin, sewing machine, repeating rifle, and fountain pen. About two dozen of his inventions are used today in basically the same form as he had patented it. In spite of his many useful innovative creations he never became wealthy since he sold off most of his patent rights to others at low prices with no future royalties. Others made millions of dollars from his devices, one in particular was the safety pin.
Hunt was a prolific inventor. From 1827 to 1830, while earning a living in the real estate field, he invented fire engines, police stations, improvements for hard coal-burning stoves, the first home knife sharpener, and a restaurant steam table apparatus. He also invented the precursor of the Winchester repeating rifle and the forerunner of the American fountain pen as used in the twentieth century. and another was Walter Hunt's 1849 patent model for the first American safety pin. Additionally, Hunt invented a flax spinner, a knife sharpener, artificial stone, the first rotary street sweeping machine, mail sorting machinery, velocipedes, and ice plows. He also made improvements to guns, cylindro-conoidal bullets, ice-breaking wooden hull boats, paraffin oil candles, velocipedes, machines for making rivets and nails, street sweeper machines, and self-closing inkwells. He also invented the Antipodean Performers suction-cup shoes used by circus performers to ascend up solid side walls and walk upside down across high ceilings. He did not realize the significance of many of his inventions when he produced them and sold off most of his patent rights to others for low prices making little for himself in the long run. In the twentieth century many of his patented devices were widely used everyday common products.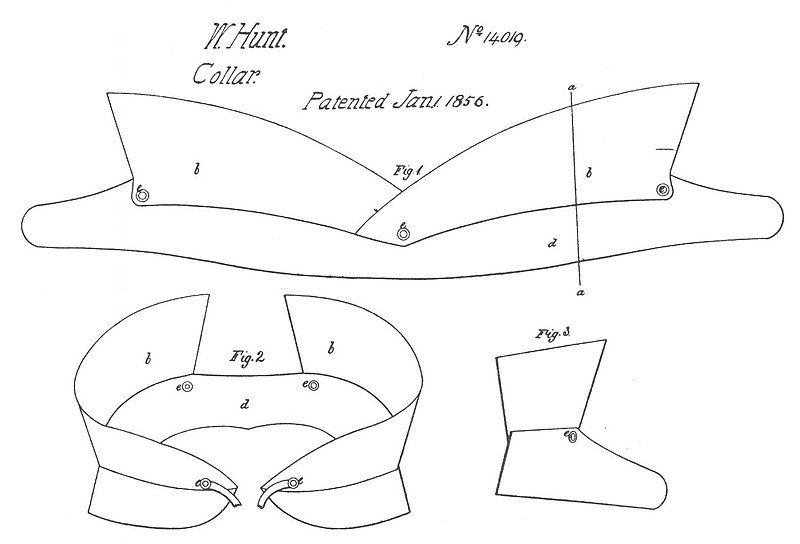 OTHER INVENTIONS
One of Hunt's popular inventions was a paper shirt collar. This time he sold the patented design and negotiated for royalty payments, but the item only became popular after he died. The unusual item was first put on sale in New York City in 1854 and used then mostly for stage purposes. In time it became fashionable and the general public then started using them. High production of the item came about and at one time there were as many as forty factories making paper collars in the United States. The manufactured output in 1868 became 400,000 that were sold to the general public.
Hunt often used the legal services and patent research work of Charles Grafton Page, a certified patent lawyer who had worked at the Patent Office before, when seeking a potential patent for one of his inventions. His inventions covered a wide variety of fields and subjects. About two dozen of Hunt's inventions are still used in the form in which he created them over one hundred years ago.
TODAY'S ALMANAC
Question of the Day
Are there parts of the country where thunderstorms occur only at night?
Thunderstorms tend to develop at certain times of day, depending on geography, but we haven't heard of a place where storms are exclusive to a particular time. The southeastern United States seems to have most of its thunderstorms in the middle of the night, and Kansas City, Missouri, and Minneapolis get more thunderstorms at 2:00 A.M. than at any other time of day. The flat landscape, and its effect on the sky, is largely responsible for this nighttime phenomenon. In the high plains from Montana to Texas, the cool fronts that often form in late spring and summer are responsible for afternoon and evening thunderstorms when they meet up with hot, humid air coming off the plains. These storms roll east into the late evening.
Advice of the Day
Now the state of the crops is known.
Home Hint of the Day
Mildew on fabric can be removed by sponging with hydrogen peroxide, then leaving the item in the sun to dry.
Word of the Day
Aloof
A nautical word, from the old Dutchword loef, meaning to the windward.
Puzzle of the Day
She was quite beautiful and showed much (Blank) (Blank). (The two 6-letter words to fill the blanks share the same letters.)
1) latent 2) talent
Born
Anna Tuthill Symmes Harrison (U.S. First Lady) – 1775
Thomas Eakins (artist) – 1844
Walter Brennan (actor) – 1894
Eric Hoffer (philosopher) – 1902
Estelle Getty (actress) – 1924
Matt LeBlanc (actor) – 1967
Gerard Warren (football player) – 1978
Died
Samuel Taylor Coleridge (poet) – 1834
Harry Warner (one of the founders of Warner Bros.) – 1958
Louis Stephen Saint Laurent (12th Prime Minister of Canada) – 1973
Thomas Savage (novelist) – 2003
Jake (dog that searched for September 11th and Hurricane Katrina victims) – 2007
Events
Walter Hunt was granted a patent for a paper shirt collar– 1854
Ulysses S. Grant received the rank of General of the Army, the first American officer to be so designated– 1866
Seth Wheeler's Improvement in Wrapping Papers was patented on this day, which led to perforated toilet paper.– 1871
Canadian income tax introduced– 1917
The Italian ocean liner SS Andrea Doria collided with the SS Stockholm in heavy fog– 1956
The first documented test tube baby, Louise Brown, was born in England– 1978
Soviet cosmonaut, Svetlana Savitskaya, became the first woman to walk in space– 1984
Germany's Kuno the Killer catfish's carcass washed up on shore. The 5-foot-long, 77 pound catfish sprang from the waters of Volksgarden Park Lake in 2001 to swallow a dachshund puppy whole– 2003
A magnitude-5.6 earthquake struck southwestern Montana– 2005
Weather
24-hour (July 24 to 25), 43-inch rainfall, Alvin, Texas– 1979
COURTESY www.almanac.com