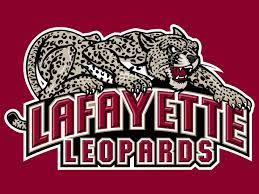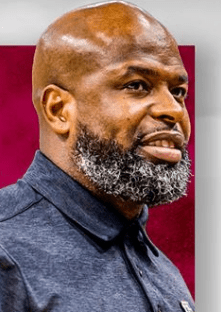 Penn graduate has been part of three conference titles in last four seasons
EASTON, Pa. –Mike Jordan, who spent nine seasons as an assistant coach on the Colgate men's basketball staff, has been named the 19th head coach of the Lafayette men's basketball program.
Jordan's most recent stint at Colgate in 2021-22 saw the Raiders win their final 15 games to capture the conference title and advance to the NCAA Tournament under head coach and fellow University of Pennsylvania alum Matt Langel.
"After conducting a national search we are excited to welcome Mike to the Leopard family. It was important to find a partner who was committed to driving our men's basketball program to Patriot League success while embracing the Lafayette community and the amazing things we can do to elevate the College," said Lafayette Director of Athletics Sherryta Freeman. "Mike is a tremendous recruiter, a high energy motivator and has been a winner at every stop. He cares about his players and is committed to their growth and development into champions."
In 2020-21, Jordan worked as an assistant at Drexel under head coach Zach Spiker, helping lead the Dragons to their first-ever CAA title and the program's first NCAA Tournament appearance in 25 years.
His time at Drexel followed eight seasons as an assistant at Colgate where he joined the staff in 2012. Jordan helped push the Raiders to three straight seasons (2017-20) in which they set record win totals. That time included consecutive 20-win seasons (the first in program history) in 2018-19 (24-11) and 2019-20 (25-9) with an NCAA Tournament appearance in 2018-19.
"I am extremely excited and thankful to President Hurd and Director of Athletics Sherryta Freeman for blessing me with the opportunity to be a part of the Lafayette family as its new men's basketball coach. I look forward to strengthening and building relationships with the players, fellow staff and the Lafayette community as we embark on this championship journey together," Jordan said. "I would like to thank my brother, Matt Langel, and Colgate for providing me the opportunity to coach the game I love and to grow as a coach and as a man while preparing me for this next chapter."
Before arriving at Colgate, Jordan played professionally in Europe, seeing time in nine different countries from 2000-2011. He was a two-time champion and all-star in the German Bundesliga, while also being named an All-Star in the Italian A1 league. In 2000, before leaving for Europe, he played for the Philadelphia 76ers summer league team and also was a member of the Boston Celtics preseason team.
Jordan is a 2000 graduate of Penn where he was a three-time All-Ivy League First-Team selection who led the Quakers to conference titles in 1999 and 2000. He was the Ivy League Player of the Year in 2000 after earning Rookie of the Year honors in 1996. Jordan ended his Penn career ranked in the top 10 in four key statistical categories: sixth in points (1,604 points), third in assists (469), fifth in steals (147) and ninth in three-pointers (173). He was named to the Big 5 Hall of Fame in 2014 and is slated to be enshrined in the Penn Athletics Hall of Fame on May, 7 2022.
A Philadelphia native, Jordan graduated with a bachelor's degree in Sociology from Penn where he was a member of the Friars Senior Society. Jordan and his wife, Katie, have three daughters: Eva, Bella and Jayla.
Collegiate Sports Associates helped conduct the search to replace Fran O'Hanlon who retired after 27 seasons on the Kirby Sports Center sidelines. Deputy Director of Athletics Kaity McKittrick and Associate A.D. for Compliance and Student-Athlete Development Mike Chamberlain served integral roles in the hiring process. 
COURTESY LAFAYETTE COLLEGE ATHLETICS