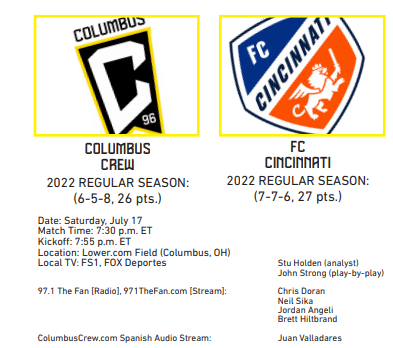 COLUMBUS CREW LEADS ALL-TIME SERIES AGAINST FC
CINCINNATI
The "Hell is Real" rivalry between Columbus Crew and FC Cincinnati has quickly become one of the League's top rivalries.
Since the first time the two Ohio teams faced each other in
MLS regular-season action back in 2019, the Crew has posted
a record of 4-1-3 against Cincinnati. Over that span, the Black
& Gold have outscored FCC 19-8.
CREW UNDEFEATED AT HOME AGAINST FC CINCINNATI
Columbus Crew have faced FC Cincinnati a total of eight times
in regular-season action, with three of those matches coming
at home. Notably, the Crew is undefeated at home against FCC,
with a record of 2-0-1. For a list of the Crew's home matches
against FC Cincinnati, please see the table on the right hand
side.
COLUMBUS CREW HOME MATCHES AGAINST FC CINCINNATI*
DATE Location RESULT
August 10, 2019 Historic Crew Stadium D, 2-2
September 6, 2020 Historic Crew Stadium W, 3-0
August 27, 2021 Lower.com Field W, 3-2
Includes only regular-season matches
SANTOS AND ZELARAYAN: LETHAL AGAINST FC CINCINNATI
Midfielders Pedro Santos and Lucas Zelarayan lead the Crew's
current roster when it comes to goal contributions against FC
Cincinnati. Santos has faced FC Cincinnati on seven occasions, scoring three goals and providing three assists. In four
regular-season matches against FCC, Zelarayan has registered three goals and three assists, for a total of six goals contributed. Notably, Zelarayan has never lost a match against
FC Cincinnati, with the playmaker boasting a record of 2-0-
2 when facing FCC. For a list of Crew players in the current
roster with the most goal contributions against FC Cincinnati,
please see the table below.
COLUMBUS CREW: MOST GOAL CONTRIBUTIONS AGAINST FC
CINCINNATI*
PLAYER GP G A G+A
Zelarayan 4 3 3 6
Santos 7 3 3 6
Berry 3 3 0 3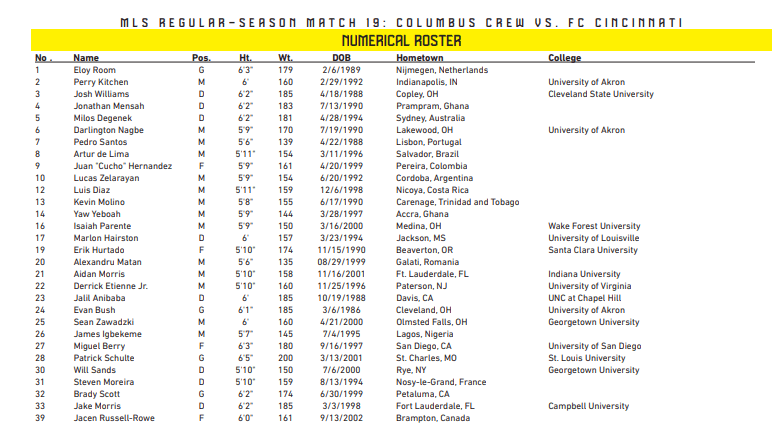 COURTESY CREW COMMUNICATIONS