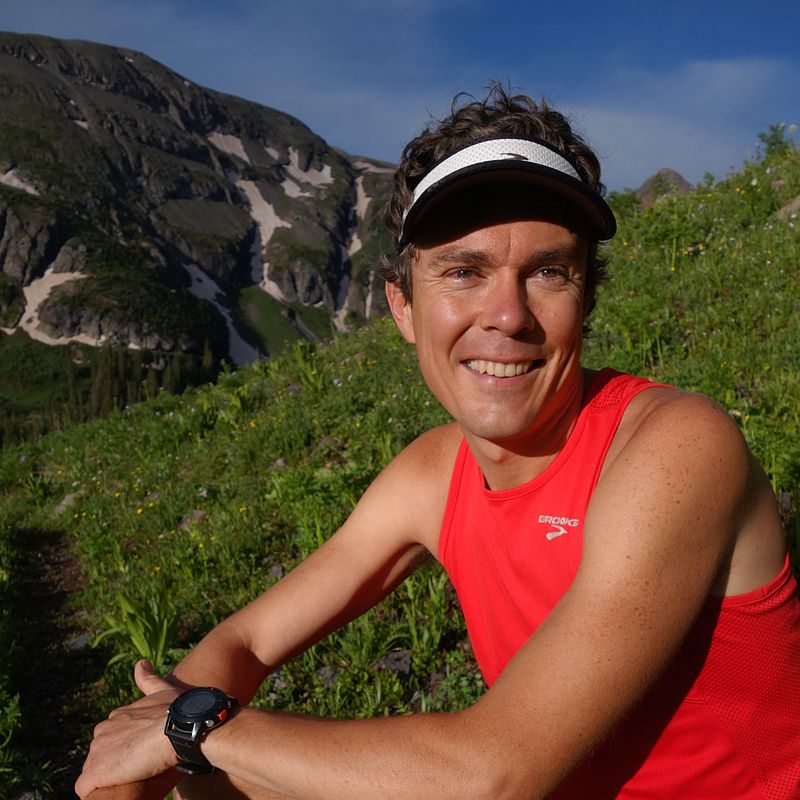 FROM WIKIPEDIA COMMONS
Scott Gordon Jurek (born October 26, 1973) is an Americanultramarathoner, author, and public speaker. Throughout his running career, Jurek was one of the most dominant ultramarathon runners in the world, winning the Hardrock Hundred (2007), the Badwater Ultramarathon (2005, 2006), the Spartathlon (2006, 2007, 2008), and the Western States 100 Mile Endurance Run (1999–2005). In 2010, at the 24-Hour World Championships in Brive-la-Gaillarde, France, Jurek won a silver medal behind Shingo Inoue and set a new US record for distance run in 24 hours with 165.7 miles (an average pace of 8 minutes and 42 seconds per mile). Jurek has followed a vegetarian diet since 1997, and a vegan diet since 1999.
ACCOMPLISHMENTS

TODAY'S ALMANAC
e Day
Some of my tomato plant leaves have turned dark brown and have rings on them. Is this blight?
Yes, you are no doubt suffering from early blight, which comes on in humid weather. It's a fungus that can last the winter on diseased plants. After you harvest the tomatoes (assuming you get fruits on these vines), destroy or discard all the infected plants. Meanwhile, you can spray them with a fungicide that won't cure the disease but will protect any new foliage. Ask at your nursery for the fungicide that will work best in your area.
Advice of the Day
Freshen smelly sneakers with a liberal dose of salt.
Home Hint of the Day
Use full-strength white vinegar to clean tubs, sinks, and toilet bowls.
Word of the Day
December
From the Latin word decem, "ten," because this had been the tenth month of the early Roman calendar.
Puzzle of the Day
My first is a kind of butter; my second is a kind of licker; my whole is a kind of charger.(What's the word? Each clue is a syllable!)
Ram-rod
Died
Erasmus of Rotterdam (writer & philosopher) – 1536
Alexander Hamilton (statesman and founding father) – 1804
Dolley Madison (U.S. First Lady) – 1849
Sherwood Schwartz (writer & producer) – 2011
Born
Josiah Wedgwood (potter) – 1730
Henry David Thoreau (writer) – 1817
George Eastman (inventor) – 1854
Buckminster Fuller (engineer and architect who developed the geodesic dome) – 1895
Oscar Hammerstein II (lyricist) – 1895
Cheryl Ladd (actress) – 1951
Kristi Yamaguchi (figure skater) – 1971
Anna Friel (actress) – 1976
Topher Grace (actor) – 1978
Erik Per Sullivan (actor) – 1991
Events
Queen Elizabeth first feature-length film shown in the United States– 1912
René Pleven became prime minister of France– 1950
Dwight Eisenhower became the first U.S. president to fly in a helicopter– 1957
The island nation of Kiribati declared independence– 1979
Scott Jurek completed the full Appalachian Trail in 46 days, 8 hours, and 8 minutes, setting a new record. He beat the previous record by 3 hours.– 2015
Weather
Basin, Wyoming, experienced a record high temperature of 114 degrees F– 1900
The temperature reached 112 degrees F in Emerson, Manitoba– 1936
Rain in Salem, Oregon, broke a 113-year "Dry Day" record– 2006
COURTESY www.almanac.com