Reigning Champion Gren-35- Finishes as the GWC's North American Club Runner-Up
July 6, 2022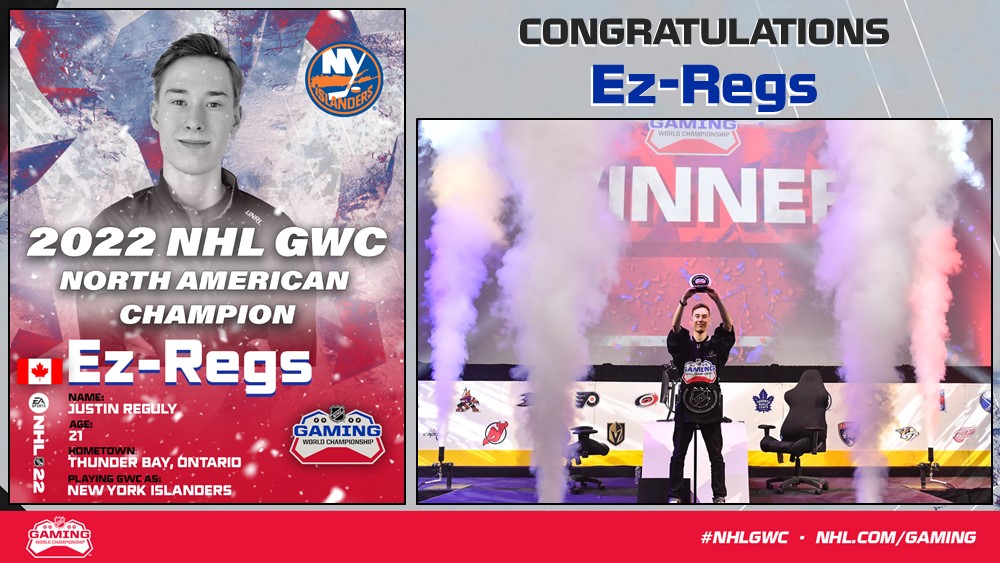 MONTREAL (July 6, 2022) – For the third consecutive year, the two best EA SPORTS™ NHL® 22 players in North America met in NHL® Gaming World Championship™ Club Final, the National Hockey League announced. As predicted, the back-and-forth action between New York Islanders representative and No. 4-seed Justin 'Ez-Regs' Reguly and Dallas Stars representative, No. 7-seed Matthew 'Gren-35-' Grenier required a third-and-deciding game to crown a champion. In the end, Regs' firepower was too much for the reigning North American Champion Gren, taking Game 3 by a 6-2 margin and the title as North American Club Champion.
The 21-year-old from Thunder Bay, Ont., qualified for the GWC Final for the third consecutive year after winning the PlayStation 5 Console Final. Along with CHEL bragging rights, the Championship trophy and first-ever GWC belt, Regs was presented a check for $26,000 USD from host Carrlyn Bathe.
Game One of the Final series was as close as it gets, with Regs scoring the game-tying goal with 0:07 remaining in the third period. Gren responded with immediate retribution by scoring early in overtime to take the series lead but was outmatched for the rest of the series. In Game Two, Regs built an unsurmountable 4-0 lead before Gren was able to answer back and get on the board in the third period, ending the game in a 4-1 score. In the final-and-deciding game, Regs took a 1-0 lead midway through the first period and then five additional goals to Gren's single tally in the second frame. Regs added one more goal in the third to win 6-2 and prevented Gren from winning back-to-back titles. As the NA Runner-up, Gren-35- still takes home $5,000 USD in cash in the GWC's first LAN event since 2019.
The two players have met in the past three GWC Final events with Regs taking the title in 2020 and Gren in 2021. Along with 2021 NHL GWC North American Runner-up, Regs' impressive gaming resume includes the 2020 NHL GWC Canadian Championship and 2018 NHL GWC Regional Finalist recognition. He has won several NHL Club gaming events over the years including Caps Gaming, Tampa Bay Lightning, Montreal Canadiens and Leafs Gaming League. Reguly is an NHL player for Lazarus esports and Defenseman for Isles GT in EASHL.
Ez_Regs Road to Championship
PS5 Round-of-64 vs. Ostrich2face (2-0 series)
PS5 Round-of-32 vs. dodsyyy- (2-1 series)
PS5 Round-of-16 vs. Kushnee (2-0 series)
PS5 Quarterfinals vs. SafirSnipezGOLD (2-0 series)
PS5 Semifinals vs. JrPens91 (2-0 series)
PS5 Upper Bracket vs. Gren-35- (2-0 series)
PS5 Final vs. Gren-35- (2-0 series)
NA Club Championship Quarterfinal vs. uninsta1l_NHL: (3-1), 4-1, 5-1
NA Club Championship Semifinal vs. Jos x 10: 3-1, 5-3
NA Club Championship Final vs. Gren-35-: (4-3 OT), 4-1, 6-2
NORTH AMERICAN GWC FINAL STANDINGS
Winner: Ez_Regs
Runner-Up: Gren-35-
3-4: Geimer–
3-4: Jos x 10
5-8: Lebaneseman69
5-8: Polgz
5-8: SAP Alien
5-8: uninsta1l_NHL
ICYMI
Erik 'ENCEKI' Tammenpää, who also represented the New York Islanders, captured back-to-back NHL GWC European Titles when the Championship was held at the GG22 sports gaming festival in Maastricht, Netherlands on June 4. Watch the full broadcast, here.
Fans who missed the broadcast of the NHL GWC North American Club Final can watch it, here.
COURTESY NHLmedia.com