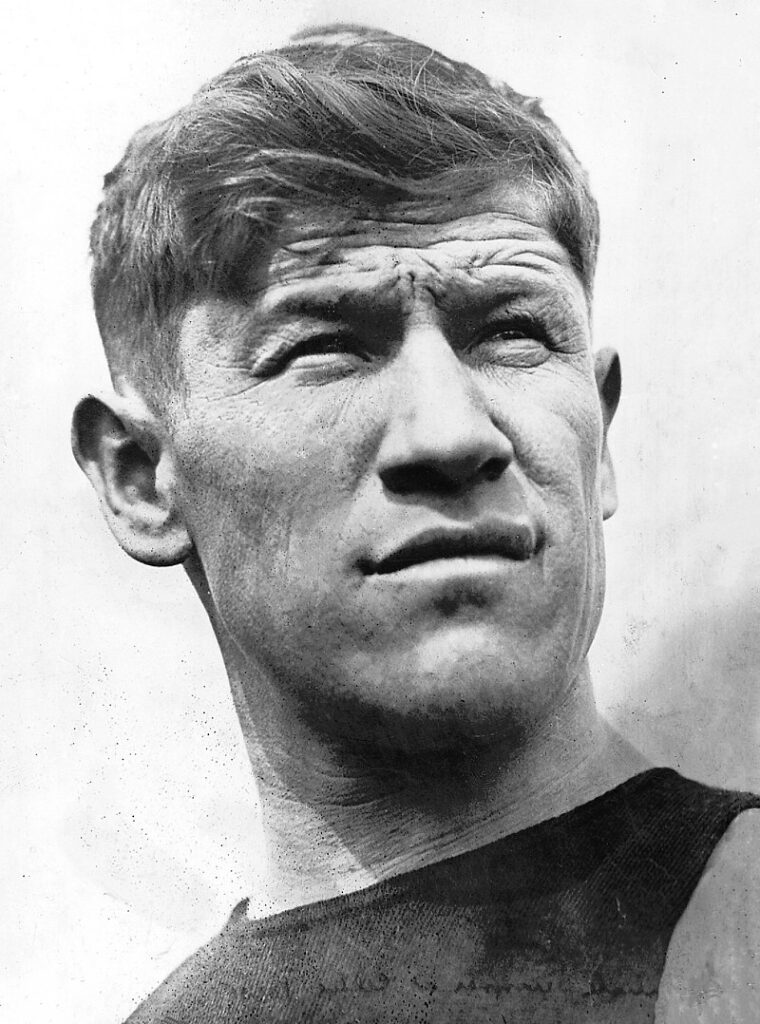 FROM WIKIPEDIA COMMONS
James Francis Thorpe (Sac and Fox (Sauk): Wa-Tho-Huk, translated as "Bright Path"; May 22 or 28, 1887 – March 28, 1953) was an American athlete and Olympic gold medalist. A member of the Sac and Fox Nation, Thorpe was the first Native American to win a gold medal for the United States in the Olympics. Considered one of the most versatile athletes of modern sports, he won two Olympic gold medals in the 1912 Summer Olympics (one in classic pentathlon and the other in decathlon). He also played American football (collegiate and professional), professional baseball, and basketball.
He lost his Olympic titles after it was found he had been paid for playing two seasons of semi-professional baseball before competing in the Olympics, thus violating the contemporary amateurism rules. In 1983, 30 years after his death, the International Olympic Committee (IOC) restored his Olympic medals with replicas, after ruling that the decision to strip him of his medals fell outside of the required 30 days. Thorpe is to date listed as co-champion in both the decathlon and pentathlon events according to official IOC records.
Thorpe grew up in the Sac and Fox Nation in Indian Territory (what is now the U.S. state of Oklahoma). As a youth, he attended Carlisle Indian Industrial School in Carlisle, Pennsylvania, where he was a two-time All-American for the school's football team under coach Pop Warner. After his Olympic success in 1912, which included a record score in the decathlon, he added a victory in the All-Around Championship of the Amateur Athletic Union. In 1913, he played for the Pine Village Pros in Indiana. Later in 1913, Thorpe signed with the New York Giants, and he played six seasons in Major League Baseball between 1913 and 1919. Thorpe joined the Canton Bulldogs American football team in 1915, helping them win three professional championships. He later played for six teams in the National Football League (NFL). He played as part of several all-American Indian teams throughout his career, and barnstormed as a professional basketball player with a team composed entirely of American Indians.
From 1920 to 1921, Thorpe was nominally the first president of the American Professional Football Association (APFA), which became the NFL in 1922. He played professional sports until age 41, the end of his sports career coinciding with the start of the Great Depression. He struggled to earn a living after that, working several odd jobs. He suffered from alcoholism, and lived his last years in failing health and poverty. He was married three times and had eight children, before suffering from heart failure and dying in 1953.
Thorpe has received numerous accolades for his athletic accomplishments. The Associated Press ranked him as the "greatest athlete" from the first 50 years of the 20th century, and the Pro Football Hall of Fame inducted him as part of its inaugural class in 1963. The town of Jim Thorpe, Pennsylvania was named in his honor. It has a monument site that contains his remains, which were the subject of legal action. Thorpe appeared in several films and was portrayed by Burt Lancaster in the 1951 film Jim Thorpe – All-American.
TODAY'S ALMANAC
Question of the Day
When a recipe calls for superfine sugar, do I really have to use it?
Yes, it's best to use superfine sugar, but if you're like us and don't want to buy such a seldom-used item, you can use granulated sugar instead. Just whir it in the food processor until it is finely ground, about two minutes. You'll be able to feel the difference. Superfine sugar dissolves more rapidly than regular sugar in cold liquids, so it is useful for drinks such as lemonade and iced tea.
Advice of the Day
A warm heart requires a cool head.
Home Hint of the Day
Boiled linseed oil is a penetrating wood finish that is easy to apply (wipe on with a rag, then wipe off the excess), gives long-lasting protection, and adds tone to unstained wood. The drawbacks, however, are that it darkens with age and offers little resistance to alcohol, water, or mildew.
Word of the Day
June
Named for the Roman goddess Juno, patroness of marriage and the well-being of women.
Puzzle of the Day
At evening by my whole you'll think of days gone by, and never reckon that of my second, my first is made, and by my first my second.(What's the word? Each clue is a syllable!)
Fire-light
Died
King Edward I of England – 1307
Sir Arthur Conan Doyle (Sherlock Holmes author) – 1930
Vivien Leigh (actress) – 1967
Veronica Lake (actress) – 1973
Born
Gustav Mahler (composer) – 1860
Leroy Satchel" Paige" (baseball player) – 1906
Robert A. Heinlein (sci-fi writer) – 1907
Pierre Cardin (fashion designer) – 1922
Ringo Starr (Beatles' drummer) – 1940
Jorja Fox (actress) – 1968
Joe Sakic (hockey player) – 1969
Michelle Kwan (figure skater) – 1980
Kaci Brown (singer) – 1988
Events
Hammerfest, Norway (known as northernmost town in world), granted town status– 1789
Cornerstone laid for first Catholic cathedral in the United States (Baltimore Basilica), in Baltimore, Maryland– 1806
Acting on instructions from Washington, D.C., Commodore John Drake Sloat ordered his troops to occupy Monterey and Yerba Buena thus beginning the United States annexation of California– 1846
Jim Thorpe won his first Olympic gold medal in the pentathlon– 1912
Mother Frances Xavier Cabrini became the first American saint to be canonized– 1946
First 6 enlisted women transferred from Naval Reserve to regular U.S. Navy– 1948
Roosevelt Campobello International Park created, New Brunswick– 1964
President Reagan nominated Sandra Day O'Connor to become a Supreme Court justice; she became the first female member of the Supreme Court– 1981
Solar-powered aircraft Solar Challenger flew 163 miles in 5 hours, 23 minutes.– 1981
A series of bombs exploded in London's underground railway, as well as on top of a double-decker bus in a terrorist attack against the country– 2005
Weather
The thermometer touched 127 degrees F at Parker, Arizona– 1905
In a rare July snowstorm, Glacier National Park received ten inches of snow and had 90 mph winds, while Denver had a record high temperature of 101 degrees F– 1981
A record high temperature for this date of 81 degrees F hit Anchorage, Alaska– 2009
Two inches of snow fell in Utqiagvik (Barrow), Alaska– 2018
COURTESY www.almanac.com