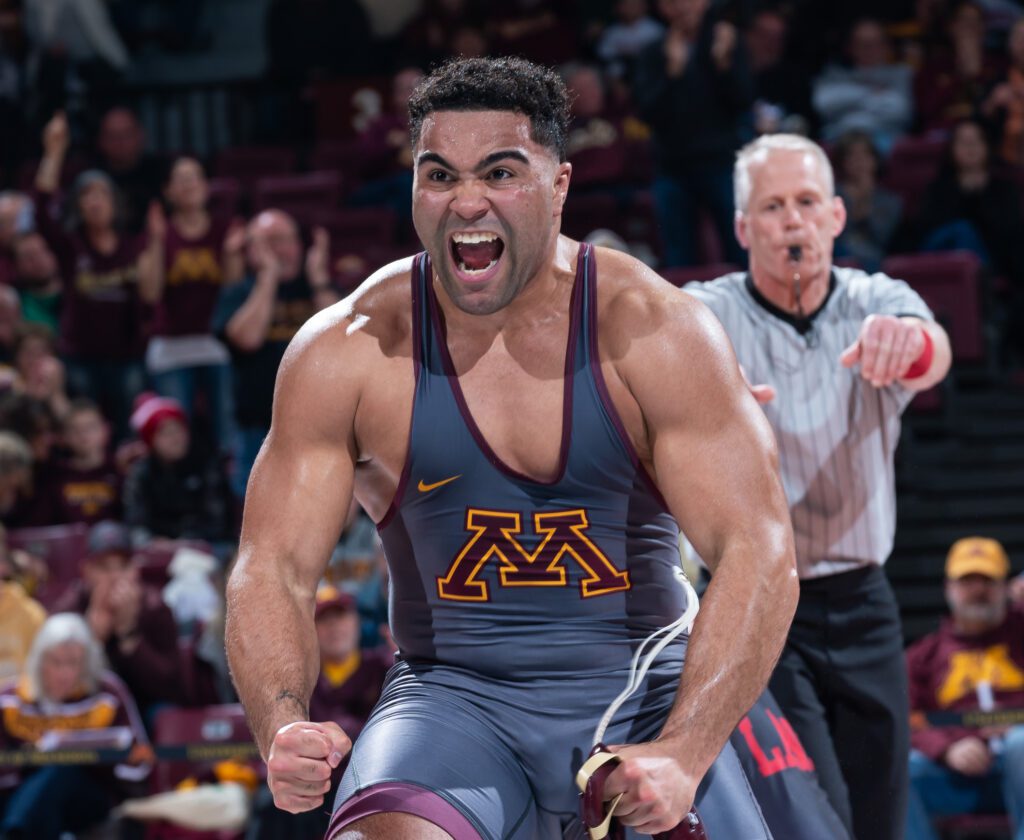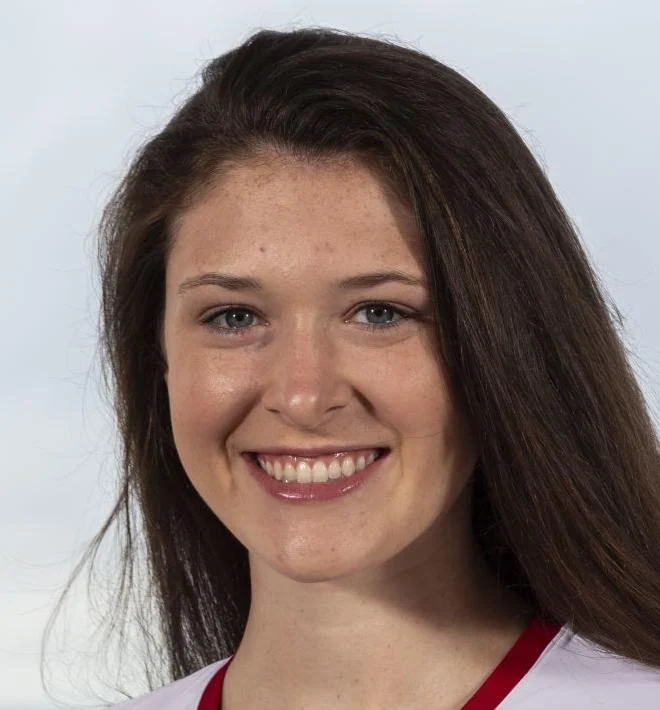 ROSEMONT, Ill. — University of Minnesota senior wrestler Gable Steveson has been selected as the 2021-22 Big Ten Conference Jesse Owens Male Athlete of the Year, and University of Wisconsin senior volleyball middle blocker Dana Rettke has been recognized as the 2021-22 Big Ten Conference Female Athlete of the Year, the conference announced Wednesday.

Steveson is the fifth Golden Gopher student-athlete to earn Big Ten Jesse Owens Male Athlete of the Year honors, but the first in 15 years (wrestler Cole Konrad in 2007). Along with Konrad, other previous Minnesota winners have been wrestling's Damion Hahn (2004), ice hockey's Jordan Leopold (2002) and gymnastics' John Roethlisberger (1993).

Steveson is also the 13th wrestling student-athlete chosen as Big Ten Jesse Owens Male Athlete of the Year and the first since Penn State's Bo Nickal in 2019.

Steveson earned the Big Ten Jesse Owens Male Athlete of the Year award following yet another dominant collegiate season as Minnesota's heavyweight. In 2021-22, he posted his third straight undefeated season, capped off with his second NCAA title and his third Big Ten title. The Apple Valley, Minn., native wrapped up last season with an 18-0 record, with 15 of those victories coming by way of bonus points.

Steveson also won his second straight Dan Hodge Trophy, which is given to the most dominant wrestler in collegiate wrestling. He closed out his career on a 52-match win streak, the fourth-longest in program history.

Rettke earns the Big Ten Female Athlete of the Year award for the second time, having previously been selected in 2020. She also makes history as the first Big Ten student-athlete, male or female, ever chosen Big Ten Athlete of the Year in non-consecutive seasons. Rettke is the third two-time recipient of the Big Ten Female Athlete of the Year Award and first since Indiana swimmer Lilly King (2017, 2018).

This marks the fifth time a volleyball student-athlete has captured the Big Ten Female Athlete of the Year award. Along with Rettke's dual honors, other volleyball recipients were Penn State's Megan Hodge (2010), Penn State's Lauren Cacciamani (2000) and Ohio State's Laura Davis (1995).

In addition, Rettke's selection represents the eighth time a Badger has received Big Ten Female Athlete of the Year honors. Aside from Rettke's two awards, the other Wisconsin honorees have all been cross country/track & field runners: Kathy Butler (co-winner in 1997), Suzy Favor (1988, 1989, 1990), Stephanie Herbst (1986) and Cathy Branta (1985).

A 6-foot-8 middle blocker, Rettke wrapped up her career by leading the Badgers to the first NCAA national championship in program history and a third straight Big Ten championship in 2021. She was named the 2021 American Volleyball Coaches Association (AVCA) National Player of the Year, the first UW player to receive the award, and became the first five-time first-team All-American in AVCA history. She completed her career as a five­­-time, first-team All-Big Ten selection with a school-record 11 Big Ten Player of the Week awards.
As a senior, the Riverside, Illinois, native ranked sixth nationally with a .430 hitting percentage. She led the Badgers with 3.41 kills per set and 1.43 blocks per set, which ranked fifth nationally. For her career, Rettke set UW records for hitting percentage (.422), blocks (751) and points (2,333.0).

Steveson and Rettke were among a high-powered field of 28 nominees (one male and one female per Big Ten school) that included eight national champions, 28 All-Americans, 18 Big Ten champions, 15 conference Players of the Year and eight standouts who collected at least one national player of the year accolade.

The Big Ten Conference has recognized a Jesse Owens Male Athlete of the Year since 1982 and first honored a Female Athlete of the Year in 1983. The Big Ten Athletes of the Year are selected by a panel of conference media members from nominations submitted by each institution.

The complete list of 2021-22 Athlete of the Year nominations, as well as the list of all-time winners for each award, can be found below.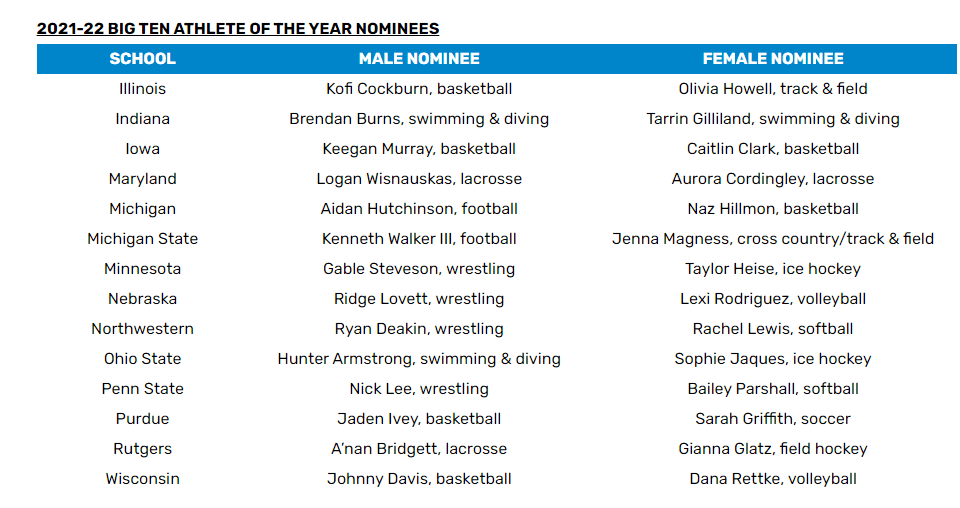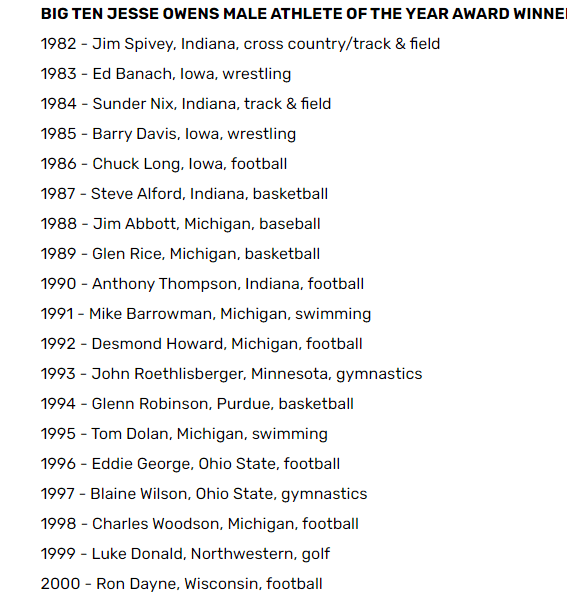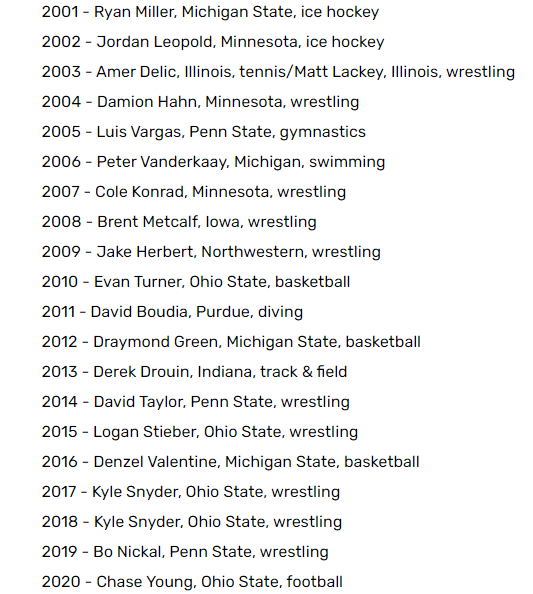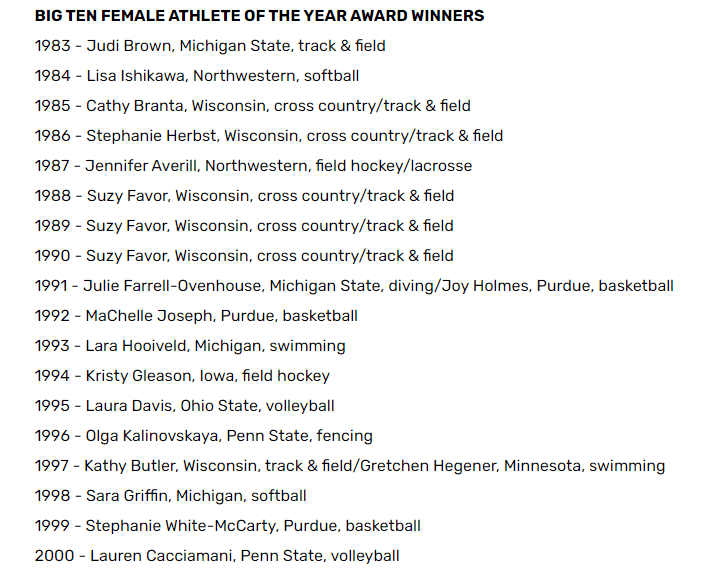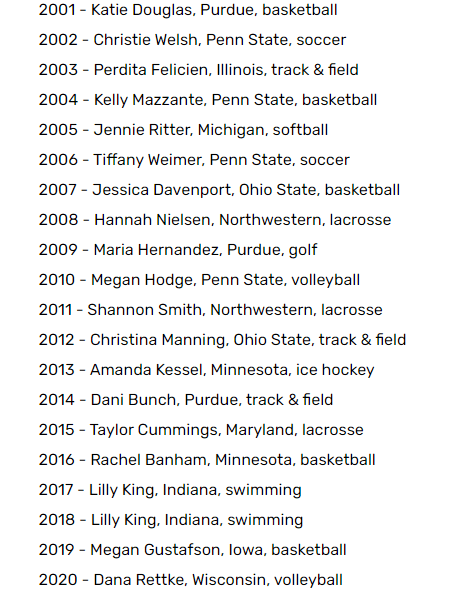 COURTESY BIG TEN CONFERENCE COMMUNICATIONS