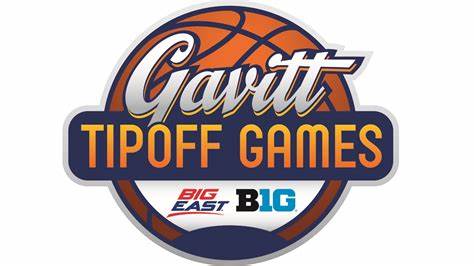 ROSEMONT, Ill. – The Big Ten Conference and BIG EAST Conference today announced the matchups for the seventh annual Gavitt Tipoff Games, with eight men's basketball contests set for Nov. 14-18, 2022. Game times and television designations will be announced on a future date. All games will be televised on FS1 or BTN.

The annual series, which began in 2015 and is played on campus home courts, is an early-season series between the two conferences. The Big Ten Conference leads the all-time series, 2-1-3.

This year's 16-team field includes 2022 Big Ten Tournament champion Iowa, which earned a No. 5 seed in the 2022 NCAA Tournament. The Hawkeyes will be joined by six other 2022 NCAA Tournament teams: Indiana, Marquette, Michigan State, Purdue, Seton Hall, and Villanova.

The Gavitt Tipoff Games begin on Monday, Nov. 14, with Penn State hosting Butler and Minnesota welcoming DePaul. On Tuesday, Nov. 15, Purdue with face Marquette at home, while Northwestern travels to Georgetown. On Wednesday, Nov. 16, Iowa will host Seton Hall.

The series concludes on Thursday, Nov. 17, with Indiana playing at Xavier and Michigan State hosting Villanova.

2022 Gavitt Tipoff Games Schedule
Monday, Nov. 14
Butler at Penn State
DePaul at Minnesota

Tuesday, Nov. 15
Marquette at Purdue
Northwestern at Georgetown

Wednesday, Nov. 16
Iowa at Seton Hall

Thursday, Nov. 17
Nebraska at St. John's

Friday, Nov. 18
Indiana at Xavier
Villanova at Michigan State
The series is named to honor the late Dave Gavitt, who was the founder of the BIG EAST Conference had a profound and lasting influence on the sport of basketball at the collegiate, professional, and Olympic levels. He was inducted into the Naismith Memorial Basketball Hall of Fame in 2006.

Big Ten Conference (bigten.org) is an association of world-class universities whose member institutions share a common mission of research, graduate, professional and undergraduate teaching, and public service. Founded in 1896, Big Ten has sustained a comprehensive set of shared practices and policies that enforce the priority of academics in the lives of students competing in intercollegiate athletics and emphasize the values of integrity, fairness, and competitiveness. The broad-based programs of the 14 Big Ten institutions will provide over $200 million in direct financial support to more than 9,800 students for more than 11,000 participation opportunities on 350 teams in 42 different sports. Big Ten sponsors 28 official conference sports, 14 for men and 14 for women, including the addition of men's ice hockey and men's and women's lacrosse since 2013.
#B1GMBBall
COURTESY BIG TEN CONFERENCE COMMUNICATIONS